This is a guy I've been lukewarm about, dead-set against, completely hated the thought of seeing him on the 49ers and after watching a few recent games, I'm actually kind of interested in what the finished product might look like after a couple years of doing nothing but holding a clipboard. His size for a QB is certainly intriguing, he's 6'6" and north of 250. A massive, big bodied QB with a cannon for an arm. There's been talk of Thomas possibly being moved to TE in the NFL but I think with some good coaching and patience, he could end up being a solid NFL backup at worst.
If he were to be available in the late 5th round, possibly early to mid 6th, I'd be interested in seeing him on the 49ers, having some time to develop, not do anything but sit back and watch, learn. I think he's an ideal, buy low/sell high sort of candidate, the offense he played on had s**tty talent, he was forced to try and do too much and ended up with third and long far too often, making his job far more difficult than it had to be. If the 49ers were willing to be patient with him, he'd be an interesting prospect just for his athleticism and arm alone.
If nothing else, he could even be a guy to develop as a TE, much like a MarQueis Gray. Thomas was originally recruited as a TE and could be an interesting fit at that position with his size, running ability, understanding of offense and athleticism.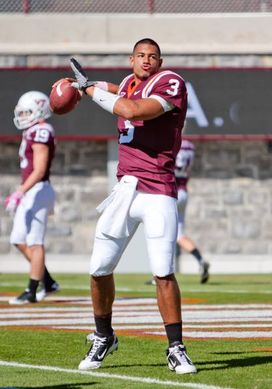 [ Edited by Phoenix49ers on Dec 18, 2013 at 6:08 PM ]