Welcome to my second mock offseason of 2013!
My first mock was roundly criticized
, but hopefully I can do better on this one. People liked the pictures so I'll be sure to have plenty of those. As you can see, a lot has changed in a month and a half as Floyd in particular has rocketed up draft boards and I expect a lot to change in another month and a half. But here is my best attempt at one as things stand
at the moment.
Release
Parys Haralson, David Akers
As you can see, in this mock Dashon is not returning. I would like to have him back, but it's looking less and less likely by the day. Dude's gonna get paid and it's probably not going to be by us.
FA Signings
Glover Quin FS Texans
Not as good as Goldson but he'd be a respectable replacement for not as much money. Offers better coverage, but not the bone-jarring hits and play-making that Goldson brings to the field.
Mike DeVito DE Jets
Underrated player and has starting experience in the 3-4. Can allow us to rest Smith and McDonald more.
Anthony Fasano TE Dolphins
Very solid run blocker. Not the athlete Walker is, but hopefully without as many drops. He'd be an upgrade over Celek.
Terrance Knighton NT Jaguars
Takes over for Sopoaga.
Veteran WR
Insurance in case Manningham's knee is completely toast.
Veteran K
There's a number of solid options out there in FA. Try out a bunch and pick one.
Draft
There's no way we draft 15 players. Just not enough room for that many picks. Therefore I have us bundling a number of picks to move up in the draft.
Trade #31 and 4th round pick to move up to the mid 20's.
1.
Keenan Allen
WR
Cal
JR
Ask me a month ago and no way would I have thought Keenan Allen would be within striking range of our pick. While Allen's been unable to work out for scouts so far, Patterson and Austin have gotten all the attention and have leapfrogged him on draft boards. We trade up a few spots using one of our large hoard of picks and stop the fall of the best WR in this draft class.
2a.
Eric Reid
S
LSU
JR
I've seen mixed reviews about his coverage abilities some sources saying he can cover TE's while others saying he's on the stiff side. He had a nice combine though including doing well in the agility drills and positional drills. I think he'd be very good to groom as Whitner's replacement and providing the hitting but with better ball skills and coverage ability.
2b.
Jamar Taylor
CB
Boise St.
SR
Terell Brown will be a free agent after next season and Carlos Rogers isn't getting any younger so the time is now to groom a replacement. He has the pure coverage skills to start at CB while playing with a physical style that fits the 49ers defense well.
3a.
Jamie Collins
OLB
Southern Miss.
SR
Had this guy in my first mock too. After blowing up the Combine why should I not include him again? One of my pet prospects in the draft.
3b.
Travis Kelce
TE
Cincinnati
SR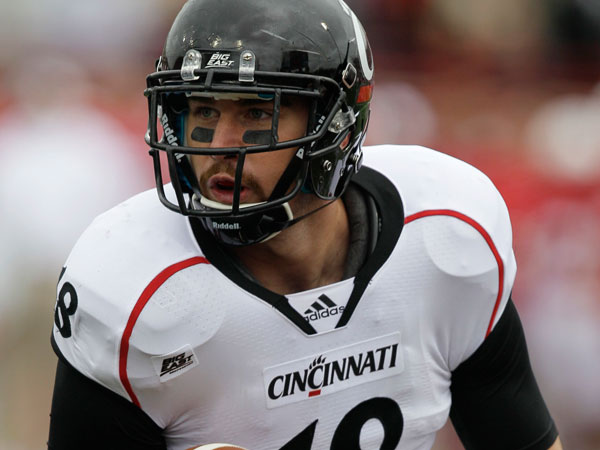 He was also in my first mock. Just as I suspected, his stock has boosted although McDonald has supplanted him as the top senior TE due to an abdominal injury. Has NFL bloodlines and the all around game you want to see out of the TE. I think he could be a Heath Miller type for us.
Trade a 5th (from Indy) and our original 6th to move up into the bottom of round 4.
4a.
Kenny Stills
WR
Oklahoma
JR
Solid, productive, experienced, fast. But in a deep class I think he can be had in the 4th. Him and Kaep can compare tats. Don't know what the syringe on the forearm is about though. Hope it isn't a sign of things to come!
4b.
(Projected Comp Pick)
Brennan Williams
OT
North Carolina
SR
Was on track to be a 2nd day pick before a torn labrum cut his senior year short.
Trade 6th round pick (from Miami) and 7th round pick (from Cincinnati) for a mid/late 5th rounder.
5a.
Matt Scott
QB
Arizona
SR
He's Colin Kaepernick lite. Shorter, not as fast, and without the elite arm strength but still has plenty of athletic talent for Harbaugh to mold into a competent backup.
5b.
William Gholston
DE
Michigan St.
SR
Raw but talented prospect can learn from Justin Smith and refine his technique under arguably the best D-line coach in the NFL. Could take a couple years and a huge boom or bust prospect but the payoff could be huge.
7a.
Quanterus Smith
DE/OLB
Western Kentucky
SR
Would have been a likely 3rd rounder had he not torn his ACL in December. He could spend the year on IR learning the defense and rehabbing to full strength if he needs to. We have the depth and the picks to be able to take a flyer on him. But if he can return to health, he is one heckuva pass rusher.
7b.
(Projected Comp Pick)
Zac Stacy
RB
Vanderbilt
SR
A personal favorite of mine. Vanderbilt's all time leading rusher was highly productive in the SEC, does a lot of things well and had one of the best combines of any RB. Don't know why he doesn't get more love but I guess he isn't flashy enough.
7c.
(Projected Comp Pick)
Rod Sweeting
CB
Georgia Tech
SR
Had an excellent combine and was productive in a major football conference. Beyond that I don't know much about him but could be a solid PS player at least.
Now that I've spent hours putting this together, have at it!
[ Edited by AllTimeGreat on Mar 3, 2013 at 12:59 AM ]