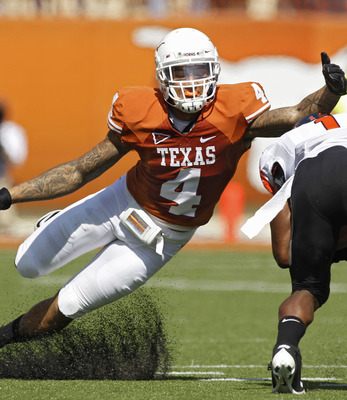 1. Kenny Vaccaro FS
Texas
6'1" 218 lbs
Vaccaro is a SS at Texas but will transition to FS just like Eric Berry has done. Great size, athleticism, and not scared to hit....sounds a bit familiar. He could be the only new starter on the D that has never played for the team, RJF has obvious experience. Expect so early issues just like with any rookie but he should fall in line with the other great Texas DB's from previous drafts.
2. Cornellius Carradine OLB
Florida State
6'4" 265 lbs
Depth will be a major sticking point this year. With Parys expecting a large payday, Haggins most likely walking, Flemming coming off major injury, and the Cam still on the PS we have a hole....a big one at OLB. Although this years class is full of sexy names, chances are we draft late again putting those guys out of reach. Carradine plays opposite of Bjorn and doesn't get the hype of his German counterpart. But the kid is a monster himself. Fantastic size with speed to boot and a tenacity to get after the QB. Remember this will be a rotational guy who will sub in and out with Aldon....we dont need to move up like some want, to get a player who can do what is needed.
3 (a). Marcus Davis WR
Virginia Tech
6'4" 232 lbs
Marcus Davis is a thicker more polished version of Stephen Hill with more experience. With the amount of WR's in this years draft he will fall but not very far. This is the pick that many of screamed for and will replace Moss. With the passing game starting to actually open up and evolve its time we grab a kid with his measurables that can go up and over anybody....including the big guys in Seattle. Do not expect him in a starting role, he will be a situational player for some time.
3 (b). Shawn Williams SS
Georgia
6'1" 218 lbs
Two safety's are you kidding me? Nope, I'm dead serious. Just like Goldson, Whitner isnt getting younger or cheaper. Although I love the tandem we have now its not going to last forever. Shawn Williams will be held in his normal position and will be the primary backup at SS and FS, but SS is where he will be groomed. Rambo gets the hype at UGA but Williams is a quality player that can do almost anything. Mcbath will be gone at the end of the year so while losing 2 guys in the back we add 2 in the same draft class. Some may not love the idea but if it happened these two will make a career out of tattooing WR's and RB's. He also has serious ST value from the get go.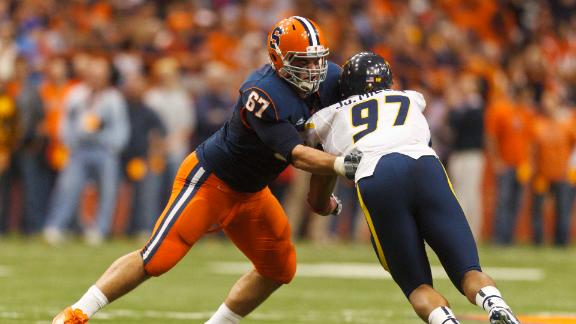 4. Justin Pugh OT
Syracuse
6'5" 298 lbs
Justin Pugh becomes our new Boone. Although he's not gifted with the same talents, he does have the ability to step in and start in emergency situations which is what we need. He will need to add weight and fill out his frame but the kid has been a starter at LT for years at Syracuse and has played very well. This is one OL pick that should stick and develop into a great backup which will give most, if not all some relief.
5 (a). Michael Williams TE
Alabama
6'5" 272 lbs
Say hello to our 3rd TE, Michael Williams. Some may dislike this pick because he is more of a blocking TE than a pass cathcing one like Fleener. But this kid knows how to blakc very well and does it against top competition every week. He does have some pass cathing ability but he's not asked to do it much at Alabama. At his size he does create a mismatch problem for almost any LB or SS and can be trusted to catch the ball. This is not a replacement for Walker, more a replacement for Celek, L Davis, and Dobbs. Quality player that fits Jims mold of ground and pound ball.
5 (b). Omoregie Uzzi C/OG
Georgia Tech
6'3" 302 lbs
Some wanted Rambo but will you settle for an Uzzi instead? Omoregie Uzzi (a name that will be butchered during draft talk) is a nasty OG who considered leaving GT last year. One of the meanest guys on the GT OL, Uzzi has been one of the reasons why GT runs very well. Coming from a run first, second, and third system means he knows how to fight in the trenches. But I have him transitioning into the backup C spot behind Kilgore. It will be a new position for him so some adjustment will be expected but at his size and with time he could become a quality backup rounding out the last pick for OL for some time.
5 (c). Cory Grissom NT
South Florida
6'2" 316
Playing for the Bulls, Grissom has had a pretty strong showing since he became a starter years ago. Grissom doesn't have gaudy stats but is a monster to deal with on the field and can eat blocks. The baby faced senior has had some history with medical issues so this is why he falls this far. Although JPP really put USF on the map they are still overlooked in the Big East all the while churning out talent. With Ice leaving and RJF stepping in this becomes a depth pick if he checks out medically. Remember this name come draft time.
6. Kapron Lewis-Moore DE
Notre Dame
6'4" 306 lbs
"Notre Dame is ranked....
....wait you're serious
" ? Yes ND is ranked and has one of the better defenses in the country. Kapron Lewis-Moore plays all over in ND's 3-4 so he has experience in the system already. Long but stout Moore is a constant disruptor across the DL. This is not a replacement for Justin because none exist in this years class, which is looking more ho hum every week. Moore will fight to become the primary backup at both DE positions because RJF will now be a starter. He might take the spot away from Dobss or Tukuafu but being that neither are getting meaningful snaps I wouldn't say the primary backup spot is locked down yet. His combine numbers will be interesting to watch.
6. Bruce Taylor ILB
Virginia Tech
6'2" 244 lbs
The era of Grant is now over as he looks to get a starting gig elsewhere. Taylor is a great ILB that should t hamper the D if he was need early in the season. Only knock of Taylor (which has dropped him) would be an injury to his foot. But the kid is a great player that loves to hit. He doesn't have the speed of Bowman or Willis but who else does at the position? If healthy he will be a great role player with ST skills and costing half of what Grant does.
7 (a). Melvin White CB
La.-Lafayette
6'3" 191 lbs
Jim loves competition so we get some for the 5th CB spot. Melvin White is a small school CB with great size that could be a FS/CB tweener which isn't a bad thing. When it comes to fighting for the 5th spot with a 7th rounder there isn't much to say except just see what happens. But if he checks out at 6'3 and can fill out to 200lbs that's one hell of a CB to have on the roster.
7 (b). Anthony McCloud NT
Florida State
6'2" 322 lbs
The last pick comes down to McCloud who will be fighting with Williams for the last NT spot on the team. McCloud is a large kid who can be the toilet clogger that many have called for in previous drafts. Although FSU has a good rotation on the DL McCloud hasn't stood out like the DE's on their squad. This is more of a developmental pick and back-end competition. Sometimes 7th rounders never make the team but others like RJF with time and effort become gems who just need the correct coaching.
__________________________________________________________
Reasoning and Rational:
I went into this with the idea that both Goldson, Grant, Moss, and Ice are gone, sad but a good possibility. Also the comp picks are added as well.
This is still very early and these kids can move up or down multiple rounds easily. Things will change over the next coming weeks and months but here is an early look. Also, because this is a bit premature NO trades were done. Enjoy!!