If I'm the 49ers front office and truly believe that we can go with BPA (offensive guard is sufficiently handled between Kilgore, Person, and Boone), I don't see any way you can go wrong with this route. Each pick will not only be likely to make the roster, they will fill a respective need/fit for this team.
1)
Coby Fleener- TE, Stanford
Fleener immediately takes over for the overrated Delanie Walker as the number 2 TE. Rather than keep a blocking TE we stick with Davis, Fleener, and Walker (using our swing tackle in either Boone or Person as the blocking tightend). This will enable the 49ers to use Jim Harbaugh's most beloved college formation: the three TE set. It would also instantly provide us with the most dangerous TE core in the NFL. Team's will be hardpressed to gameplan against three TE's that are all average to above average blockers and elite TE receivers. Imagine a spread formation that is equally as potent running as it is passing. This formation provides an instant mismatch, forcing teams to choose between respecting either the run or pass (either one of which would be dangerous out of this formation). The formation flexibility alone is worth a first round pick.
2)
Traded For 3rd and 4th round pick
3)
Joe Adams- WR, Arkansas
Joe Adams intantly becomes our most electric playmaker at WR. Unlike Ginn, he is not a ST player first and WR second. He possesses elite quickness and "wiggle". This is a player that two years from now, most teams would give up a late 1st round pick for. Taking the 6'6 Fleener gives us the luxury of not having to sacrifice talent for height with our WR selection.
3)
Derek Wolfe- DE/DT, Cincinnati
Derek Wolfe is the quintessential blue collar, high motor player that will have four stars on the 49ers draft board. Despite not being a glaring need, don't be surprised to hear us select this former conference defensive MVP. Wolfe has very few weaknesses and has the drive/motor to be a quality starter in this league for a long time. I like to think of him as a slightly less athletic Justin Smith.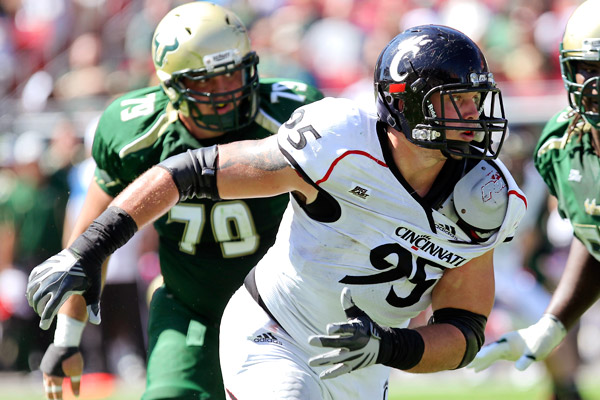 4)
Josh Norman- CB, Coastal Carolina
Josh Norman, much like Joe Adams, should be drafted much higher. His film speed and playmaking ability should put him in the 2nd, but his dreadful run in his underwear at the combine makes him a MAJOR steal at this juncture. He is a perfect fit with the 49ers offense: tall AND agressive. In two years he will be a starting CB on an NFL team.
4)
Miles Burris- OLB, San Diego St.
Much like Derek Wolfe, Miles Burris provides another four star player on the 49ers draft board. OLB Depth is a glaring need with only three OLB on the roster and Parys Haralson being mediocre at best. Burris has a high motor, great character, and is a deceptively good athlete. Surprisngly quick and has a keen ability to set the edge. Level of competition remains the only glaring question mark on his resume.
5)
Janzen Jackson- FS, McNeese St.
Janzen Jackson has the talent of a 1st or 2nd round pick, but off the field issues cause him to plummet. While on the field at Tennessee he reminded many fans of the player he was intended to replace (Eric Berry). I see alot of Dashon Goldson in him and believe he will be an elite 3rd safety that can fill in at either SS or FS, and become an eventual starter once Whitner retires or Goldson leaves.
6)
Jeff Fuller- WR, Texas A&M
While Jeff Fuller has always lacked speed on tape (not just the victim of a slow 40 time). He has elite size and a knack for attacking the ball. Given his incredible production just one year ago (was the only wr to consistently beat Patrick Peterson in their 1:1 matchups), this is the PERFECT low risk/high reward player to burn a 6th round pick on. Considering Peterson is now in our division, perhaps he can relive that matchup for years to come. With the exception of Moss, who may not even stay with the team, he becomes our biggest weapon at WR and a much needed redzone threat.
7)
Vontaze Burfict- MLB, Arizona St.
Much like fuller, with the depth that this team has, this is the type of pick you need to spend on a Boom/Bust type of player as unless the pick happens to "boom", they won't be in the roster in three months regardless. In this case we burn a 7th round pick to give a summer long tryout to a player that has looked special at times and boneheaded at others. He has the potential to be a special teams ace and upgrade at the backup TED lb spot.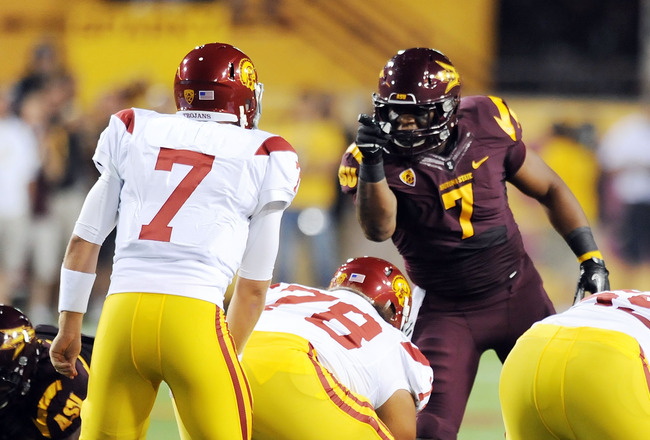 [ Edited by 49oz2superbowl on Apr 23, 2012 at 1:19 PM ]