So it's about time I went ahead and posted my 2.0 mock
Here's a link to my mock version 1.0 in case you are curious about how it differs
http://www.49erswebzone.com/forum/thread.php?num=137758
Just like last time, I will not include FA signings (aside from ones we already made) and I will include a full 1st round mock (you will see why)
Round 1
1. St. Louis (1-15) Team needs (QB, DT, WR /2nd CB, S, OLB, TE)
The best player in the draft is Suh. So it of course the St Louis Rams selects
Sam Bradford QB Oklahoma
2. Detroit (2-14)Team needs (DT, CB, RB/2nd OT, SS, DE)
There isn't a top WR available so it's hard for the Lions to mess this up
Ndamukong Suh DT Nebraska
3. Tampa Bay (3-13) Team needs (DT, DE, WR, OG/2nd CB, S, OT)
TB selects the 2nd best prospect available
Gerald McCoy DT Oklahoma
4. Washington (4-12) Team needs (OT, QB, RB, DE/2nd OG, OC, CB, S)
While the natural pick would be OT, Redskins have a new coach and need a QB. They also bring in a zone blocking to the line which make drafting OL not to big of a must draft early situation
Jimmy Clausen QB Notre Dame
5. Kansas City (4-12) Team needs (OT, S, ILB, OG/2nd NT, WR, OLB)
With Washington going QB, the chiefs selection is easy
Russell Okung OT Oklahoma State
6. Seattle (5-11) Team needs (DE, OT, RB, WR/2nd QB, S, CB, DT)
Seattle has a new defensive coach, and no QB. I think he goes defense BUT no the best defender around (they will pick their guy later)
Derrick Morgan DE Georgia Tech
7. Cleveland (5-11) Team needs (DT, DE, FS, SS, WR/2nd CB, TE, OLB, QB, OG)
With needs everywhere they take the best available
Eric Berry FS Tennessee
8. Oakland (5-11)Team needs (QB, OT, WR/2nd OLB, DT, DE)
Oakland doesn't think they need QB, so they pick the work out warrior.
Bruce Campbell OT Maryland
9. Buffalo (6-10)Team needs (OLB, LT, QB, RT/2nd WR, TE, NT)
Bills are switching to a 3-4 but need help on offense
Bryan Bulaga OT Iowa
10. Jacksonville (7-9)Team needs (DT, FS, OLB/2nd SS, OC, OG, WR, RB, CB)
They need help all around the team, but more then anything they need to pressure the QB.
Brandon Graham OLB Michigan
11. Denver - from Chicago (7-9)Team needs (WR, NT, OC, OG/2nd CB, S, QB)
While they need WR and Dez is still available, I doubt they select him here. I am predicting a fall for Dez. He wasn't completely honest about his suspension and has yet to run anything (a la Crabtree)
Dan Williams DT Tennessee
12. Miami (7-9)Team needs (WR, FS, NT/2nd OLB, OG, SS)
If your thinking WR (see Denver) I think they will go with what they think will help them more. Think Ted Ginn
Taylor Mays FS Southern California
13.San Francisco (8-8)
Team needs (OT, KR/PR, S, CB, OLB/2nd WR, NT, QB)
The return game was terrible last year, Our RT was terrible last year. Let me just say 52 TDs 21 over 50 yards
C.J. Spiller RB Clemson
14. Seattle - from Denver (8-8)Team needs (DE, OT, RB, WR/2nd QB, S, CB, DT)
Seattle wanted Mays here. But the Dolphins pulled the rug right from under them. So they instead go with...
Trent Williams OT Oklahoma
15. New York Giants (8-8)Team needs (ILB, DT/2nd OG, OT, OLB, ILB)
Giants are trilled that McClain is available. He may be sick but the Giants take their chances.
Rolando McClain ILB Alabama
16. Tennessee (8-8)Team needs (OLB, CB, DE, DT/2nd S, OG, OC, TE, WR)
The Titans run up to the podium while the Giants are still trying to show McClain off.
Joe Haden CB Florida
17. San Francisco - from Carolina (8-8)
With Dez still on the board the 49ers TRADE to the New England Patriots
(OLB, WR, DE/2nd RB, OL, CB, ILB, NT)
49ers get #22, 2nd-15, 2nd-21
Patriots get #17, 2nd-17, 3rd-15
Dez Bryant WR Oklahoma State
18. Pittsburgh (9-7)Team needs (OG, OC, CB, OT/2nd ILB, FS, NT, DE)
Steelers continue to try and protect their rapist
Mike Iupati OG Idaho
19. Atlanta (9-7)Team needs (OLB, DE, OG/2nd OC, WR, RB, TE)
With a need at DE the Falcons select Jamaal Andr... wait no, they select
Jason Pierre-Paul DE South Florida
20. Houston (9-7)Team needs (RB, OC, OG, FS, CB/2nd DT, CB, TE)
Chances at getting CJ were slim to none, but they get possibly the best all around RB
Ryan Mathews RB Fresno State
21. Cincinnati* (10-6)Team needs (WR, TE, FS, SS, DE, DT/2nd OG, OT, CB)
They just signed Bryant to team up with 85. I still think they should pick up TO as their #3, in the draft they go defense early
Earl Thomas CB Texas
22.San Francisco - from New England* (10-6)
In a move that will shock many 49er fans, the 49ers TRADE down again
49ers get #32, 2nd-32, 6th-32
New Orleans get #22, 4th-15
New Orleans Team needs (OLB, DT, OT CB, S, DE)
Sergio Kindle OLB Texas
23. Green Bay* (11-5)Team needs (OT, CB, RB/2nd OC, OG, OLB, S)
This isn't exactly the OT they wanted, they were probably hoping for Campbell and his mobility, but they settle and take a risk
Anthony Davis OT Rutgers
24. Philadelphia* (11-5)Team needs (S, DE, OLB/2nd RB, MLB, CB, OT, OG)
The big fat guy loves to take big fat guys
Everson Griffen DE Southern California
25. Baltimore* (9-7)Team needs (CB, FS, DE/2nd TE, DE, DT, NT)
Their DBs arent what they used to be, and the pass defense needs an upgrade and youth
Kyle Wilson CB Boise State
26. Arizona* (10-6)Team needs ( OLB, LT, TE/2nd CB, DT, QB, WR)
The rebuilding period starts for the Cardinals
Sean Weatherspoon OLB Missouri
27. Dallas* (11-5)Team needs (OT, S, WR/2nd ILB, CB, DT)
How do you make a good offense better? Replace Roy Williams
Golden Tate WR Notre Dame
28. San Diego* (13-3)Team needs (RB, NT, OT, WR/2nd DE, WR, OLB)
They won't be able to get a better RB later, so the Chargers reach a little bit and take the guy they like now.
Jahvid Best RB California
29. New York Jets* (9-7)Team needs (DE, FS, WR/2nd OT, NT, RB, SS)
The Fat b*****d runs up to the podium, his 40 time was clocked at 10.9
Carlos Dunlap DE Florida
30. Minnesota* (12-4)Team needs (OC, OG, DT, QB/2nd CB, MLB, OLB, RB)
An already good OL gets even better
Maurkice Pouncey C Florida
31. Indianapolis* (14-2)Team needs (OT, ILB, SS, FS/2nd QB, DE, CB, OC)
A great player from a great school. Sounds about right for the Colts to go this route.
Jared Odrick DT Penn State
32. San Francisco - from New Orleans* (13-3)
Team needs (OT, KR/PR, S, CB, OLB/2nd WR, NT, QB)
With many 49er fans on suicide watch after the 49ers trade down twice, they decide to finally pull the trigger on a pick and spare the fans that are left
Charles Brown OT Southern California
Round 2
15.
We moved up two spots here and we need every little bit of it. He will be joining his cousin and learn behind him and team up with Willis long after TKO has retired.
Brandon Spikes ILB Florida
21.
BIG, NO HUGE NT. Franklin is good, and has gotten better through out his time in San Francisco, but how much longer will he be good? Was it just a contract year improvement? And every team needs depth.
Terrence Cody DT Alabama
32.
I was going to go with one of the Jones', but I feel Burnett is a better ball hawk and would be great in our backfield
Morgan Burnett FS Georgia Tech
Round 5
14.
He has good size and is a hard worker. He has experience as a OT and can possibly return if need be. Projected better as a OG and should push our starters if not out right replace one of them.
Marshall Newhouse OG TCU
Round 6
13.
Has the size that McC loves as a 6'2 203. Has good speed (4.45) and started 3 years at Vanderbilt. Finished with 18 PBU and 11 INTs
Myron Lewis CB Vanderbilt
32.
Excellent size and has excellent blood lines to go along with it. His older brother is a OT for the Bengals, and his uncle was an All-Pro DL
Clifton Geathers DE South Carolina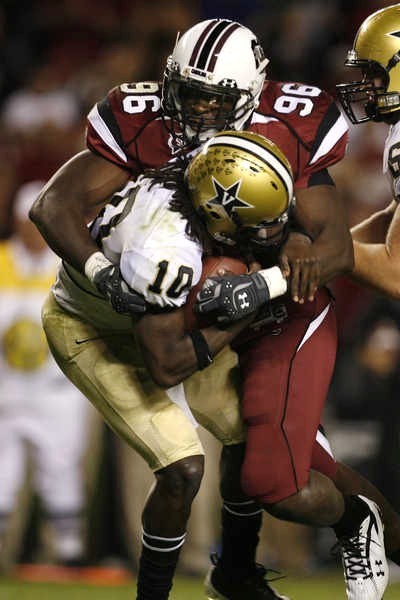 Round 7
17.
Quote:
Tracy becomes the second Tribe player invited to the combine, as offensive lineman Archie Harris participated in the 1987 combine. Honored by five organizations as an All-American in 2009, Tracy established himself as one of the nation's top defensive players and recently competed in the Texas vs. the Nation All-Star Game. A Buchanan Award candidate and a two-time first-team All-Colonial Athletic Association honoree, the Sterling, Va., native ranked seventh nationally with 1.57 tackles for a loss per game and 15th with 0.79 sacks per game last season. With 12 sacks, he equaled the single-season school record established by Luke Cullinane in 1996. Additionally, Tracy ranked sixth in the conference in tackles among defensive linemen with 5.6 per game. In addition to registering an outstanding senior season, the two-time ECAC All-Star was one of the country's top defensive players throughout his career. His 62.5 tackles for a loss led the nation among all active players, while he ranked third with 31 career sacks – a W&M record. He also started every game of his career (47) en route to establishing a school record. - William and Mary football
Adrian Tracy OLB William & Mary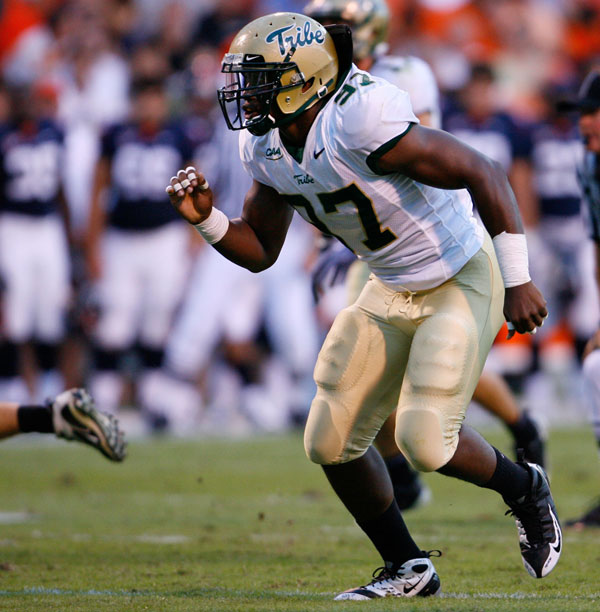 comp pick
Stephen reminds me of a guy I loved (no homo) a couple years ago. Many though of him as a bust, but I said he would be special. Good hands, catches the ball with his hands and fights for the ball in the air. That guy was Sidney Rice. I would say Stephen Williams is the poor mans Sidney Rice.
Stephen Williams WR Toledo
[ Edited by solidg2000 on Mar 11, 2010 at 12:48 PM ]