6'1", 237 lbs
2017 Butkus Award Winner
2017 SEC Defensive Player of the Year
2017 First-team All-SEC
2017 Consensus All-American
This guy is skyrocketing up my draft wishlist. Prototypical ILB in our scheme. Highly athletic, physical and technical player with tremendous instincts, play diagnosis and awareness vs run and pass. He's everywhere on the field. His closing speed is silly and isn't afraid to drop the hammer on somebody. Amazing as a blitzer. Closes in on QBs in the blink of an eye. Roquan reminds me a lot of Deion Jones, who is thriving in ATL in the same system we run. With Reuben now moving to MIKE, Roquan would be a perfect fit at the WILL. They would form a ridiculously athletic and violent tandem of hook players in the middle of the defense.

Roquan's ability to get to full speed in only a couple steps is crazy. True sideline-to-sideline ability. Baby P-Willy.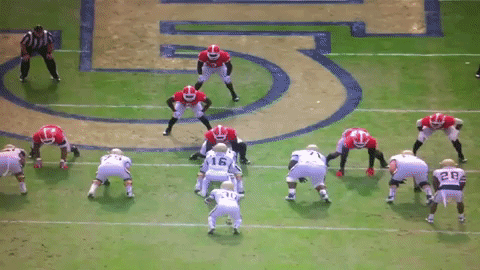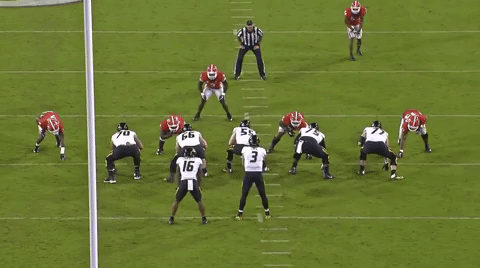 Physical with an F.
In the words of great Tony Montana, "The eyes, chico. They never lie." Roquan's flow processing is elite.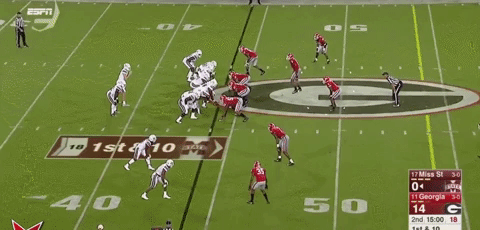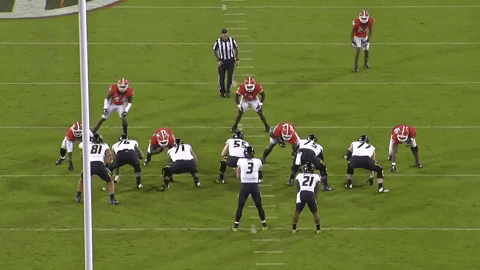 Sniffs out the smoke.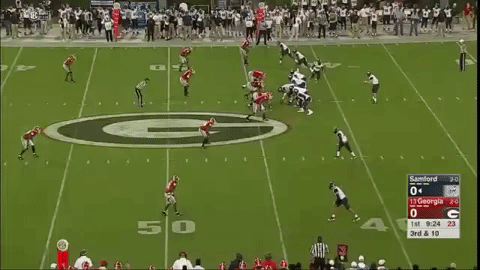 Excellent article by the guys over at NDT Scouting.
Georgia linebacker Roquan Smith poised to be a star in the NFL

We're in a different age of linebacker evaluation than we used to be. Size matters, but not like it once did, and athleticism, range and coverage ability are almost as important as football IQ for linebackers these days. Formerly "undersized" linebackers like Ryan Shazier, Telvin Smith, Deion Jones, Eric Kendricks and Reuben Foster are dominating the NFL, largely because of their movement skills, unique coverage traits and sharp mental processing.

Those are the traits that win in today's NFL at linebacker, and somebody is going to have to tell me which of those things Georgia linebacker Roquan Smith is missing. Expected to come in at 6-0, 225 pounds (according to NFL Draft Scout), Smith isn't the biggest linebacker, but he hits like a load of bricks and is one of the surest tacklers in the draft.

Scouts can snub their noses at his size, but show me where it is hurting him on tape? Smith consistently evades blockers with quick feet and steady diagnostic skills, which is far more translatable to the NFL than a hulking linebacker who barrels through 320-pound offensive linemen.


Too often with linebacker prospects, evaluators get hung up on whether they can get off blocks or not. But if linebackers are constantly getting pinned down at the second level, they either are diagnosing quickly enough, can't beat blockers to spots, getting swarmed over because their defensive front is letting blockers release too easily or their system asked them to scrape off the defensive line's movements a lot.

At times Smith was put in the last of these four scenarios, largely because he had the movement skills to cover multiple gaps depending on what his front did. This allowed Georgia to be creative without run blitzing Smith a lot, as his range covered up for a lot of risk elements of moving gaps up front.

Smith's range is among the best I've ever scouted. He's going to kill the combine, as his ankles have jet packs attached to them and his ability to change direction and explode in pursuit of the ball is incredible. It was almost impossible for teams to get outside of Georgia in the run game, because Smith's range was so ridiculous and he was so quick to diagnose that is was very difficult to get a hat on him before he took off.




Look at this vision and take-off speed on the play below. Triple option, identifies the first handoff is a fake and just erupts after the ball. Nobody has a prayer of blocking him. For this play it should not be of primary importance to get a hat on the backside linebacker, as the fake should hold him, but with Smith, if you don't change your blocking scheme to account for him, you're cooked. He gets from the core of the formation to the sideline as fast as any linebacker I've seen in my years of scouting.


Even when you scheme to get a hat on him, good freaking luck. Look at the way he sets up this blocker, cuts back inside of him on a dime, sifts through trash with a new aggressive angle to the ball and eventually makes the tackle. The list of linebackers who can adjust their angle on the fly like that and still cut off the runner, all while throttling down to make a tackle on the perimeter is essentially non-existent. There's like 5 guys in the league, maybe.


I wish I would have grabbed more clips, but Smith in coverage is an incredible weapon. In two separate games I watched him blanket wheel routes down the sideline. Against Auburn, Smith had to carry the slot receiver's deep over route to the back corner of the end zone from about 30 yards out, and he smothered the receiver step for step, leaping to knock away the desperation pass just inside the back pylon. Probably one of the most ridiculous coverage plays from a linebacker I've ever seen.
I think Smith can be a tad quicker to diagnose certain inside run concepts and improve his spacing in zone coverage, but all the traits are in place for an elite NFL linebacker. He plays with an exceptional motor and consistent physicality, and I've heard nothing but positive things about his football character. There won't be ten better prospects than Smith in this class, and I expect his stock to just keep rising following the combine.
[ Edited by Heroism on Mar 18, 2018 at 6:36 PM ]