I've never actually done a full mock draft, this is my first
Criticism welcome!
Also, I used fanspeak as a reference point to see when some of these guys would get drafted
Hopefully we can gem em!
First up,
Jason Verrett- CB- Texas Christian University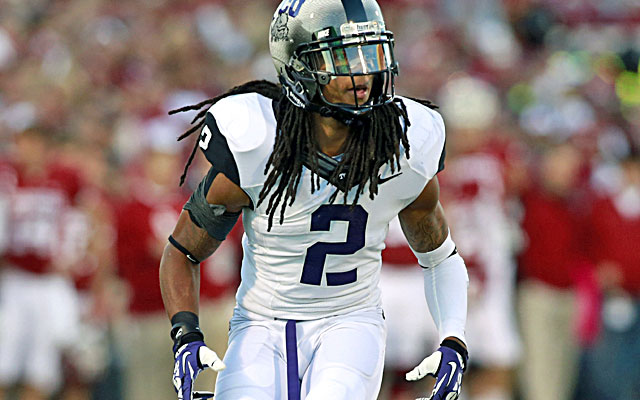 Let me be the first to say I originally wrote this guy off because of his size, Phoenix will attest to that. With the recent bonehead moves by our very own Culliver, and the need for a CB who has the ability to cover WR like Harvin in the slot (yes I said he has the ability to cover Harvin) Verrett is our man. If you fail to understand what analysts mean when they write things like "plays with fire" or "feisty" watch this guys highlight tape; he defines those terms. Day 1 contributor with an aggression that I can't wait to see against the hawks. Sign me up.
Jaylen Watkins- CB- Florida
Yes I did. I went back to back corners in this draft. I know some of you might disagree with this pick here, but I am a fan. Watching this guys highlight tape, I agree there is some room for improvement. But, the ceiling for this guy is high, running a 4.41 at the combine coupled with 22 reps on bench is the size and speed combo that will mold well into our secondary. Some fun facts as well, Watkins is also known for playing safety which should be helpful if anything happens to Reid/Bethea.
Not to mention the gene pool is there, guess who his brother is?
Donte Moncrief- WR- Mississippi Crabtree is a FA next year. Don't forget Crabs is the same WR who held out on us over his rookie contract. I have a feeling he is going to demand a lot of money comes FA if he performs (which i am hoping he does). IMO, if Moncrief can develop (fingers crossed with how we develop WR) I think he would be a great person to fill in for Crabs. Not to mention he is 6'2 220 and runs a 4.40. A lot of fellow posters on here also have a thing for Moncrief, would be a solid pick if we can get him at the right time. A faster, bigger Crabtree with the ability to stretch a field and demand attention from any secondary.
Marcus Martin- C- USC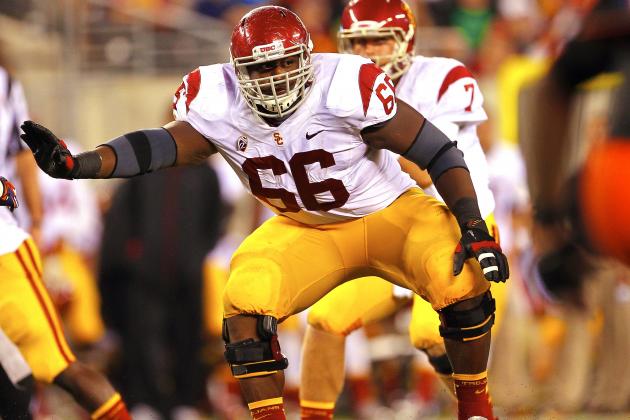 This pick here may be a little biased on my part, as I have never been a fan of Goodwin. Martin isn't the guy that I think will come in and start right away. But let me tell you the talent and size this guy has is something I consider a steal in this round. HE SHOULD BE HERE for the third round. Still very raw, started playing center two years ago and could benefit from sitting behind Kilgore for a year. This is a guy we can draft, sit on for a season, and have him come in and perform without concern. Also is experienced at guard, so if Kilgore works and Iupati leaves... Here is our man.
Daniel McCullers- DT- Tennessee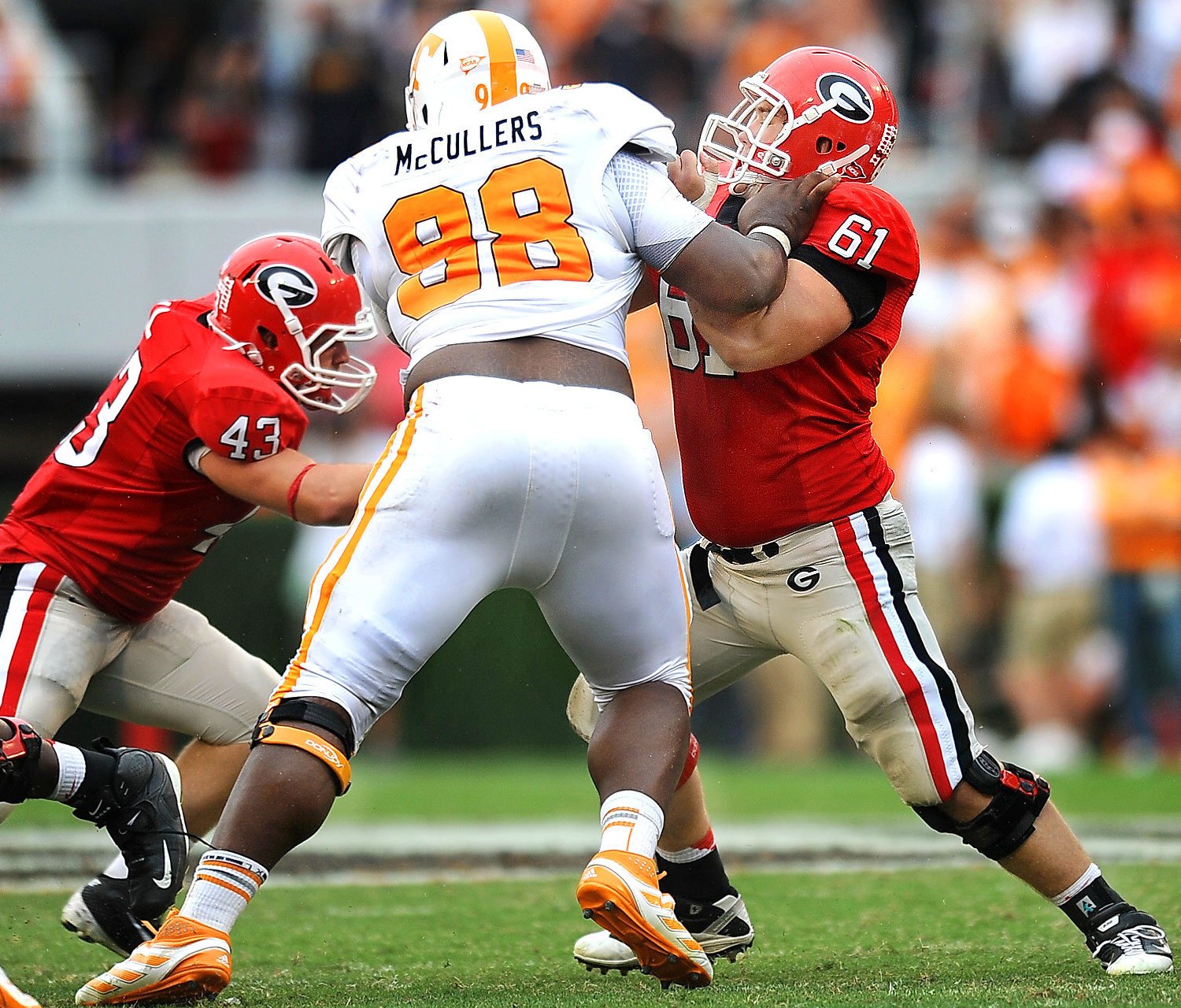 My favorite part about this guy is even though he is 6'7 350lbs, the combine website describes him as "relatively lean for his size" He is an amazing athlete as well, ran a SUB 5 second 40 weighing 365 pounds. Was used in both a 3-4 and 4-3 during his time at Tennessee. I feel he could be rotated between NT and R/L DT. I've been watching his highlight tapes and the way he gets past blockers is amazing. You would expect, given his height, his frame tends to get in the way during pass rushes... It is the opposite.
http://www.youtube.com/watch?v=qc2dzl2rE4I
Seriously watch the way this guy moves, I could see him as a DE. I watched him play against Alabama where he was either effective swallowing up two blockers at a time, or throwing guards around like rag-dolls during pass rushes.
Dri Archer- RB/WR- Kent State
I'm sure many of you know who this is. Ran a 4.26 and has the playmaking ability that Harbaugh wants. (
http://espn.go.com/blog/san-francisco-49ers/post/_/id/6169/harbaugh-explains-need-for-third-wr
) Would cover our kick returns and punt returns and I think could prove to be an effective check-down that Roman should install in our offense. I imagine him as a Sproles type player, I don't think Roman would use him as such... But with the speed and athleticism he brings to the table he allows Roman to expand our offense. Harbaugh talks about a player who can "attack all areas of the field, be an explosive playmaker", well IMO this is that guy.
Lamin Barrow- ILB-LSU
I really like that the NFL combine and fanspeak project him this late. I think he is one of the most underrated players in this draft and has a high ceiling that should put him ahead of other fellow ILBs in front of him. Also, with Bowman being out, I'm praying nothing happens to Willis.
Anyways, Barrow is an athletic ILB who's only issue are his size and awareness (doesn't read plays as well as some ILB, not horrible but could use some work). Don't know if many of you remember but Bowman had the same knock about his size coming out of the combine. At 6'1 232lbs I think he will do just fine after an off season with an NFL team. The ceiling is high for this player, and taking a couple seasons learning behind Willis and Bowman should shape him into an excellent ILB when the time comes.
Brandon Coleman- WR- Rutgers
I might get some backlash on this pick, as I expect it. But I think Coleman has the potential to help increase our red zone %. He is 6'6 about 230lbs and plays like it, at the combine he ran a 4.5 but I have seen him burn opposing secondaries all season long. Great hands, can jump through the roof, and for how large his frame is he has excellent body control. Very good run blocker, I've thought about him switching to a TE in our offense and I think he and Vernon would prove to be a very tough match up for opposing defenses. Can you say mismatch?
Victor Hampton- CB-South Carolina

A slot CB who plays a lot like Verrett. Not as talented, or explosive, but the speed, swagger, and attitude are there. Has seen a significant drop off in stock prospect because of off the field issues and personality... But I think the reward here is higher than the risk. If we end up starting Verrett in Cullys place, this is our guy to guard that slot position. Seriously. Watch his highlight films, 20 reps on bench, 11.5 on 60yd cones, 4.49 40. Came out early and is still pretty raw, learning behind our corners and getting our system down will do nothing but wonders for Hampton. Heres to optimism!
http://www.youtube.com/watch?v=IHD--w46WmE
http://www.youtube.com/watch?v=oAcvuQNgN4s
(fast foward this one to 1:05)
Colt Lyerla- TE- Oregon
Yes, yes, he is nuts, has off field issues, is a quitter, and a drug user. But lets be honest, with the ceiling and talent this kid possesses, and his projected round in this draft, it would be STUPID if we didn't give him a chance. Is one of the most agile, fastest, and athletic player in this draft. Against Arizona last year he was used as a running back and did not fail to impress. Has great hands and is very quick for his frame (6'5 250lbs).
I was not impressed with McDonald this year, I think we need somebody similar more towards VD, this is as close as we are going to get. Like I said, the talent this kid has is good enough to put him in the 1-2 round, if we can control his off field issues he will be amazing.
EDIT:
Dropped out Fuller for Verrett
Dropped Tuitt for Watkins (more realistic)
Dropped out Swanson for Martin
Dropped out Lotson for McCullers
Dropped out Richardson for Hampton
[ Edited by Quest4six on Mar 30, 2014 at 7:32 PM ]