Retained/Extended/Franchise Tag
OG David Bass
LB Ahmad Brooks
LB Patrick Willis
NT Aubayo Franklin
OT Tony Pashos
CB Dre' Bly
Retired/Cut
CB Walt Harris
WR Isaac Bruce
WR Arnaz Battle
WR Dominique Zeigler
LB Jeff Ulbrich
OG Tony Wragge
OT Barry Sims
CB Marcus Hudson
TE Joe Jon Finley
DE Demetric Evans
RB Thomas Clayton
S Mark Roman

Free Agent Additions
RB Willie Parker
Round 1 #13
-
Trent Williams, OT, Oklahoma (6'5, 315 lbs.)
Round 1 #17
-
Brandon Graham, DE/OLB, Michigan (6'1, 268 lbs.)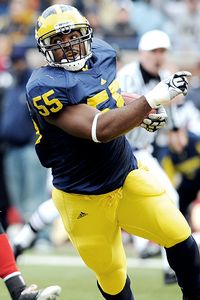 Round 2 #49
-
Perrish Cox, CB, Oklahoma St. (6'0, 198 lbs.)
Round 3 #79
-
Myron Rolle, S, Florida St. (6'2, 215 lbs.)

Round 4
-
Tony Washington, OT, Abilene Christian (6'6, 311 lbs.)
NO PICTURE...
Round 5
-
Antonio Brown, WR/PR/KR, Central Michigan (5'10, 186 lbs.)
Round 6
-
Brandon Carter, OG, Texas Tech (6'5, 329 lbs.)
Round 7
-
Nathan Tripplett, ILB, Minnesota (6'3, 250 lbs.)
I don't expect the 49ers to be very active in Free Agency. However, I do expect 49ers to retain and extend our players. In my opinion, Patrick Willis will receive a new contract. (highest paid LB?) I also look for the team to add a veteran RB to compliment Frank Gore. I chose Willie Parker, but I don't know? I may have forgotten a few of our players.
As for the draft, I wasn't sure how accurate I was, but I attempted to cover our needs. How did I do?
-Pat
[ Edited by PTulini on Mar 3, 2010 at 21:24:36 ]