Pre-Order

Your 2018 Color Rush Throwback Jersey
Happy Birthday Alex Smith
There are 181 users in the forums
Happy Birthday Alex Smith
May 9, 2012 at 12:26 AM
#76
May 9, 2012 at 12:27 AM
#77
The one that started it all.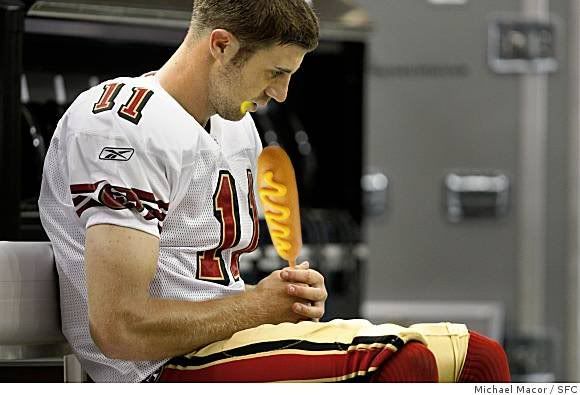 May 9, 2012 at 7:41 PM
#78
Originally posted by Garcia:


Originally posted by NinerPrideinNJ:


Originally posted by qnnhan7:


Originally posted by DaDivaRecieva15:
courtesy of BayArea




LOL! I thought about doing that one...


Somehow I missed the train on this corn dog reference/joke. Been seeing it the past few days and don't know it's origin or meaning. I

Someone care to enlighten me? ...even if Girrrrre


It goes way back in the photoshop thread.
Someone posted a pic of alex slumped on the bench during a game from his rookie year.
He looked all sad.
Then someone photoshopped a corndog in his hand with mustard on his face/jersey.

It slowly evolved from there.
When the Nike UNIs came out, theres a pic of Alex talking to a reporter, I shopped a corndog in there instead of a mic.
Then it took off.
Ah-ha. Thanks for bringing me up to speed.
Reminds of Phil Jennings. s**t just starts to take on a life of its own around here haha.
Some of these are hilarious. The Harbaugh the human corndog is a little f**king disturbing but funny nonetheless. The nike interview gave me a pretty good laugh.
Well done art gurus.
Happy Birthday Alex Smith