Happy Birthday Alex Smith
There are 106 users in the forums
Happy Birthday Alex Smith
Originally posted by Joecool:
You guys are crazy. After Alex got to the NFL, he's only 23 years old. Let's see, 7 years = 1 Alex (Dog) Year.

Alex goes by Dog Years in the NFL unlike all other players when it comes to their football career.


Alex: Hey Brady Quinn, how many years did they give you to develop before they gave up on you.

Quinn: The standard 3 years...I didn't impress. How about you?

Alex: [smirking under his breath] oh, I'm only in year 1...tee hee, tee hee. I still have 14 err 2 more years before they make their final decision...tee hee tee hee.
lmao..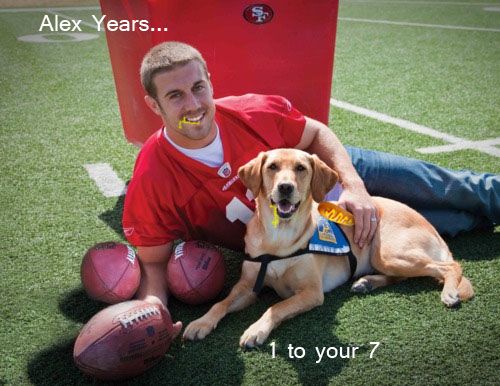 Or is it 7 to your 1? I confused myself...
[ Edited by BayArea on May 8, 2012 at 2:39 PM ]
Happy Birthday Alex Smith