Our D getting love from unlikely sources
There are 126 users in the forums
Our D getting love from unlikely sources
Oct 4, 2009 at 11:20 PM
#16
I remember fantasy advice last week said to bench AP against us. They should bench everyone against us
Oct 4, 2009 at 11:28 PM
#17
Originally posted by RonMexico:


Originally posted by zero:


Originally posted by confusedrhino:
Niners D got 39 points on Yahoo fantasy football this week, which is an ungodly amount. Would I pick them up as a starter? No, I don't think they are that good yet. Would I pick them up the next time we play the Rams? Hells yeah


In some leagues they scored 50 pts




58 for me
you mother f-----
Oct 5, 2009 at 2:19 AM
#18
I really need to get into this fantasy football thing
Oct 5, 2009 at 2:53 AM
#19
Originally posted by Dino:


Originally posted by RonMexico:


Originally posted by zero:


Originally posted by confusedrhino:
Niners D got 39 points on Yahoo fantasy football this week, which is an ungodly amount. Would I pick them up as a starter? No, I don't think they are that good yet. Would I pick them up the next time we play the Rams? Hells yeah


In some leagues they scored 50 pts




58 for me


you mother f-----
I got 67. Been starting em. GO NINERS! Stoopid Romo! I'm benching him. Sticking with Big Ben.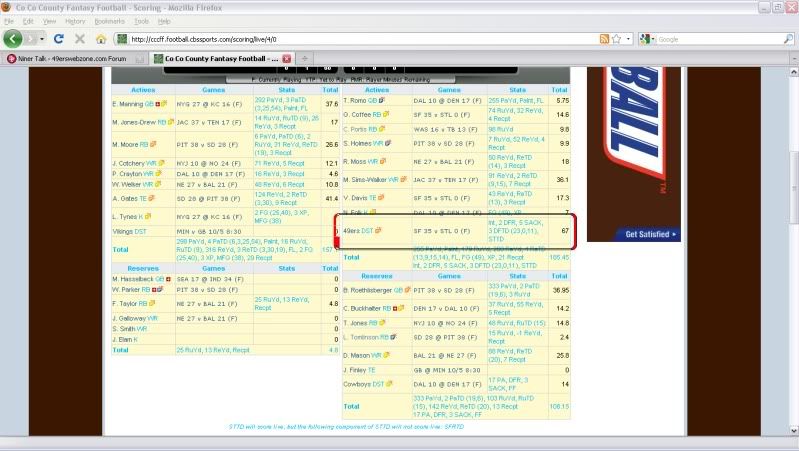 Oct 5, 2009 at 6:37 AM
#20
Originally posted by 49ers1:
DUDE, i started the niners defense this week. SWEEET, i am blowing away my opponent. lol people in the league were like "why you starting the niners D?" now they're saying they wish they had this defense all year long


Man that is great to hear go Niners.
Our D getting love from unlikely sources