Predicting what Baalke&Co. do is near impossible. They are "outside the box" thinkers, and see things we just do not see. So I'm just having a little fun and going the road less traveled with the players I pick.
*I don't do trades in mocks (Although I do not believe we will keep all our picks).
Rd.1
CB Logan Ryan (Rutgers) -
Rutgers version of "Revis Island". Good man coverage, aggressive in both the passing game and coming up in run support. Speed is his biggest knock, but if he runs well at the combine, he'll put all that criticism behind him.
Rd.2
DE William Gholston (Michigan St.) -
Physical freak that needs coached up (sound familiar). Has the physical tools to be a very good 3-4 DE. Needs to learn more passing rushing moves to be more effective, but Justin Smith and Ray McDonald can give them tips of the trade.
Rd.3
via Carolina
OLB Tank Carradine (FSU) -
Baalke loves to draft on potential. And this kid is a 1st round talent, that fell do to an ACL tear. But if he comes back to 100%, he's be a steal and could spell Aldon and Ahmad.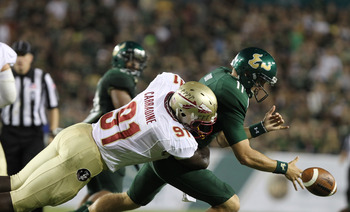 Rd.3
SS JJ Wilcox (Georgia Southern) -
Another potential pick. Just learning the position, but showed at the Senior Bowl that he can play with big boys. Good man coverage, adept as an open field tackler, showed he has good instincts also.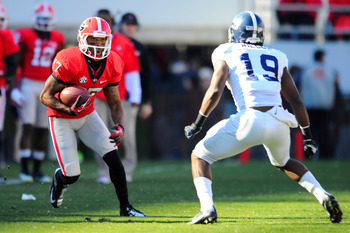 Rd.4
WR Ace Sanders (South Carolina) -
our new "sparkplug" for our offense. Mr.Slot, Mr.Dynamic Returner, Mr.Excitement. If you haven't wanted him play, go to youtube, look up some highlights.....thank me later. He's a toy that Harbaugh and Roman can use in some cool ways. Size is a major knock though. Those mad at picking a guy who may be just a returner, think of it like this.....we gave up a 5th for Ginn. Why not use a 4th on a guy who's probably a better KR/PR?
Rd.5
via Indy
QB Matt Scott (Arizona) -
Generic version of Colin. Good speed, good accuracy. Would make a really good backup and project for Harbaugh.
Rd.5
TE Levine Toilolo (Stanford) -
Lets be honest, those of you that think we will just get rid of Delanie cause we all dislike him, are mistaken. He's to good of a blocker and plays to big of a role in the offense for Harbaugh/Baalke just to get rid of him. He's Jim's "swiss army knife". Toilolo gives us a big target, good receiving TE that will be a nightmare for teams to defend as a 3rd TE.
Rd.6
via Miami
WR Marcus Davis (Virginia Tech) -
Big target WR. Has deceptive speed and gets up to full speed quickly. Needs to learn to get better separation, but very good at going up for the ball in the air.
Rd.6
K Dustin Hopkins (FSU) -
He's a kicker.
Rd.7
via Cincy
CB Josh Johnson (Purdue) -
Smooth CB that is a violent tackler. Good at locating ball and batting it down. Lacks great speed, but he's a competitor that will not back down from anyone or any challenge. Would be a great ST CB, or at least a great PS guy.
Rd.7
OT Elvis Fisher (Missouri) -
Big project OT, that couldn't stay on the field do to injuries.
[ Edited by Travisty13 on Feb 19, 2013 at 4:12 AM ]