Trade our 1st round pick to Vikings for their 2nd and 3rd. Vikings need a OT, CB, and WR. They'll get Matt Kalil at #3 and trading up with us so they can jump over the Patriots and 4 other teams to get CB Stephon Gilmore or best WR/CB available at #30 would sound good to them.
RD2.(35)
Peter Konz C
- Need Need Need. Don't know how long Goodwin will keep going, I got scared when he got hurt in the game against the Saints and then Snyder stepped over, but now he have no Synder. We get a Center for the future with Konz and we have a guy that can either start at RG form day one or compete with Daniel Kilgore. Most likely to start because 1st round picks are not meant to ride the bench but then again, we all know how Harbaugh feels about having competition and giving the starting job to the winner.
RD2.(61)
Brian Quick WR
- 6'4, 220lb. Solid receiver with good hands and great balance. Plays consistent so we know what we would be getting. Knows how to get separation with or without the ball in his hands and plenty of YAC, but what I like most is how he attacks the ball and fights for the possession, plays with alot of heart. Lots and lots of upside. His name just gets lost because of people like Hill, Jeffery, and Kendall Wright. Some say he's the 5th best receiver in the draft The only receiver we spend a draft pick on because we have Moss, Crab, KW, MM, Swain and Ginn on the active roster already giving us 7 receivers in total after the draft. Even thought 2 of them are mainly ST, Ginn will still play some offensive snaps.
RD3. (66)
Robert Turbin RB
- Jacobs is on a one year deal and will battle Dixon for that 3DRB position, Frank Gore is on his last legs. Getting Turbin now would could be a very good value pick for years to come. He can run, block, catch. Most complete RB in the draft if you ask me and thats including Trent Richardson. Our success this upcoming year could have us missing out on top Rbs in next season's draft and I don't want to take that chance. IMO, Turbin > Jacobs and Dixon.
RD3.
Billy Winn DE
– This guy doesn't lose..see what I did there?..lol. No, but seriously this guy has the stuff to be a great player in the future. At 6'4 and 294 he can play DE and DT. He's explosive and very powerful. Give him the "Aldon Treatment" and put him in on situational down and let him go to work. He knows how to find the ball and get to it. With a little coaching, he could be a stud.
RD4.
Jonathan Masaquoi OLB
- Value pick where we'd be getting much needed depth but great talent as well. Good size, comes from a 3-4 defense, and has great pass rush ability. Building for the future with this pick. Can Also play DE in the 4-3 sceme. Niners mainly run 3-4 but do have have some plays where they go 4-3.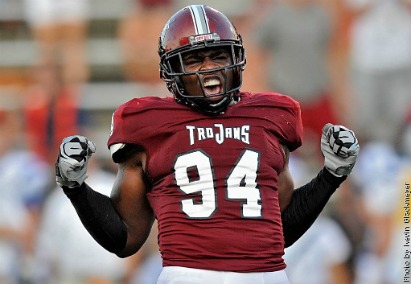 RD5.(165)
Duke Ihenago SS
- We need a backup safety and I think Duke could be a teachable backup to Donte Whitner. I wouldn't be surprised if we picked him up. He's from SJSU, Whitner is taking classes at SJSU so maybe they've talked maybe once or twice. Pretty sure he can beat out Cory Nelms for the job as back up.
RD6. (199)
Vontaze Burflict ILB
- This guy completely imploded and showed how character and a bad combine can destroy your draft stock. On the other hand, the guy was once considered to be a top 15 pick. This could be a steal with a coaching staff like ours. Low risk, incredibly high reward pick here. You cant deny what you've seen in the games. I hesitated and went back and fourth for a couple days on my decision to add him. If he's there, take him, if he's not, there's plenty of options in the 6th.
RD7. (237)
Nicolas Jean-Baptiste NT
- Depth and Developmental pick for the future. DT isnt a big need this year but could turn out to be a great pick in the future. At 6'2 and 335lb, this guy is screaming "My Body is Ready!" lol.
Undrafted guys that might be on the Pre-Season Team
UDFA –
Chris Owusu WR
– Will get picked up for obvious reasons..our coach is named Jim Harbaugh. #2, he went to Stanford. Bye Bye Joe Hastings.
UDFA –
Elvis Akpla WR
- Big sleeper from Montana State. Most likely to go undrafted but no doubt will make somebody's roster. Bye Bye John Matthews? I still cant figure how he's going undrafted tho. Soo much talent
UDFA-
D.J Holt ILB
– Heard they scheduled to see him workout. We need another backup ILB besides Grant, Gooden and possibly Burflict
UDFA-
Cliff Harris CB
– Chances of him getting drafted are very low, but he would definitely be a steal, was a top rated CB but his off-the-field issues hurt him big time. Too much talent to pass on. watch for yourselves
I'm always open to feedback whether positive or negative. Ask me why I chose who I chose and why I didnt choose who you chose. If you think somebody will be LONG GONE by the spot, by all means, correct me and I will edit. Hope you enjoy. I put videos to try and save you the trouble of going on youtube
[ Edited by martysofresh on Apr 10, 2012 at 2:05 AM ]