1. Indianapolis Colts: Andrew Luck, QB, Stanford – No surprise here. We all knew this would happen 3 months ago. One of the best prospects since Elway.
2. Washington Redskins: Robert Griffin, QB, Baylor – They traded the farm for him, and he will be the face of the franchise, and finally a QB NFL teams can actually fear.
3. Minnesota Vikings: Matt Kalil, OT, USC – Fits a big need at OT , and is the BPA.
4. Cleveland Browns: Trent Richardson, RB, Alabama - Browns lost Hillis , so RB void needs to be filled with one of the best prospects in the draft.
5. Tampa Bay Buccaneers: Morris Claiborne, CB, LSU – Claiborne is the top corner in the draft , and the Bucs hired former LSU DB coach in the offseason. Depth is needed at DB, so all fingers point towards Claiborne.
6. St. Louis Rams: Justin Blackmon, WR, Oklahoma State – The Rams need playmakers for Bradford! Enough said.
7. Jacksonville Jaguars: Michael Floyd, WR, Notre Dame – Jaguars always seem to surprise on Draft Day. Logic says pass rusher , but their offense is very anemic. Personally I don't think there is much of a gap from Blackmon(#1 )to Floyd(#2).
8. Miami Dolphins: Ryan Tannehill, QB, Texas A&M – Nobody wants to come to Miami , so what else can the Dolphins do but draft a QB.
9. Carolina Panthers : Fletcher Cox, DT, Mississippi State – Poe blew the combine , but Cox has the production on his side. I think he will be the 1st DT of the board.
10. Buffalo Bills: Riley Reiff, OT, Iowa – DE was a need, but obviously that was addressed with Williams and Anderson. They go with an OT to protect Fitzpatrick's ass.
11. Kansas City – Dontari Poe , DT , Memphis – Signing Winston makes drafting a Guard like DeCastro in the 1st less likely. They go with improving their D Line instead.
12. Seattle Seahawks: Melvin Ingram, DE, South Carolina – The Seachickens will go with the safe pick in Ingram , one of the best pass rushers in the Draft.
13. Arizona Cardinals - Jonathan Martin, OT, Stanford – This pick makes too much sense, the Cards need another OT to go with Brown.
14. Dallas Cowboys – Dre Kirkpatrick , DB , Alabama – The cowgirls depleted secondary needs talent , and Kirkpatrick fits the bill. Jenkins is a possibility, but too many red flags off the field will prevent him from going this early.
15. Philadelphia Eagles: Michael Brockers, DT, LSU – BPA at this pick and the eagles need some help on the interior of their line.
16. New York Jets: Quinton Coples, DE/DT, North Carolina – Couples falls into the lap of the Jest due to his the concerns of a constant motor on every down. There is no denying that Couples is a talented kid.
17. Cincinnati Bengals: Stephon Gilmore, CB, South Carolina – Might be a slight reach , but there is always two or three players that teams fall in love with. Gilmore has really improved his stock since the beginning of the Draft process.
18. San Diego Chargers - David DeCastro, OG, Stanford – Best interior linemen in the draft is still available, and the Chargers should be ecstatic, as some draft guru's have said the DeCastro might be the best OG prospect since 2001.
19. Chicago – Whitney Mercilus , DE , Illinois - Not many needs for the Bears , but they probably would like to add another pass rusher with JP.
20. Tennessee - Devon Still, DL, Penn St – DT is a one of the deepest positions in the Draft , and teams like the Titans drafting in the 20's will be the biggest benefactor due to their need for a DT.
21. Cincinnati Bengals- Cordy Glenn , OG/OT , Georgia – Not the sexy pick most Bengal fans want , but he fills a void at Guard(Both starters are FA this year).
22. Cleveland Browns(Atl) - Courtney Upshaw, OLB, Alabama – Upshaw brings value to a defense that could use more help getting to the QB. Browns will opt to get a WR early in the 2nd. Too much value to pass over here.
23. Detroit Lions – Mike Adams,OT,OSU – Lions need help on the Line. Adams stock has been rising gradually don't be surprised if he goes higher than 23.
24. Pittsburgh Steelers- Luke Kuechly, LB, Boston College – With Farrior leaving the Steelers could look at ILB. If Kuechly is still on the board it might be a easy choice.
25. Denver Broncos- Kendall Wright , WR, Baylor - Broncos need more depth at WR , Wright will fit right in at slot and be a impact player from day one. Before manning maybe a DT was the choice , but I am sure having manning will change that due to the change from Tebow to Manning.
26. Houston Texans: Stephen Hill, WR, Georgia Tech – The Texans need another playmaker alongside AJ , and hill has a rare combo of speed and size. The Texans like running the ball , but having Hill and Johnson will definitely give the QB more toys in the passing game.
27. New England(NO) – Andre Branch , DE, Clemson – The Pats need more pass rushers , and Branch is one of the best pass rushers left and he will fit the Pats scheme as an OLB/DE.
28. Green Bay Packers: Nick Perry, DE/OLB, USC – See a trend? Pass rushers are going to be coming of the board fast with the teams at the end of the 1st Round. Packers have Matthews , but could use another pass rusher on the other side of the Defense.
29. Balimore Ravens - Peter Konz, C, Wisconsin – Ravens done have many needs but the Center position makes sense here. Konz can start from Day one.
30. San Francisco 49ers – Drum roll!!!!!!!!!!!!!!!!!!!!!!!!
Everyone is thinking Fleener , but what has the past 3-4 years Draft taught us on Draft Day. Expect the unexpected with the Niners. Aldon Smith in 2010? Who saw that coming? Two OL in the 1st? Crabtree falling to 10 ? Balmer in 08 , etc. We all expect the Niners to draft Fleener if he is available. But as the Niners always do, they will surprise us.
Janoris Jenkins, CB, N. Alabama
BPA. This is passing league and you need depth more than ever in the secondary. I like our DB's but I think we will have one of the best Secondary's in the League if we get Jenkins. Imagine the freedom Fangio will have with different blitz schemes knowing we have Rodgers,Jenkins,Culliver and Brown. Has red flags off the field, but Harbalke are confident in their players by giving Jenkins a good locker room environment and an positive influence from other players to help the youngster.
31. New England Patriots : Mark Barron, S , Alabama – Pats need help in the back of the secondary.
32. New York Giants – Coby Fleener, TE, Stanford- Coby say hello to Mr. Manning
2nd Round Pick –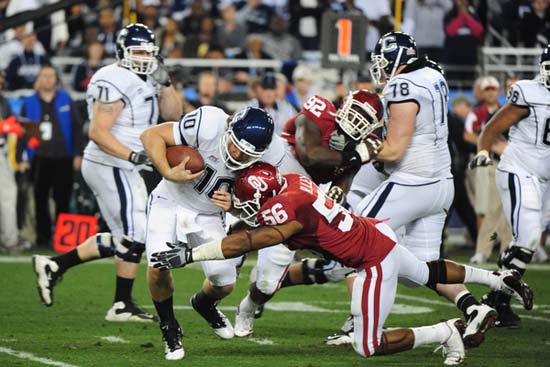 Ronnell Lewis OLB , UO
– This guy screams of being a Harbaugh type player. Not many are talking about him , but watching some of the games , he stands out with a nonstop motor and effort.
3rd Round -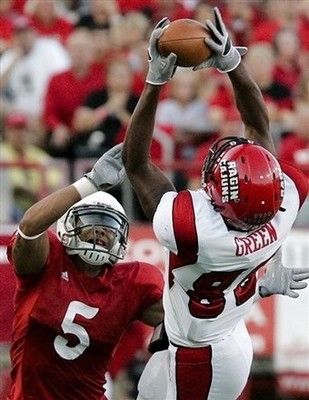 Ladarius Green , TE, ULL
– With Walker set to be a free agent next year we need to draft the next WR/TE Hybrid.
4th Round –
Jarius Wright , WR , Arkansas
– Talk about a kid that can fly . Very under the radar considering he is a very good route runner that can stretch the field. Can bring a different dynamic to the Niners offense.