Ok, let me give you a little background info - this was done in a separate forum I'm in where each user was given the team they were a fan of. I, of course, chose my beloved 49ers!
I know some people are probably pulling out their hair because OL wasn't taken with one of our first round picks. I just wanted to show how deep this draft is if we do it right.
I'll break down each pick and so on, hope you guys enjoy!
*This was done w/o the 9ers compensatory pick.
If you'd like to check these player rankings go here:
Scout.com: 2010 NFL Player Rankings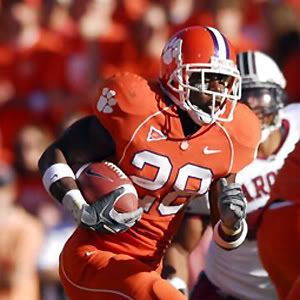 13 San Francisco 49ers CJ Spiller RB Clemson
The Niners just can't resist adding a much needed weapon for Alex Smith to use, remember this is his make it break it year. CJ Spiller has the ability to be the closest thing to Chris Johnson - if there were questions on Johnson handling a full workload due to his size, that logic is now flawed with backs like Spiller coming into the league.
Don't think of him just as a RB, think of him as a WR / ST. A FOOTBALL PLAYER who can line up in the slot, go in motion, catch balls, run routes, pass blocker, return kicks, run inside but his biggest strength is running outside. He would be a great compliment to Frank Gore.
Percy Harvin and Joshua Cribbs with Chris Johnson speed? Alex Smith is drooling right now.
17 San Francisco 49ers(from Carolina) Brandon Graham LB Michigan
Still no OL taken?!?! It's ok guys, you still do not need to worry.
It's no secret that our LB corp needs to get younger and Baalke cannot resist adding the top rated OLB with our 17th pick to pair him up next to P. Willis.
Not only can B.G put his hand in the ground and cause havoc (led the nation with TFL) he can also go in coverage.
Why settle for a 2nd tier OT when we can add top rated talent with each picks? I'm with it!
49 San Francisco 49ers Rodger Saffold OT Indiana
It's time to really get familiar with Saffold, considered to be a OT sleeper in this draft.
We can instantly plug Saffold on the right side and what I love about him is his quick feet (perfect for a zone blocking scheme we're planning to run).
Stats: 6'5 320 at 21 y/o
79 San Francisco 49ers Donovan Warren CB Michigan
D. Warren will not impress you with his speed, but his technique and fluid hips make him great value in the 3rd.
Quote:
He was a solid performer during his first two seasons with the Wolverines, tallying 104 tackles, 5 tackles for loss, 1 sack, 2 interceptions, 9 passes broken up, and 2 forced fumbles in 24 games. Those are good stats for most players, but Warren stepped his game up to the next level as a junior, registering 66 tackles, 11 passes broken up in coverage, and 4 interceptions (one of which he returned for a touchdown).
110 San Francisco 49ers Jordan Shipley WR Texas
This draft is so deep, its amazing. Like I said earlier, this is Alex Smith's make it or break it year .... the front office NEEDS to surround him with weapons to make him successful.
Jordan will never be a #1 receiver, but his epeed and route running make him a perfect security blanket as a #3 / slot receiver. He's been compared to Wes Welker and that alone should help is even more moving the chains.
Shipley can also return punts, CJ Spiller in KR and Shipley in PR. Keep everyone fresh.
Mind you our WR corp isn't the best with Jason Hill, Dominick Ziegler (sp) on the outside looking in - Shipley is an instant upgrade for us and could bump Brandon Jones even further down the depth chart. Great value.
141 San Francisco 49ers Brandon Carter OG Texas Tech
It's time to also get familiar with Brandon Carter! A beast in his own right.
Crabtree is on the phone telling the front office to bring this guy in, one of the top rated guards in this draft to be had in the 5th?!
You guys sick and tired of watching Chilo Rachal looking confused on the line? Brandon Carter could come right in and compete with Chilo - the quickness on Carter is amazing.
Stats: 6'7 340lb
172 San Francisco 49ers Sam Young OT Notre Dame
I highly doubt Sam Young would be here in the 6th round, but in my mock draft in another forum I'm in he was here and the 49ers cannot resist!
I'm still building the line in the late LATE rounds and a guy like Sam Young could be very serviceable.
He isn't the fastest guy, but his strength and pure size could make him a future starter in the NFL.
Stats: 6'8 330lbs
208 San Francisco 49ers Barry Church S Toledo
Now, who I really want here ... Kurt Coleman from Ohio State - but he was picked a couple spots before me
It's alright we get a good prospect in the last round who is very durable!
Quote:
Church has been slowly improving with every season, but it was during his freshman campaign in 2006 when he made a big splash. During that season he totaled 71 tackles, but he also intercepted four passes and returned two of them for touchdowns -- including one in dramatic fashion in the fourth quarter against Kansas which led to an overtime victory.

Church continued to improve in 2007 and tallied 92 tackles and picked off three passes. In 2008 the numbers were equally impressive with 93 total tackles and three forced fumbles. It was no surprise that Church was a consistent presence in the secondary during his senior campaign. On the year he tallied 98 tackles, 8.5 tackles-for-loss, 2.5 sacks and one interception.

What makes Church an interesting NFL prospect is his versatility. He can get into the backfield in a hurry or help out in coverage. That means he could play strong safety or outside linebacker in the NFL, but that will not be enough to make him more than a third or fourth round selection.
Alright guys, love it or hate it - I tried and invested a lot of time into this.

I know there are alot of Spiller haters here, but that's what makes us all 49er fans - WE ALL HAVE AN OPINION!

This draft is so deep in OL, I wanted to go a different route and show you guys how many impact players we can add without sacrificing talent.
[ Edited by LA_NINERS on Mar 25, 2010 at 09:02:34 ]