A new mock after the Senior Bowl.
Offseason moves:
Retain:
Sims
Baas
Franklin (franchise)
Bly
Pashos
Brooks
Cut:
Battle
Clayton
Evans
Brandon Jones (too expensive for 3rd or 4th WR)
Roman
Shaun Hill (we already know what we had with him)
Synder (is a liability at OT and G)
Kevin Smith
Wilhelm
Retiring:
Bruce
Harris
Ulbrich
Free Agent Signings:
Stephen Neal OG
Danieal Manning S (can do punt return duties as well)
Karlos Dansby OLB
Chester Taylor RB
Draft:
1a: Trent Williams, OT
No messing around! The 49ers get their ROT at #13 and will not take a chance of missing out on one at #16/17.
1b: Earl Thomas, S
Manning is good for depth at Safety and return duties, but he will not solidify our need for a physically talented Safety prospect.
2: Mardy Gilyard, WR
A DYNAMIC offensive weapon! This year we grab our Desean Jackson! Coupled with Gilyard's return abilities and his receiving abilities he is a second round talent!
3: Brandon Ghee, CB
Standing 6'0" gives us a tall CB to compete with the WR's of the NFC West.
4: Tyson Alualu, DT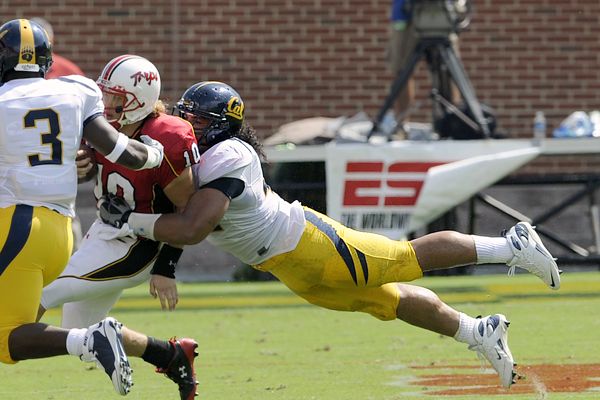 6'3", 290 lbs. This guy has a motor and a half! He would bring a nice rotation to our DL.
5: Dan Lefevour, QB
Sure the 49ers spent a late round pick on Nate Davis, but something about Lefevour is just speacial! He will be our 3rd QB behind Smith and Davis. Hill will be cut and thus a 3rd QB will be needed. A veteran QB can be brought in during training camp but ultimately will get cut. If the 49ers need a veteran QB to take over in case Smith gets injured, they can get a QB like Pennington; who will be a street free agent for a while.
6: Pat Angerer, ILB
Gotta love the name! 6'1", 235 lbs. Provides competition for McKillop and special teams depth.
7: Akwasi Owusu-Ansah, CB
Another taller CB (6'1") for CB depth.
Roster:
Offense: 26
QB: Smith, Davis,
Lefevour
RB: Gore, Coffee, Taylor, Norris, Robinson
WR: Crabtree, Morgan,
Gilyard
, Hill, Ziegler, Wright
TE: Davis, Walker
OL: Staley, Neal, Heitmann, Rachal,
Williams
, Baas, Wragge, Sims, Pashos, Wallace
Defense: 27
DL: Sopoaga, MacDonald, Franklin,
Alualu
, Smith, Balmer, Francois
LB: Lawson, Spikes, Willis, Dansby, Haralson, Brooks, McKillop,
Angerer
Briggs
DB: Clements, Spencer, Bly, Brown,
Ghee
, Hudson,
Owusu-Ansah, Thomas
, Goldson, Lewis, Reggie Smith, Manning
ST: 2
K: Nedney
P: Lee
KR: Gilyard
PR: Manning/Gilyard
With 2 spots too many, I would cut Wallace and Francois and then sign them to the practice squad.
What do you think!