2014 Offseason
Resign
S Donte Whitner - 3 year deal
~ Key part of the secondary. He has progressed in coverage this year and he communicates well with Reid. Whitner seems to want to stay in the Bay area, so it makes sense.
K Phil Dawson - 2 year deal
~ Having a great year. Has shown the ability to kick in all conditions. No brainer.
WR Kassim Osgood - 1 year deal
~ Special teams ace. Not very expensive and the front office doesn't want to mess with the unit too much.
ILB Michael Wilhoite - 2 year deal
~ Provides insurance for Bowman and Willis. Also is a key cog in the special teams unit.
WR Anquan Boldin - 2 year deal
~ Has been more than advertised. Plays a huge role in mentoring youg WR's and is a locker room leader.
Extensions / Restructure
CB Carlos Rogers - Restructure
~ Los plays a bigger role on this team than many of you believe. His teammates like him and he has been here through it all. He takes more criticism than he deserves and still plays well. He will take a pay cut to avoid being released.
RB Frank Gore - Restructure (possibly 1 year Extension through '15)
~ Gore's contract is restructured to move money towards workout bonuses / roster bonuses / performance bonuses. It is also a possibility they add a year through '15 to provide salary cap relief.
TE Vernon Davis - Restructure
~ Vernon gets more guaranteed money and is restructured to allow for salary cap relief.
QB Colin Kaepernick - 6 year Extension
~ No way we let him hit free agency. He agrees to a new deal immediately after the season and we get that out of the way. He is our franchise QB and has already shown enough to make me comfortable going forward. No clue on what the #'s will be but it is justified.
WR Michael Crabtree - 4 year Extension
~ Kap's #1 target will not get to his free agency season. He is locked up at the same time to cement the staple of our offense for the future. He will command top dollar but it has to happen. With Kap and Crab getting deals, Iupati is pretty much going to walk without a deal in '15. Aldon will be addressed at a later date.
Let Walk In Free Agency
C Jonathan Goodwin
~ He will either retire or look for work elsewhere. Average starter while here but not worth tendering a new multi year contract.
WR Mario Manningham
~ We never really got to see Rio at his best. He battled injuries and was a minor disappoinment. With his health issues, he will be looking for work elsewhere.
CB Tarell Brown
~ Solid defensive back who plays well in spurts. He will get several offers in free agency that will be too expensive for our taste. Culliver will be back and the draft will provide us with a solid replacement.
DT Demarcus Dobbs
~ Our defensive line depth is solid and he will get a chance somewhere else. Jerrod-Eddie has emerged and we have Dial as well.
RB Anthony Dixon
~ Boobie is a great teammate and provides depth at multiple positions. However, he will get the opportunity elsewhere in an expanded role.
QB Colt McCoy
~ Never really looked like he had grasped the offense in preseason and he doesn't really even fit the offensive philosophy.
CB Eric Wright
~ We go younger at the position and let Wright walk. He hasn't really had enough PT to show what he has. We go the draft route for defensive back depth.
Release
S Craig Dahl
~ He was signed as insurance for Reid. Reid has shown that the job is clearly his and Dahl is getting paid too much for a backup. He will be cut.
WR Jon Baldwin
~ Comes over from Kansas City and hasn't gotten many looks. With Crabtree resigned and Boldin back for 2 years, Baldwin will never see the field. He doesn't play special teams so he has no way of seeing the field on this roster.
Free Agent Signings
QB Chad Henne - 2 year deal
~ We have seen how much a quality backup is needed in the NFL this season. McCoy leaves and Henne comes in to hold the clipboard. Henne is solid and would provide a servicable backup to Kap. We draft a 3rd QB for Harbaugh to develop into a backup.
OT Depth signing
~ Not sure who we will sign but there is a need for depth behind Davis and Staley. The front office will wait it out and find a quality vet on a one year deal.
ST Coverage signing
~ With Dixon and Dahl leaving, a couple of special teamers will be signed. Again, not sure who specifically.
2014 Draft
1st Round:
Trade own '14 1st, 3rd and 7th Round Picks and move up to the 15-20 range
Select: Justin Gilbert CB Oklahoma State 6'0" 200 Pounds
~ Gilbert is one of the best pure athletes in this draft. He has top level speed, great size and also plays the run very well. With Brown leaving in free agency, Gilbert has the opportunity to play right away. He also is a great return man.
2nd Round:
From Kansas City
Select: Odell Beckham Jr. WR Louisiana State 6'0" 193 Pounds
~ Beckham is a great route runner and has above average speed. He will go up and get the ball and catches tough balls. Also, Beckham provides another option in the kick return game. He would compliment Crabs and Boldin very well.
2nd Round
Own Pick
Select: Dominique Easley DE Florida 6'2" 285 Pounds
~ This is the typical draft and stash move by Baalke. Easley, before tearing his ACL, had one of the quickest get offs in college. His motor is relentless and he is very athletic. With Justin Smith nearing retirement, Easley can become a great pass rusher for this team. Pass rush is a need and Easley fits the bill.
3rd Round
Own Pick
Select: Martavis Bryant WR Clemson 6'5" 200 Pounds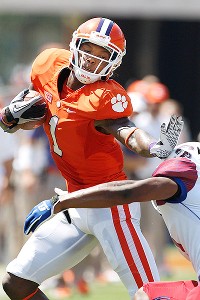 ~ Pure potential pick. Bryant has all the measurables and has played well in spurts. Coaches at Clemson say he is the most athletically gifted player at Clemson. With Boldin here to mentor him, he could become a productive WR by the time Boldin leaves.
3rd Round
Compensatory Pick
Select: Weston Richburg C Colorado State 6'4" 300 Pounds
~ Comes from a Colorado State program that runs the ball really well. He makes good calls at the line of scrimage and is solid pass protector. Richburg can step in for the loss of Jonathan Goodwin.
4th Round
Own Pick
Select: Antone Exum CB/S Virginia Tech 6'1" 220 Pounds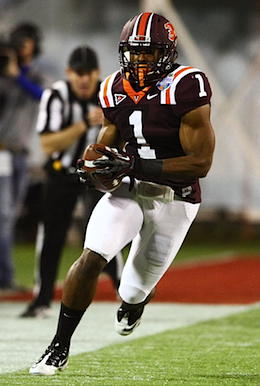 ~ Physical specimen that missed a lot of games due to injury. He can make the move to safety or stay at CB. Has great size and makes instinctive plays. Exum would have been a 2nd or 3rd rounder if healthy.
5th Round
Own Pick
Select: Jaylen Watkins CB Florida 6'0" 187 Pounds
~ Brother of Clemson WR Sammy Watkins. Jaylen is a gifted athlete who has some good instincts at CB. He played behind some great defensive backs at Florida (Roberson, Purifoy and Hargreaves). Give him a look and he could develop into a nice CB. Has good size and reminds me of a typical Seattle CB.
6th Round
Own Pick
Select: Jeff Mathews QB Cornell 6'4" 229 Pounds
~ Big QB with a strong arm. Harbaugh loves big bodied QB's and will love to develop Matthews. Hopefully he develops into a solid backup to Kap.
7th Round
Pick From Indianapolis
Select: Jay Prosch FB Auburn 6'0" 258 Pounds
~ Versitale back that is a masher in the run game. Watch him on tape and you will see him physical at the point of attack. He is a road grader and can even provide some production in the flats. He can also play special teams and would be a replacement for the loss of Boobie in free agency.
7th Round
Pick From Carolina
Select: Kaneakua Friel TE Brigham Young 6'5" 261 Pounds
~ Friel is a pure blocking TE that helped pave the way for the explosive BYU running game. He will provide depth and can provide competition for Vance McDonald.
7th Round
Pick From New Orleans
Select: Daryl Williams OT Oklahoma 6'6" 321 Pounds
~ Classic offensive line depth pick. Williams started on the right side when Lane Johnson was at Oklahoma. He is a solid run blocker but needs work in the passing game.
[ Edited by HarbaughzDeep on Jan 8, 2014 at 1:49 PM ]