Videos are auto-populated by an affiliate. This site has no control over the videos that appear above.
The San Francisco 49ers released their first depth chart of the 2016 regular season and immediately everyone started breaking it down.
There are some new numbers for 49ers newcomers. WR Rod Streater will wear No. 81 while DT Taylor Hart will wear No. 96. Quarterback Christian Ponder will change numbers from No. 5 to No. 15, mostly due to the fact that punter Bradley Pinion wears the old number.
Listed on the depth chart are three first-team wide receivers. They are Torrey Smith, Quinton Patton, and Jeremy Kerley. Kerley is also listed as a punt returner on special teams.
Arik Armstead
, Mike Purcell, and Quinton Dial are listed with the first-team defensive line. Rookie DE DeForest Buckner is listed as a backup.
The first-team offensive line has the following from left to right: Joe Staley, Zane Beadles, Daniel Kilgore, Anthony Davis, and Trent Brown. Rookie OG Joshua Garnett is listed as a backup.
You can view the depth chart below.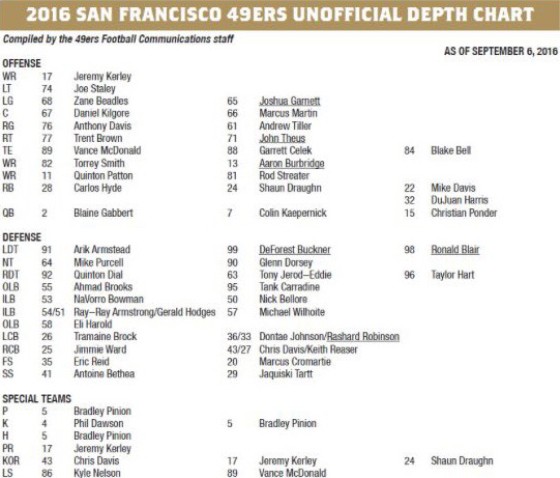 Of course, it is important to not read too much into this depth chart. Playing time during
Monday's home opener against the Los Angeles Rams
at Levi's Stadium may look very different.
Related News