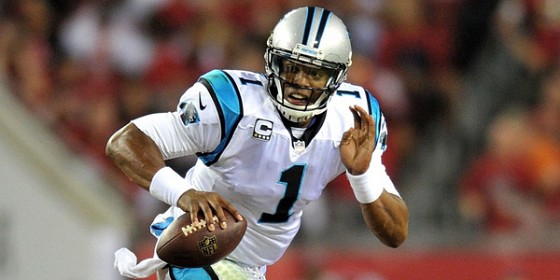 This afternoon, the 49ers will host the Carolina Panthers at Candlestick Park in San Francisco. The two teams last met on Osctober 24, 2010 when the Panthers beat the 49ers 23-20 in Charlotte, North Carolina.
Offensively, the 49ers are ranked 16th in the league while the Panthers are ranked 20th. Defensively, the 49ers are ranked 6th in the league while the Panthers are ranked 2nd.
The 49ers are coming off of their bye week and are looking to maintain their momentum. They are riding a five-game win streak and are slowly getting healthy again.
Wide receiver Mario Manningham was activated to the 53-man roster this week. He is returning from a knee injury that he suffered in December and is expected to be the team's no. 2 receiver. Week 10 could also see the return of linebacker Aldon Smith. While his role could be limited, it is a huge step for Smith, who has been in rehab to address a substance-abuse problem. Cornerback Eric Wright was also recently activated. The 49ers released veteran Nnamdi Asomugha to make room for Wright.
The Panthers are surging and are a game behind the New Orleans Saints, who lead in the NFC South. While they have won four in a row, the 49ers will be their first true test during that streak. Their last four opponents have a combined record of 8-33. The league's second best rush defense will try to slow down
Frank Gore
and the 49ers' league leading rushing attack.
Two weeks ago, the 49ers (6-2) defeated the Jacksonville Jaguars 42-10. Last week, the Panthers (5-3) beat the Atlanta Falcons 34-10.
For the 49ers, WR Quinton Patton (foot) is out. LB Ahmad Brooks (stinger), DT Ray McDonald (biceps), and DT Justin Smith (shoulder) are listed as questionable. G Alex Boone (shoulder), T Anthony Davis (shoulder), DT Quinton Dial (ankle), RB Frank Gore (ankle), G Mike Iupati (elbow), and WR Kyle Williams (knee) are listed as probable.
For the Panthers, LB Chase Blackburn (foot), CB James Dockery (shoulder), and G Chris Scott (knee) are out.
The game kicks off at 1:05 PM PT and, as usual, you can visit 49erswebzone.com for the latest news and updates during and after the game.
The game will be televised on FOX. The 49ers are 5.5 point favorites.
Within Yahoo! Sports, a popular mobile scores application, 79% of fans believe that the 49ers will win this game.
Within our
Pick 'em contest
, 95% of fans believe that the 49ers will win this game.
You can follow the game live on
NFL.com's Game Center
.
You can also discuss the game with fans in the
49erswebzone.com forums
. Become a fan of 49erswebzone.com on
Facebook
and
Google+
or follow us on
Twitter
.
Article photo by Steve Mitchell of USA Today Sports