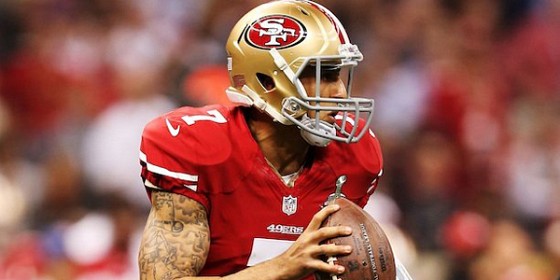 San Francisco 49ers quarterback Colin Kaepernick was on ESPN SportsCenter today. He had the following to say.
On Boldin trade to San Francisco:
"He's a great asset. He's a great player. He's another weapon for this team. Any chance we can get the ball in his hands would be great."
On Boldin's Super Bowl ring:
"Hopefully we can get another one for him then. That's what we are working for and hopefully he's another asset to help us get there.
On the Seahawks adding Percy Harvin:
"That's just going to make them a tougher team. I think the NFC West is a very tough division now. It's only getting tougher, so we look forward to a lot of great battles with them."
On how he is recovering from the Super Bowl loss:
"We're back training. We're back at it trying to get ready for next season to make sure we can get that one more win to help us get to the Super Bowl and hopefully get a ring on our finger."
On what they might do differently if they get back to the Super Bowl:
"I think we do the same thing. We'd do it all over again the same way. We just have to go out and perform better on that Sunday so I think getting back there is going to be the toughest thing and then ultimately going out and playing like ourselves."
"We definitely need to get out to faster starts. Something we need to improve on, but ultimately, we just need to go out and make plays."
On the biggest challenge entering 2013:
"The biggest challenge? Just keep doing what we been doing. I think being disciplined in our routine, being disciplined in what we were doing, and trying to keep doing it will be the biggest challenge for us."
On what it will be like without Alex Smith:
"It will be a little bit different. I mean, he was a great teammate. He did a lot of great things that helped me out. He was always making sure I was seeing defenses, seeing rotation, always helping me with the playbook. He'll have a great future in front of him. He'll have a great career. We'll just see what happens."
On the last time he has seen Jim Harbaugh in something other than khakis, a black sweatshirt and cap:
"You know what? I don't think I have ever seen him in anything else other than that. That's just his apparel. I think he has the 50 pairs of khakis and 50 black sweaters [laughs] at the house."
Kaepernick was hesitant to say that the Milwaukee Brewers would have less wins than the San Francisco Giants saying, "I don't like going against the Brewers."