Packers to closely dissect Week 12 loss to 49ers
Green Bay coach Matt LaFleur said a thorough review of a 37-8 loss to San Francisco is on his to-do list before Sunday's NFC title game.
More San Francisco 49ers News
49ers attempted to claim former Chiefs FB John Lovett, who went to the Packers
The San Francisco 49ers attempted to add a fullback to their roster. Field Yates of ESPN reports that the team put in a claim for former Kansas City Chiefs fullback John Lovett. The Green Bay Packers, however, were awarded Lovett on Thursday. CB Ryan Lewis, claimed by Washington yesterday, was a popular player on waivers as both the Giants and Panthers tried to claim him as well. FB John Lovett, claimed by the Packers, was also on the 49ers' radar as they attempted to claim the former Chief.— Field Yates (@FieldYates)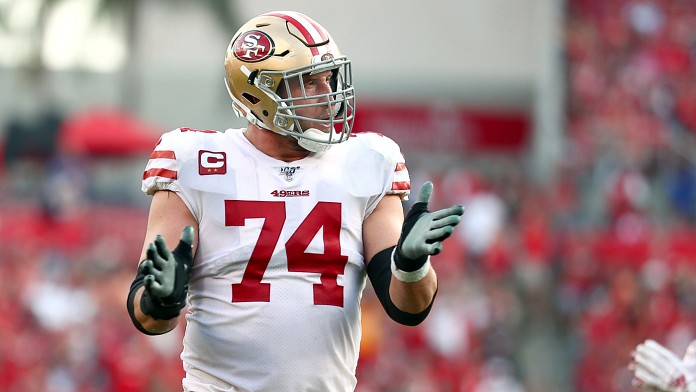 Former 49ers tackle Joe Staley shows off his weight loss since retirement
Joe Staley revealed to ESPN last month that he had lost 50 pounds since retiring. The former San Francisco 49ers offensive lineman recently shared the following photo of his new self on Instagram (h/t to Grant Cohn for the find). A slimmer @jstaley74 is enjoying life after football. It's always good to see the #49ers icon.
Nick Bosa has a 'very good chance' to be NFL Defensive Player of the Year, says Brian Baldinger
NFL Network analyst Brian Baldinger joined 95.7 The Game on Tuesday and explained why he believes the reigning NFL Defensive Rookie of the Year, San Francisco 49ers defensive end Nick Bosa, can be even better in 2020. How much better? Baldinger believes Bosa is a candidate for the NFL Defensive Player of the Year Award. "I think, honestly, in talking to players that have played with Nick Bosa in practice, and talking to oppositions that have had to block him," Baldinger said on the Bonta, Steiny & Guru show, "I believe -- and I was with a general manager last night talking about pass rushers and, specifically, Nick Bosa -- I think he's got a very good chance to be the defensive MVP of this league. I think he has that kind of talent. "And
Featured
More Featured Stories
Trending News
49ers Webzone • 21 hrs ago

49ers Webzone • 6 hrs ago

49ers Webzone • Aug 10, 2020

49ers Webzone • Aug 10, 2020

The Mercury News • 9 hrs ago

Sacramento Bee • Aug 10, 2020
More News