With all the Tavon Austin hype arriving with the news that hes coming to town for a pre draft visit, I thought it would be cool to put together a little mock draft in wich we actually trade up to get him. I hope you enjoy! I think this will be my best mock draft yet. Also, to rank where these players might land, I've collaberated with 8+ big boards and would rank the players in between the highest and lowest. All of them had been updated in last 8 days and most included post pro day rankings. Anyway, lets get this show on the road!
First Trade with Rams; We give them our 2nd rounder (pick 34 worth 560 points) + our 3d rounder (pick 74 worth 210 points) + 2014 7th rounder (worth 10 points) for a total of 780 points. In return we receive the Rams pick number 22 in the first round (worth 780 points making it an even trade) That gives us pick 22.
Second trade is with the Miami Dolphins. We trade them our first round pick (pick 31 worth 600 points) and our second 2nd round pick ( pick 61 worth 292 points) for a total of 892 points. In return we get picks 42 (worth 480 points) and pick 54 (worth 368 points) + their 2014 4th round pick (making up the 44 point difference wich is the value of the lowest 4th round pick, could potentially get a 3d round pick due the the inflated value of getting a pick now versus next year, especially with the amount of stress Miami's front office is under). (preferably 3d since its my dream but 4th would probably be more realistic.
After the trades, we end up with 11 picks this year, minus a 7th rounder next year, and plus a 4th, possibly a 3d round pick next year from the Miami Dolphins.
Baalke would approve!
Round 1 pick 22(Rams) - WR Tavon Austin WVU
- Most explosive and dynamic player in the draft. He becomes our Wes Welker/Percy Harvin hybrid without the injury issues, or the headaches, and hes faster than both. He can Line up in the slot, run the end around, play running back, motion into the back field, and run the option with Kaepernick. He was amazing running the jet sweep at WVU. He can come in and compete with A.J. Jenkins for playing time and doesn't need to be forced into the offense early with Boldin and Crabtree being the starters allowing him to be featured in the slot. He will also immediately contribute on special teams.
Round 2 pick 42(Mia) - Safety Jonathan Cyrpien
- With the departure of Goldson, safety was priority number 1. Some people are very high on this guy, other not so much. Was under the radar until the senior bowl. A lot of scouts were impressed with his upside and his cover skills were better than expected. I also read that some were even wondering if he could play corner back although he lacks elite speed. Eric Reid or Phillip Thomas could also be options here if he isn't on the board. He's a hard hitter that needs some work on his tackling technique. If he ends up being more of a strong safety than a free safety, he could replace Whittner down the road.
Round 2 Pick 54(Mia) - NT John Jenkins Georgia
- With the off season addition of Glen Dorsey, the 49ers picked up a flexible player whom can play nose tackle, but probably projects better as a defensive end in the 3-4 and a DT in our nickel and 4 man fronts. John Jenkins would be our nose tackle of the future, and can rotate with Ian Williams and Dorsey providing us with an upgrade over the departs Soapoaga. He has exceptional quickness for a guy that can weigh over 350 pounds and possesses more pass rushing ability than you'd expect from a man his size. Extremely strong with long arms, he could be the perfect body guard for Bowman amd Willis as he can easily occupy multiple blockers and push the pocket into the QB's nose when being blocked one on one.
Round 3 Pick 93 - C/G Travis Frederick Wisconsin
- Goodwin is getting up there in years, and frankly his price tag is a little excessive. An extremely powerful run blocker who needs some work on his pass rushing technique. Was dominant at guard before switching to center. He was very good at center, but not as dominant as he was at guard. One scouting report says he struggles with speed rushing defensive tackles but there isn't too many of then in the NFL these days. With experience at guard and center, he gives us depth and a player to groom to eventually replace Goodwin or move someone else to Center and place him at guard. Good competition for Looney, and if an offensive tackle goes down we could slide Boone out to tackle and insert Frederick at Guard.
Round 4 pick 128 - CB Robert Alford South Easter Louisiana
- Small school corner with elite physical tools that would make an ideal nickleback and future replacement for Carlos Rogers. Showed up big at the senior bowl against better competition and is a willing tackler. Is more of a man or press corner and will need to be coached up on his zone defense. Ran a 4.39 40 yard dash with a 40 inch vertical. Despite onle being 5'10 188 points, he put up 17 reps of 225.Could man up Percy Harvin for us though. Another option at this pick would be Tyrann Mathieu although I'd perfer Alford.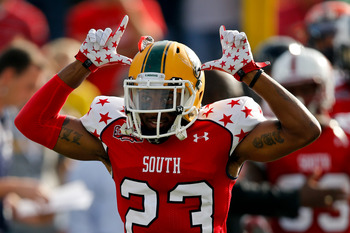 Round 4 pick 131 - WR Aaron Dobson Marshall
- At 6'3, he has the body and basketball skills to box defenders out with his body to make the tough catches and is a willing blocker. Amazing hands to make the acrobatic catches look easy. He ran a 4.4 and 4.42 40 yard dash at his pro day. When he came to Marshal originally, he had to choose between basketball and football, but clearly had the talent to play either or. Unfortunately, I can't find any vertical or broad jump measurements for him. Knee injury and the coaches wanting to get more experience for their younger players led to a drop in production his senior year. Big bodied fast wide out that could eventually develop into our 2nd or 3d wideout. If Boldin bolts next year, we could have a yound receiver core of Crabtree, Austin, Jenkins, and Dobson with V.D. Heck, we could come out with an empty back set with those guys, and motion Austin into the back field. Round 5 pick 157 - TE Dion Sims Michigan State
- At 6'5 285 points, Sims is more than a handful in the running game and a pain in the but to bring down once he gets going with the ball. Huge body and deceptive athleticism, he was the teams leading receiver through the the first 5 games of this season before missing time with an ankle injury. Great body control and solid hands. He's more of a blocker that can catch, but having him in the game will allow V.D. to run more routes and pass protect less. Downsides are the ankle injury and some off the field issues.
Round 5 pick 164 - CB Tharnold Simon LSU
- Very lengthy corner at 6'2 with very long arms and great size at 202 pounds. Has play making ability with 22 pass break ups and 7 interceptions, but for a corner his size he needs to get better at using his hands. Wasn't a full time starter until his junior year. He would have a chance to compete for a cornerback position and contribute on special teams immediately.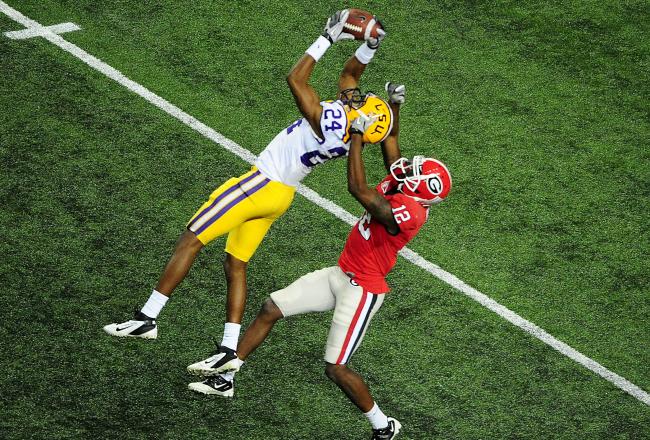 Round 6 pick 180 - OLB Gerald Hodges
- Was originally a safety until injuries at linebacker forced him to change positions his freshman year. Has excelent quickness and above average coverage abilities for the position due to his time at safety. A little slower than some would like, after only running a 4.78 40. This is probably the main reason he could be available here. Led Penn State in tackles with 106 while adding 10 TFL and 4.5 sacks. Would have a chance to compete for a back up linebacker spot on the outside with the returning players from IR.
Round 7 Pick 227 TE Joespeh Fauria UCLA
- Red zone scoring machine who pulled down 12 TDs this season. Long and lengthy, he uses his body well to box people out and make the tough catches in traffic. More of a receiver than a blocker, he struggles to get low due to his massive 6'7 frame. Would be an excellent complement to Sims, and if he were a little smaller he could potentially be a great H-Back. His uncle Christian Fauria also played in the NFL and won two championships with the Patriots so the lineage is another plus. Was considering switching draft spots with Gerald Hodges. One of my favorite potential late round acquisitions.
Round 7 pick 237 - S Duke Williams Nevada
- I had to get one guy from my local college in here.
A former sprinter with good closing burst and tracks the ball well. Good size at 6'0 and speed running a 4.52 40 yard dash. Also boasts a 37.5 inch vertical, athletically hes what we are looking for in a free safety and could potentially wind up a steal and starting next to Cyprien when Whittner leaves town. He reacts well, and primarily played a cover 2 defense and was regarded as a reliable tackler. Could wind up kicking Dahl off the team. *Fingers crossed*
Overall Draft Haul:
Lost 2014 7th round pick to Rams
Gained 2014 4th round pick from Miami
Round 1 WR Tavon Austin
Round 2 S Jonathan Cyripien
Round 2 NT John Jenkins
Round 3 C/G Travis Frederick
Round 4 CB Robert Alford
Round 4 WR Aaron Dobson
Round 5 TE Dion Sims
Round 5 Tharnold Simon
Round 6 OLB Gerald Hodges
Round 7 TE Joeseph Fauria
Round 7 S Duke Williams
My only regrets is that I didn't pick up a developmental QB or a HB but I feel confident in our stable of backs. If you were to replace a player at a spot with a QB or HB, who would it be?
Hope you all enjoyed and that this draft makes you cream your pants. I know mine are. What do you think? What would you do differently and would you be happy with this draft?
[ Edited by NTeply49 on Mar 30, 2013 at 5:41 PM ]