San Francisco 49ers quarterback Colin Kaepernick's cause has landed him on the cover of the latest issue of Time Magazine. The cover features the headline "The Perilous Fight." Below the headline, it reads, "National anthem protests led by Colin Kaepernick are fueling a debate about privilege, pride and patriotism."
The 49ers' backup quarterback has been protesting what he calls "unjust" actions by this country by kneeling during the national anthem prior to games. "I'll continue to sit," said Kaepernick. "I'm going to continue to stand with the people that are being oppressed. To me this is something that has to change. When there's significant change and I feel like that flag represents what it's supposed to represent, this country is representing people the way that it's supposed to, I'll stand."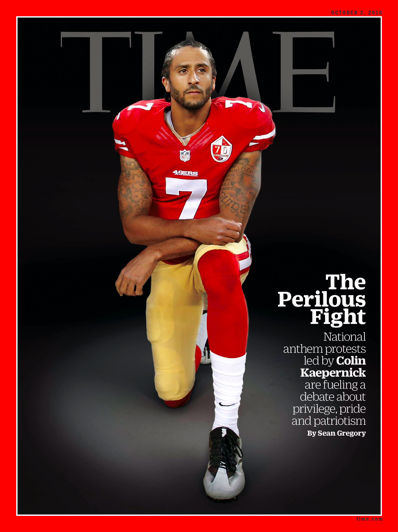 On Tuesday, Kaepernick laid out his plan to donate the first $1 million of his salary to organizations that are combating the same inequalities he's taking a stand against with his anthem protest. $100,000 a month will be donated for the next 10 months toward these groups. A website would be set up so that the money donated could be tracked and the public could see how the money was spent.
Kaepernick also stated that he has received death threats outside of social media because of his stance. It is a stance that has public opinion greatly divided. Kaepernick said that if anything did actually happen to him because of his stance, that it would just prove his point.
While the general public is greatly divided in their opinions,
Kaepernick does have a good deal of support
among active and military members and veterans.
During the 49ers' Week 1 contest against the Los Angeles Rams at Levi's Stadium, Kaepernick was booed by fans when he took over at quarterback late in the game with the win well in hand. OLB Eli Harold expressed his displeasure in regards to that following the game.
Kaepernick was asked about the fans that taunted him in Charlotte when the 49ers played the Carolina Panthers. "It's something they either don't care about it or they don't understand it, which I find it very hard that people don't understand what's going on," said Kaepernick. "I think the message has been out there loud and clear for quite some time now."
Kaepernick condemned the police officer that was involved in Friday night's fatal shooting of Terrence Crutcher in Tulsa, Oklahoma. "This is a perfect example of what this is about," said Kaepernick. "It will be very telling about what happens to the officer that killed him."
Related News