49ers hire Shane Day
May 21, 2007 at 11:17 PM
•
--
SF49ers.com reports the San Francisco 49ers have hired Shane Day as the team's quality control coach.
Information from KFFL.com
LISTEN
Facebook Comments
More San Francisco 49ers News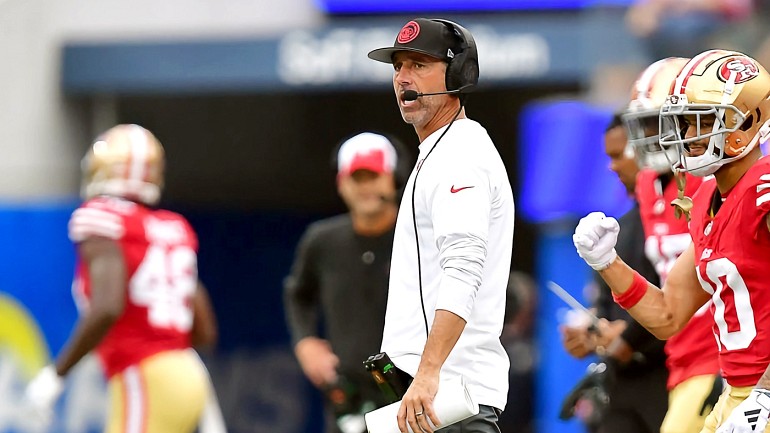 What Kyle Shanahan said the day after 49ers' Week 3 win vs. Giants
San Francisco 49ers head coach Kyle Shanahan spoke with reporters via a conference call on Friday, the day after the team's 30-12 win over the New York Giants. Here is everything he had to say. Transcript provided by the San Francisco 49ers Communications staff. Opening comments: "[LB] Demetrius Flannigan-Fowles had an ankle. He's day-to-day. [LB Dre] Greenlaw ankle, day-to-day. Both of them are low. [WR] Deebo Samuel, his ribs checked out, no break. Pretty sore today, so it'll be day-to-day. And that's it from the game." With the amount of blitzing that the New York Giants did, have you seen that before or was it expected? What was your game plan going in facing that? "We knew it

49ers Game Day Eats - Whats New at Levi's Stadium
Two weeks into the NFL season, fans can finally look forward to the San Francisco 49ers' home opener under the national spotlight. What's on the menu this year? I had the chance to preview some of the upcoming bites at the Levi's Stadium Concessions Showcase. I checked out Levi's Stadium food selection along with a couple of new local vendors for the upcoming season. We were introduced to Levi's Stadium and Levy Restaurants' new Executive Chef, Alvin Kabiling, who takes the reign after working with former executive chef Jon Severson for the last several years. Kabiling recognizes that many local fans are "foodies"

Brock Purdy, 49ers embrace "win the day" attitude amid Super Bowl mindset
The San Francisco 49ers fell just short of their Super Bowl aspirations yet again in 2022, losing to the Philadelphia Eagles in the NFC Championship Game after quarterback Brock Purdy suffered a torn UCL early in the first quarter. Now fully healthy, Purdy is prepared for another potential Super Bowl run with a strong core around him, with the 49ers as motivated as ever, taking the process day by day. "We have such a special group of guys, so much experience, the veterans on this team, and how everyone's professional in what they do," Purdy recently told Jennifer Lee Chan of NBC Sports Bay Area. "There's not a lot of selfishness or anything, ego, none of that. And so we all have the same mindset: to win a Super Bowl and do everything we can to be our best every

49ers Notebook: Deebo is no longer "awful"; Ronnie Bell makes a splash; J.J. Watt praises Niners; Captain Andrew Luck makes Levi's cameo
Thursday night was a fun one at Levi's Stadium, where the San Francisco 49ers cruised to a 30-12 victory over the visiting New York Giants. It was a night that saw wide receiver Deebo Samuel declare himself as officially out of "awful" mode, running back Christian McCaffrey reach milestones, wide receiver Ronnie Bell create some lasting memories, and -- of all things -- Andrew Luck making a return to an NFL field (in full Civil War costume) to take part in a game of trivia. Let's recap all that and more in this version of 49ers Notebook. Not awful anymore Back in June, Deebo Samuel caught some attention with his honest description of his 2022 performance
Featured
Trending News
49ers Webzone • 15 hrs

49ers Webzone • 20 hrs

49ers Webzone • 15 hrs

49ers Webzone • 17 hrs

49ers Webzone • 17 hrs

49ers Webzone • 21 hrs