On Monday, Solomon Wilcox and Nate Burleson discussed the quarterback competition in San Francisco on
NFL Network's
NFL Total Access. The discussion comes after reports that
Colin Kaepernick
would not be cleared for the 49ers' mandatory minicamp which kicks off on Tuesday. That leaves
Blaine Gabbert
as the quarterback who will take the majority of snaps during practices.
RELATED
Rapoport: Colin Kaepernick won't be cleared for minicamp this week
Both seemed to be leaning toward Kaepernick as the team's potential starter, despite the fact that he has been extremely limited during the 49ers' offseason program. While he has been able to participate within the classroom with his teammates, he has been limited to throwing with trainers on the side of the practice field. While he was seen throwing on the field last Thursday during the team's organized team activities, he has not been cleared for drills.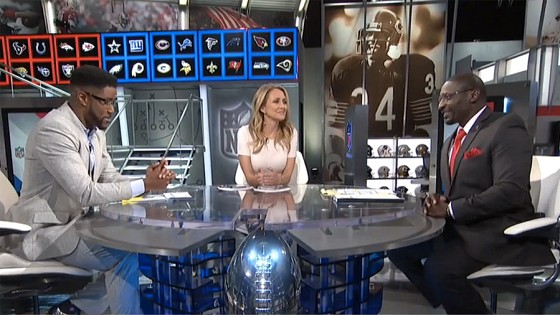 "Blaine Gabbert does have better athleticism than maybe one might realize. Moves around very well out of the pocket. Throws the ball with great accuracy and really with great velocity. The problem is with Blaine Gabbert, I think the same problem that existed when he was the starting quarterback in Jacksonville, he doesn't have a lot of courage when standing in the pocket," said Wilcox. "This is the area where he has struggled the most. He lacks poise in the pocket. He tends to flinch under pressure. He will blink and duck when a shadow goes by at night time,"
"Last year, he was a little gun-shy. We saw when he got in, he wasn't the same individual. But if you can incorporate that skill set in this offense, he's my guy. That's who you're going with," said Burleson.
You can watch the entire segment below.
Colin Kaepernick vs. Blaine Gabbert: Who wins?