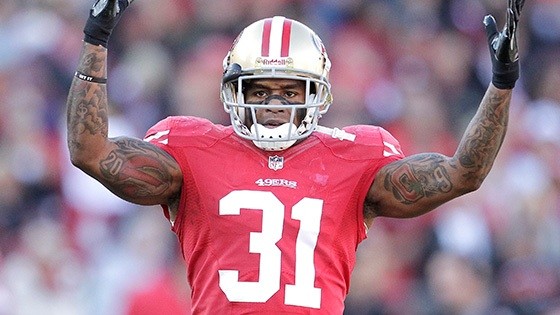 Manish Mehta of the New York Daily News is reporting that the New York Jets are showing interest in San Francisco 49ers safety Donte Whitner.
Teams can negotiate contracts with free agents right now, but are unable to sign them until the official start of free agency on Tuesday, March 11 at 1 PM Pacific.
Two interesting & somewhat surprising names on Jets Persons of Interest list: 49ers S Donte Whitner & Jaguars RB Maurice Jones-Drew #nyj

— Manish Mehta (@MMehtaNYDN) March 9, 2014
Whitner responded on Twitter with the following:
Don't believe the rumors. Or should you? Hmmmm

— DonteHitner (@DonteWhitner) March 9, 2014
The 49ers have shown in the past that they will not get into bidding wars with other teams for free agents, even their own. Whitner and cornerback Tarell Brown will attract a number of teams in free agency.