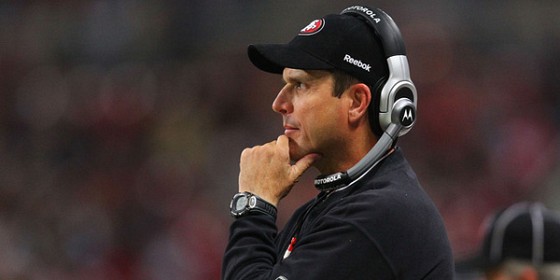 In case you missed it, the media had a field day with a story that Pro Football Talk's Mike Florio broke at 1:28 PM stating that the Cleveland Browns had
nearly landed the rights to San Francisco 49ers head coach Jim Harbaugh
in "a deal that would have sent multiple draft picks to San Francisco."
Florio stated that the deal was in place, but it was Harbaugh that ultimately decided not to leave San Francisco.
And that's when the fun began. The media jumped all over this story and there were multiple sources going back-and-forth about the possibility that such a trade was in place.
NFL Network's Ian Rapoport reported that the Browns did indeed
make a run at Harbaugh
, as did the University of Texas, per sources informed of the Browns' thinking. Whether or not such a move was on the 49ers' mind was the question. Rapoport stated that a 49ers source denied the claim.
NFL Network's Albert Breer also stated that a high-ranking 49ers source said that the club did not communicate with Cleveland about Harbaugh.
Florio quickly came to his own defense.
Rapoport responded by stating that his source was actually two high-ranking 49ers sources. Florio continued to defend himself.
Then 49ers CEO Jed York stepped in and stated on Twitter that the report was not true.
Now the question is, "Is the whole report false?" Did the Browns attempt to set up a deal to acquire Harbaugh? How far did they get? Did they contact the 49ers? Did the 49ers simply say that there was no interest in trading the rights to Harbaugh? Were they just not interested in what the Browns were offering? Were they interested and it was actually Harbaugh to killed the plan as Florio originally stated?
ESPN's Chris Mortensen confirmed the substance of Pro Football Talk's report.
Browns did indeed make a run at Jim Harbaugh that reached a serious stage, sources confirm substance of @ProFootballTalk report.

— Chris Mortensen (@mortreport) February 22, 2014
Matt Barrows of the Sacramento Bee
reminded us
that "York and Harbaugh began discussing a contract extension last offseason but talks broke off when there was little progress." He also stated that Harbaugh and former Browns general manager Mike Lombardi are close.
According to Chris Wesseling
, "Jim Harbaugh acknowledged in December that he and general manager Trent Baalke often 'butt heads,' but insisted that any reports of tension between the two men are overblown."
Regardless, this is an interesting development considering that the 49ers would like to work on contract extension for Harbaugh.