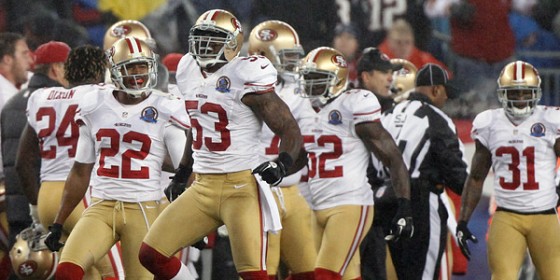 Tonight, the San Francisco 49ers will travel to Arrowhead Stadium in Kansas City, Missouri to face off against the Chiefs in their second preseason game.
The biggest storyline of this matchup will be with Alex Smith, the former 49ers quarterback now starting for the Chiefs. It will be the first time he will have to face off against this former defense in an actual game. Andy Reid took over as the Chiefs' head coach during the offseason and traded for Smith back in April. Last week, Smith was 7 of 8 for 68 yards and the Chiefs scored a touchdown in his only drive of the night. His only incompletion was after throwing the ball away during pressure by the Saints. The Chiefs would go on to lose 17-13 to the New Orleans Saints.
Chiefs running back Jamaal Charles, who suffered a foot strain on Monday, will not participate in the game.
Last week, the 49ers lost to the Denver Broncos by the score of 10-6. However, Colin Kaepernick was equally as impressive at quarterback completing all 4 of his passes for 38 yards in a drive that resulted in a field goal. The starters, including wide receiver Anquan Boldin, looked impressive as well. Unfortunately, wide receiver A.J. Jenkins did not, fumbling on his only reception of the night. The spot opposite Boldin is one of the more interesting battles of training camp for the 49ers.
Another interesting battle should be between Colt McCoy and Scott Tolzien for the 49ers' No. 2 quarterback spot. Rookie B.J. Daniels looks to throw his name into the competition as well.
The game kicks off at 5:00 PM PT and, as usual, you can visit 49erswebzone.com for the latest news and updates during and after the game.
The game will be televised locally in the Bay Area on CBS-5.
Within Sportstacular, a popular mobile phone scores application, 81% of fans believe that the 49ers will win this game.
You can follow the game live on
NFL.com's Game Center
.
You can also discuss the game with fans in the
49erswebzone.com forums
. Become a fan of 49erswebzone.com on
Facebook
and
Google+
or follow us on
Twitter
.
Article photo by David Butler II of USA Today Sports