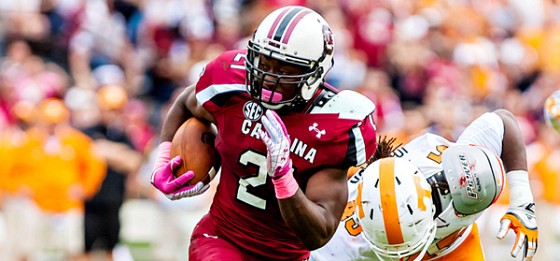 During an interview with NFL Network, new San Francisco 49ers running back Marcus Lattimore from South Carolina said that his rehab is progressing well. He said that he is already doing sprints and that the doctors say that he should be ready to put on pads again in 3 to 4 months.
With the team already loaded at running back with
Frank Gore
, Kendall Hunter, LaMichael James and Anthony Dixon, the 49ers have no need to rush Lattimore back onto the field. In fact, 49ers head coach Jim Harbaugh said to NFL Network that the team may not even play Lattimore in 2013.
Lattimore is considered the best running back in the NFL Draft and would have gone a lot higher than the fourth round if not for his devastating injury that caused him to miss the last 4 games of the 2012 South Carolina football season.