49ers Webzone Tailgate
The members and fans of 49ers Webzone meet up to tailgate for every San Francisco 49ers home game. We meet just inside Gate 1, the first entrance after the VIP entrance if you are coming from the 101 on the south side of the stadium. We are usually toward the end of the second row on the left as you enter the gate. To the left of pole D once you see it while going in through the gate.
The tailgate is potluck. Bring some food or drinks if you can. If you can't though, still feel free to join us to eat, drink and hang out before the game.
Bring anybody you want -- preferably Niner fans. There are grills and coolers to use, but feel free to bring your own.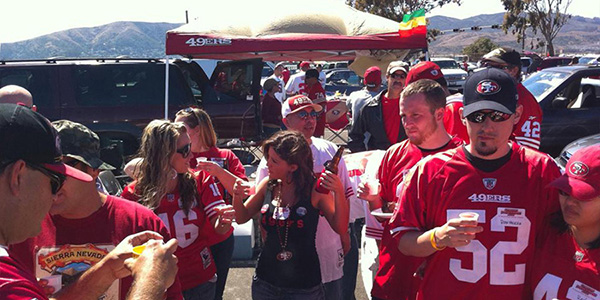 Directions to the tailgate
As described, the tailgate is located just inside Gate 1. However, if you are having problems finding the tailgate, here are some helpful links that you can use on your smartphone once you are at the stadium parking lot.
Find the tailgate using your smart phone
Or if you want to enter the coordinates of the tailgate into your own map application, they are 37.709841 by -122.383238.
The red pin on the parking lot image represents where the Webzone tailgate group meets.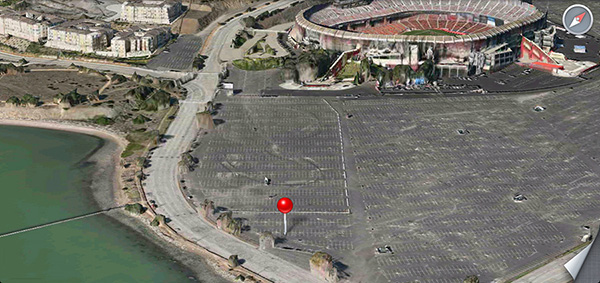 Tailgate times
The Webzone tailgate typically begins once the parking gates open and fans are let in. It will generally last until about an hour before kickoff. If you are willing, we always need help with setup and cleanup.
A number of the tailgaters will return to the tailgate spot after the game while the crowds fight their way out of Candlestick Park's parking lot.
Look for the flag
If you still can't find the tailgate once you are in the area described above, look for this flag: