Source: Over 80 49ers players attend on-field workouts first day
May 17, 2021 at 2:40 PM
•
--
Rookies joined the veterans Monday for the 49ers' first day of on-field workouts in Santa Clara.
Facebook Comments
More San Francisco 49ers News

Five 49ers players who could be candidates for their first Pro Bowl selection in 2022
The days surrounding July 4th are more often than not one of the slowest times of the year for NFL content, which makes it an opportune time to shamelessly borrow another site's good idea. With that in mind, let's build off a feature that was published earlier today by NFL.com that selected one player from each team that could be in line for their first Pro Bowl appearance in 2022. Feature writer Nick Shook selected running back Elijah Mitchell for the 49ers, pointing at the unexpected level of success Mitchell had in his first NFL season after being drafted in the sixth round of the 2021 NFL Draft. "The 49ers enjoyed quality

PFF: 49ers QB Trey Lance one of players under most pressure to perform in Year 2
While there are several success stories of rookies flourishing immediately in the NFL, there are certain players, especially quarterbacks, whose learning curves require some more seasoning. Take Peyton Manning, who threw for 28 interceptions in his rookie year before becoming one of the best quarterbacks of all time, as an example. Earlier this week, PFF named ten players from the 2021 NFL Draft class that are under the most pressure to perform in Year 2, and unsurprisingly, San Francisco 49ers quarterback Trey Lance was amongst the group. Lance, who was selected third overall in the 2021 NFL Draft, played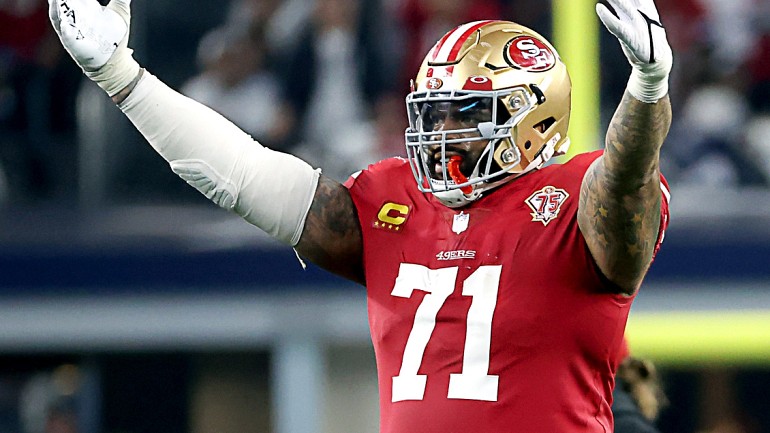 NFL analyst believes 49ers' offensive line has "high-end potential"
The San Francisco 49ers have faced some serious roster turnover with their offensive line, as left guard Laken Tomlinson went to the New York Jets in free agency, while center Alex Mack chose to retire after one season with the organization. In addition, right tackle Mike McGlinchey is coming off a torn quadriceps injury that sidelined him for the second half of the 2021 NFL season, although head coach Kyle Shanahan believes the Notre Dame product should be ready for training camp. Earlier this week, PFF's Mike Renner conducted his offensive line rankings for 2022 with several tiers: Minor or no weaknesses(tier 1), high floor(tier 2), high-end potential(tier 3), at

49ers' Jimmy Garoppolo ranked as 25th-best deep-ball passer
After being subject to a number of trade rumors this offseason, San Francisco 49ers quarterback Jimmy Garoppolo remains a member of the organization, although the franchise has made it clear that they've attempted to move on from the veteran signal-caller. One of the reasons that San Francisco could be looking to move on is due to Garoppolo's inability to consistently complete deep passes, which has hindered the 49ers on several occasions, most notably during the 49ers' Super Bowl loss to the Kansas City Chiefs during the 2019 NFL season. Earlier this week, PFF ranked the 2021 starting quarterbacks' deep passing by various
Featured
Trending News
49ers Webzone • Jun 28

49ers Webzone • Jun 28

49ers Webzone • Jun 29

49ers Webzone • Jun 28

49ers Webzone • Jun 30

49ers Webzone • Jun 30