Ezekiel Elliott, Jason Verrett OUT in Week 15 Matchup Between 49ers and Cowboys
A look at who's in and who's out in the 49ers Week 15 matchup against the Dallas Cowboys at AT&T Stadium.
Facebook Comments
More San Francisco 49ers News

CBS analyst calls 49ers' situations with Deebo Samuel and Jimmy Garoppolo 'messy' and 'awkward'
In May, former offensive lineman turned broadcaster and analyst Ryan Harris made headlines stating that sources inside the San Francisco 49ers shared doubts about second-year quarterback Trey Lance. He also said that some expected Jimmy Garoppolo to start come Week 1. Harris rejoined CBS Sports HQ to share his thoughts on two big 49ers-related offseason storylines—Deebo Samuel and Garoppolo. Earlier this offseason, Samuel requested to be traded after watching several of his wide receiver peers cash in while the 49ers star waited for his own contract extension. San Francisco had hoped to trade Garoppolo in March. However, the quarterback

Former NFL player compares 49ers' Trey Lance to Aaron Rodgers and Patrick Mahomes
San Francisco 49ers quarterback Trey Lance has started to attract serious attention from the media, as many analysts are coming on board with the 22-year-old's potential as he enters his second NFL season. During a recent appearance on NFL Total Access, former Green Bay Packers receiver James Jones continued the trend, going as far as comparing Lance to his former quarterback, Aaron Rodgers. "I believe we're looking at a bonafide superstar [in Lance], like Patrick Mahomes and Aaron Rodgers," Jones said. "We had a small sample size of Aaron Rodgers, but all you heard out of the locker room and the people around Aaron was, 'Just wait. You

One area Kyle Shanahan and the 49ers must improve
Two massive games. Two double-digit 4th quarter leads. Two heart-breaking losses. You can stop right there and fans of the San Francisco 49ers know exactly what you're talking about. Painfully, the franchise that once referred to itself as "Camelot," and became the first NFL team to win five Super Bowls, has experienced some difficult losses. There were three consecutive heartbreaking losses in the Jim Harbaugh days. And now Kyle Shanahan's 49ers have lost two big games, Super Bowl LIV in February 2020, and the NFC Championship Game earlier this year. And we're not even discussing the dark years when the team struggled under the likes of Dennis Erickson, Mike Nolan, Jim Tomsula, and Chip Kelly. Those names make me want to throw up. Whether it's that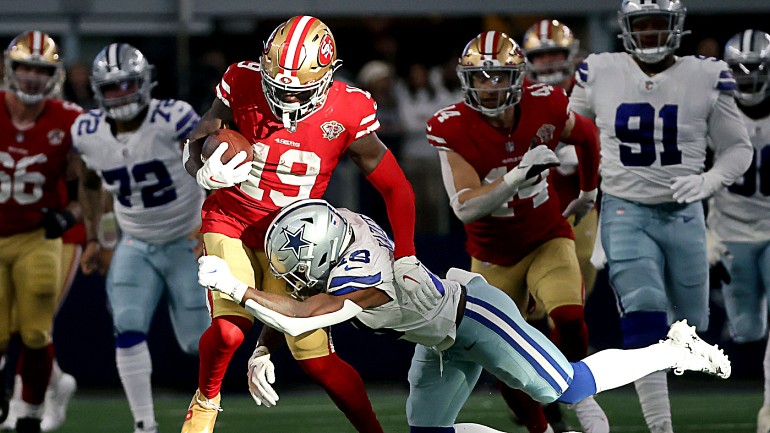 Deebo Samuel and 49ers stalemate: Who's the bully?
Even though talks between All-Pro wide receiver Deebo Samuel and the San Francisco 49ers have been slow, the situation appears to be far from over. Per ESPN's Jeremy Fowler, Samuel hasn't rescinded his trade request with the team. Samuel is entering the last season of his rookie contract. He is a 26-year-old wide receiver with three accrued seasons who will receive $3.99 million in 2022 with a $4.89 million salary-cap hit. What Samuel did in 2022 was phenomenal. As a wide receiver, he had 1,405 yards and six touchdowns from 77 receptions, averaging 18.2 yards per catch. In addition, Samuel had 59 carries for 365 yards and eight touchdowns as a running back, averaging 6.2
Featured
Trending News
49ers Webzone • Jun 28

49ers Webzone • Jun 28

49ers Webzone • Jun 29

49ers Webzone • Jun 28

49ers Webzone • Jun 30

49ers Webzone • Jun 30