49ers draft WR Dante Pettis in Round 2
Apr 27, 2018 at 6:00 PM
•
--
Pettis is a luxury pick the 49ers didn't have the luxury to make.
Facebook Comments
More San Francisco 49ers News

PFF's 2020 re-draft has 49ers passing on Javon Kinlaw for cornerback help
Fans like to play "What If," wondering what things might be like had their favorite team opted for a different choice at a pivotal moment. Fans aren't the only ones, though. Take former San Francisco 49ers safety Jaquiski Tartt, now with the Philadelphia Eagles, for instance. His missed interception of a Matthew Stafford pass intended for receiver Van Jefferson in the NFC title game might have sent the Niners back to the Super Bowl for the second time in three years. "That's a play I should make in my sleep, and I didn't make it," Tartt said after the game. "... I know that was a big play in the game, a big opportunity for me and for the team, and as a player, I just feel like I let my brothers down." Had Tartt made the play, maybe the 49ers win their sixth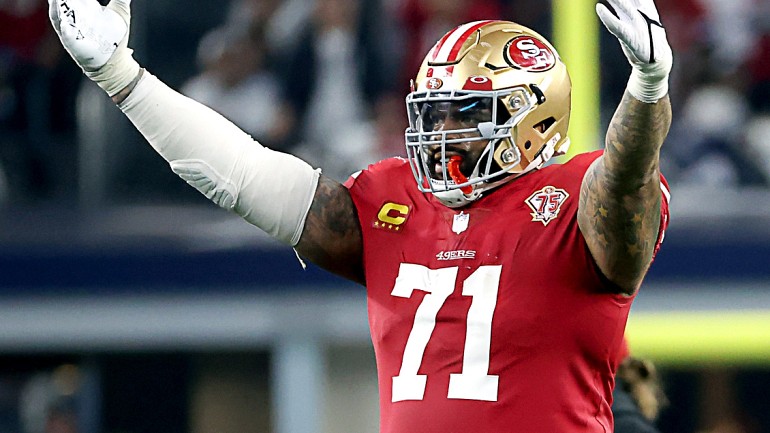 NFL analyst believes 49ers' offensive line has "high-end potential"
The San Francisco 49ers have faced some serious roster turnover with their offensive line, as left guard Laken Tomlinson went to the New York Jets in free agency, while center Alex Mack chose to retire after one season with the organization. In addition, right tackle Mike McGlinchey is coming off a torn quadriceps injury that sidelined him for the second half of the 2021 NFL season, although head coach Kyle Shanahan believes the Notre Dame product should be ready for training camp. Earlier this week, PFF's Mike Renner conducted his offensive line rankings for 2022 with several tiers: Minor or no weaknesses(tier 1), high floor(tier 2), high-end potential(tier 3), at

PFF: 49ers QB Trey Lance one of players under most pressure to perform in Year 2
While there are several success stories of rookies flourishing immediately in the NFL, there are certain players, especially quarterbacks, whose learning curves require some more seasoning. Take Peyton Manning, who threw for 28 interceptions in his rookie year before becoming one of the best quarterbacks of all time, as an example. Earlier this week, PFF named ten players from the 2021 NFL Draft class that are under the most pressure to perform in Year 2, and unsurprisingly, San Francisco 49ers quarterback Trey Lance was amongst the group. Lance, who was selected third overall in the 2021 NFL Draft, played

49ers' Jimmy Garoppolo ranked as 25th-best deep-ball passer
After being subject to a number of trade rumors this offseason, San Francisco 49ers quarterback Jimmy Garoppolo remains a member of the organization, although the franchise has made it clear that they've attempted to move on from the veteran signal-caller. One of the reasons that San Francisco could be looking to move on is due to Garoppolo's inability to consistently complete deep passes, which has hindered the 49ers on several occasions, most notably during the 49ers' Super Bowl loss to the Kansas City Chiefs during the 2019 NFL season. Earlier this week, PFF ranked the 2021 starting quarterbacks' deep passing by various
Featured
Trending News
49ers Webzone • Jun 28

49ers Webzone • Jun 28

49ers Webzone • Jun 29

49ers Webzone • Jun 28

49ers Webzone • Jun 30

49ers Webzone • Jun 30