49ers to host NFL draft prospect that could help in red zone
Apr 4, 2018 at 9:20 AM
•
--
The 49ers on Wednesday are reportedly hosting Florida State receiver Auden Tate on an official visit ahead of the 2018 NFL draft.
Facebook Comments
More San Francisco 49ers News

PFF's 2020 re-draft has 49ers passing on Javon Kinlaw for cornerback help
Fans like to play "What If," wondering what things might be like had their favorite team opted for a different choice at a pivotal moment. Fans aren't the only ones, though. Take former San Francisco 49ers safety Jaquiski Tartt, now with the Philadelphia Eagles, for instance. His missed interception of a Matthew Stafford pass intended for receiver Van Jefferson in the NFC title game might have sent the Niners back to the Super Bowl for the second time in three years. "That's a play I should make in my sleep, and I didn't make it," Tartt said after the game. "... I know that was a big play in the game, a big opportunity for me and for the team, and as a player, I just feel like I let my brothers down." Had Tartt made the play, maybe the 49ers win their sixth

Five 49ers players who could be candidates for their first Pro Bowl selection in 2022
The days surrounding July 4th are more often than not one of the slowest times of the year for NFL content, which makes it an opportune time to shamelessly borrow another site's good idea. With that in mind, let's build off a feature that was published earlier today by NFL.com that selected one player from each team that could be in line for their first Pro Bowl appearance in 2022. Feature writer Nick Shook selected running back Elijah Mitchell for the 49ers, pointing at the unexpected level of success Mitchell had in his first NFL season after being drafted in the sixth round of the 2021 NFL Draft. "The 49ers enjoyed quality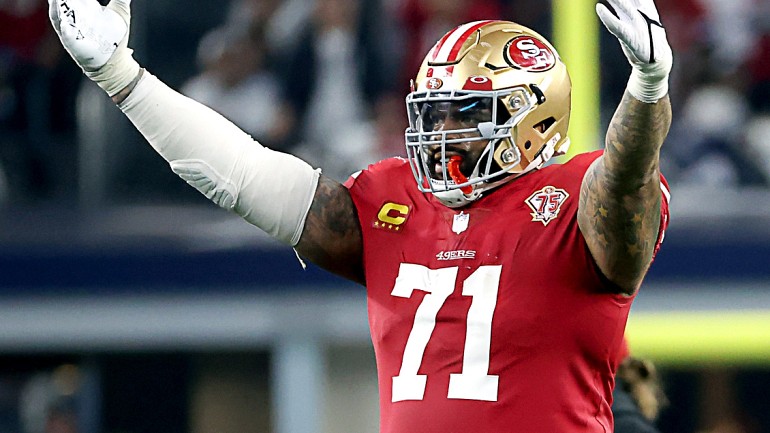 NFL analyst believes 49ers' offensive line has "high-end potential"
The San Francisco 49ers have faced some serious roster turnover with their offensive line, as left guard Laken Tomlinson went to the New York Jets in free agency, while center Alex Mack chose to retire after one season with the organization. In addition, right tackle Mike McGlinchey is coming off a torn quadriceps injury that sidelined him for the second half of the 2021 NFL season, although head coach Kyle Shanahan believes the Notre Dame product should be ready for training camp. Earlier this week, PFF's Mike Renner conducted his offensive line rankings for 2022 with several tiers: Minor or no weaknesses(tier 1), high floor(tier 2), high-end potential(tier 3), at

Former NFL player compares 49ers' Trey Lance to Aaron Rodgers and Patrick Mahomes
San Francisco 49ers quarterback Trey Lance has started to attract serious attention from the media, as many analysts are coming on board with the 22-year-old's potential as he enters his second NFL season. During a recent appearance on NFL Total Access, former Green Bay Packers receiver James Jones continued the trend, going as far as comparing Lance to his former quarterback, Aaron Rodgers. "I believe we're looking at a bonafide superstar [in Lance], like Patrick Mahomes and Aaron Rodgers," Jones said. "We had a small sample size of Aaron Rodgers, but all you heard out of the locker room and the people around Aaron was, 'Just wait. You
Featured
Trending News
49ers Webzone • Jun 28

49ers Webzone • Jun 28

49ers Webzone • Jun 29

49ers Webzone • Jun 28

49ers Webzone • Jun 30

49ers Webzone • Jun 30