On August 16, 2008, 49erswebzone.com was featured in Gameday, the San Francisco 49ers official game program magazine. It was sold to fans during the team's first home game against the Green Bay Packers. The article covers this unique site and what makes it so special to the staff and the fans that visit every day.
As most know, we were interviewed when the staff was invited as VIPs to training camp on Saturday, July 26th. If you have not had a chance to read about that experience, the article is called
Behind the scenes: A guided tour through 49ers headquarters
.
To view the Gameday magazine feature, download the PDF below (accessible by clicking either of the images).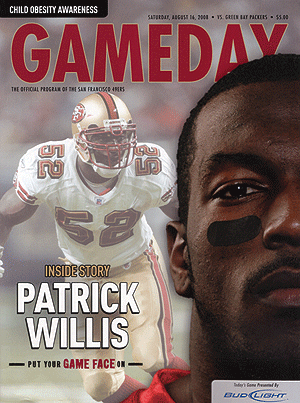 A special thanks goes out to Jason Jenkins, Kyle McRae, and Kristin Swartzlander of the San Francisco 49ers for all of their hospitality.