Videos are auto-populated by an affiliate. This site has no control over the videos that appear above.
The 49ers have played the 2021 NFL offseason incredibly well so far. They have spent a significant amount of money in free agency, but they have only signed four outside free agents and the rest of the money they've spent has been on re-signing their own players. After officially bringing back nickel cornerback K'Waun Williams on a one-year deal, the team has all twenty-two starters set for next season.
It can't be understated how important it is that the front office has been able to use free agency to plug all of the holes that existed on this roster, meaning that it won't be pigeon-holed into finding a starter at a specific position in the draft. I, for one, did not expect the team to be able to pull off the sheer volume of re-signings that it completed, but it puts the 49ers in an envious position. The team can go with the best player available, or even make an aggressive move up in the draft to draft a quarterback.
For the sake of this exercise, I used the Pro Football Focus
mock draft simulator
. I set the sliders for "Care for positional value," "Randomness," and "Draft for needs" directly in the middle.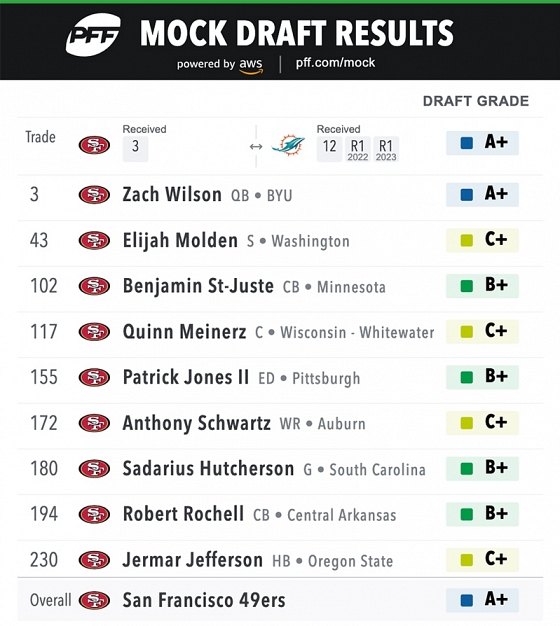 Round 1, No. 3 overall
*Trade w/ Miami Dolphins*
Miami receives Pick #12, 2022 1st-round pick, 2023 1st-round pick
San Francisco receives Pick #3
Zach Wilson, QB, BYU 6'3", 200 lbs.
QB Trevor Lawrence and QB Justin Fields were drafted with the first two picks, so I jumped at the opportunity to trade up to #3 and draft Zach Wilson, the quarterback out of BYU. Wilson is a special player and is this year's version of Joe Burrow, a quarterback who exploded onto NFL radars after a stellar season in the college ranks. There is some trepidation that Wilson could be a one-year wonder, but it's worth the gamble to bet on the traits that he brings to the table. Wilson has the arm talent to make every throw on the field, and the moxie to go deep and make the big play. Wilson can make plays with his legs and has the athleticism to extend plays or escape the pocket when things break down. However, unlike Fields and Lawrence, he looks to throw rather than run. His frame is a little slight, but he should put on some weight once he gets into an NFL conditioning program.
BYU used a lot of play-action this past season, so you don't have to imagine what he could look like in Kyle Shanahan's play-action heavy offense. This would be a homerun scenario for the 49ers, and while it leaves the team without 1st round picks in the next two drafts, I didn't have to sacrifice any extra draft capital this year to get it done. All reports indicate that the Jets are likely to select Wilson with the #2 pick, so this scenario is unlikely, but with such a weird year for draft preparation due to COVID-19, there is no telling what teams are likely to do.
Round 2, No. 43
Elijah Molden, S/DB, Washington 5'10", 190 lbs.
The 49ers recently re-signed K'Waun Williams, arguably the league's best nickel-cornerback, to a one-year deal. Williams will be 30 years old when the season starts, so the team would be smart to look towards the draft to bring in his eventual replacement. Elijah Molden would be the perfect protégé to learn under K'Waun. While historically, nickel-cornerback hasn't been a highly-valued position, the pass-game revolution currently taking place across the league has elevated nickel to a starting-level position.
Many scouts and draft analysts have Molden as the best nickel prospect in the draft. One of the aspects of K'Waun's game that makes him so good is his sure tackling and Molden has only missed 22 tackles in 172 attempts. Molden is also physical at the catch-point, transitions to vertical routes from the slot better than anybody else in the draft, and he's not afraid to stick in his nose against the run. Pro Football Focus has his NFL-comp as Jimmie Ward, and for Kyle Shanahan, who once stated that if he could wear a player's jersey it would be Ward's, it's safe to assume he likes Molden's game.
Round 3, No. 102
Benjamin St. Juste, CB, Minnesota 6'3", 205 lbs.
St. Juste has the prototypical size that the 49ers tend to look for at the corner position, standing 6'3", 205 lbs., with an impressive 80-plus inch wingspan. St. Juste grew up in Canada, and hockey was his first sport, so he is still relatively raw at the cornerback position. His incredibly long arms make him a natural press-coverage athlete, allowing him to get into the body of receivers quickly at the line of scrimmage, altering their release and allowing him to maintain leverage through the route. Signing Jason Verrett and Emmanuel Moseley in free agency gives the 49ers their two starting outside corners and allows the team the opportunity to draft a project like St. Juste, who has the body and athletic traits you look for but still needs time to work on his technique.
Round 4, No. 117
Quinn Meinerz, C, Wisconsin-Whitewater 6'3", 320 lbs.
The 49ers signed center Alex Mack in free agency, a move that most of the football world expected due to his connection with Kyle Shanahan from his time as a Cleveland Brown and an Atlanta Falcon. Mack instantly upgrades the offensive line and will have a significant impact on the 2021 season. However, he will turn 36 years old during the season, so the 49ers would do well to find an heir apparent in the upcoming draft. Meinerz exploded onto the scene at the Senior Bowl this year, making a name for himself in one-on-one drills in practice and playing well during the game itself. Meinerz's athletic profile doesn't necessarily scream "zone blocking," however, when asked to get out in space he acquitted himself well enough to project as a competent blocker within the scheme. Worst-case scenario, Meinerz could develop into a dominant guard.
Round 5, No. 155
Patrick Jones II, EDGE, Pitt 6'5", 260 lbs.
Jones has prototypical size for an EDGE rusher and was incredibly productive during his junior season in 2019, collecting 62 pressures on 415 pass-rushing snaps. He was a hot name for the EDGE rushing prospects heading into the 2020 season, but he did not elevate his game like most expected him to, which is why he was still on the board in the 5th round. Depth on the EDGE is imperative for the 49ers after the nightmare injury scenario they found themselves in during the 2020 season. Jones already has some established pass rush moves in his repertoire and would do well under the tutelage of DL coach Kris Kocurek. He has the size to be a solid rotational rusher behind
Nick Bosa
, he just needs to work on increasing his upper body strength to unlock some bull rush moves and make his other moves more effective.
Round 5, No. 172
Anthony Schwartz, WR, Auburn 6'0", 179 lbs.
The 49ers have their starting wide receivers set with
Deebo Samuel
and
Brandon Aiyuk
. Kendrick Bourne, the team's 3rd receiver the past two to three seasons, signed with the New England Patriots this offseason, so the team needs to find a replacement. There are some intriguing internal options, like the enigmatic Jalen Hurd, but the team will likely look to supplement the WR room in the draft. Schwartz is
blazing
fast, having run a 10.15-second 100-meter dash in high school (the sixth-best time in prep history). Right now, Schwartz is more athlete than wide receiver, with very little in the way of route-running prowess and he struggles to play through contact. However, the type of speed that Schwartz provides cannot be taught, and he can still provide plenty in the way of gadget plays, kick returns, and vertical routes while he learns the nuances of the position from WR coach Wes Welker.
Round 5, No. 180
Sadarius Hutcherson, G, South Carolina 6'6", 320 lbs.
Hutcherson is an incredible athlete for his size. His blocking technique, while improved from his freshman year when he saw playing time, is still poor. However, his improvement during his years at South Carolina shows that he could benefit from continued coaching at the NFL level, and his athleticism makes him a perfect fit in a zone-blocking scheme. Right guard has been a problem spot for the 49ers since Kyle Shanahan took over as head coach. He has not shown a willingness to invest much capital in the guard position, but a flyer on an athlete the caliber of Hutcherson seems like a good investment.
Round 6, No. 194
Robert Rochell, CB, Central Arkansas 6'2", 195 lbs.
Rochell, like Anthony Schwartz above, is more an athlete than a polished technician at his position. A long corner like St. Juste, the 49ers will be betting on their defensive backs coach to be able to turn Rochell from a project to a legitimate outside corner. He has blazing speed, with a reported 4.38 40-yard dash and 3.89-second short shuttle in 2020, and an incredible wingspan purported to be 79 inches. He also has good ball skills, with 10 career interceptions at Central Arkansas.
Round 7, No. 230
Jermar Jefferson, HB, Oregon State 5'10", 216 lbs.
The 49ers already have a strong RB room with Raheem Mostert, Jeff Wilson Jr., JaMychal Hasty, and Austin Walter, but Jefferson is an incredible talent whose skills are best suited for an outside-zone running scheme. Jefferson has excellent vision, and is a "one cut and go" runner, which fits perfectly in the 49ers' system. He has excellent quickness and lateral agility, which help him find the crease and get vertical, but his straight-line speed is not overwhelming. He has averaged more than five yards per carry each season with the Beavers but never was much of a factor in the passing game. Jefferson would likely come in to challenge Walter for the 4th spot in the RB depth chart.
Written by:

A full-time educator, lifelong Niner fan, and 3rd Wheel on the No Huddle Podcast