Videos are auto-populated by an affiliate. This site has no control over the videos that appear above.
Ross Dwelley
,
Kerry Hyder
Jr, Jason Verrett. These names are not the players anyone expected to be the stars of a big 49ers victory this season. On Sunday, they were a living testament to just how deep and talented this San Francisco 49ers roster truly is.
The New York Giants are not a great football team. The 49ers put that message on display yesterday, but prior to Week 3 the Giants were competitive in their previous 2 games this season. Kyle Shanahan and his band of replacements returned to MetLife stadium this week and dealt another New York team an embarrassing blowout loss. The 49ers weren't banged up this game, they were damn near totaled. It made no difference whatsoever.
This 49ers team is the product of struggles that came before the success. There is a ragged determination at the heart of these 49ers, and losing a star player or 5 won't cause this team to fold. On Sunday an undrafted free-agent QB dominated as Nick Mullens threw for 343 yards and
---
1 touchdown. When Raheem Mostert and Tevin Coleman were ruled out at RB, the once written-off Jerick McKinnon stepped up to carry the load, scoring his 3rd TD of the season. The injuries didn't stop on Sunday, both emerging TE Jordan Reed and starting CB Emmanuel Moseley were knocked out early in the contest. What were blows dealt to an already damaged secondary and pass-catching group, blossomed into opportunities for TE Ross Dwelley and CB Jason Verrett to step out of the shadows and into the spotlight. Both did just that, playing major roles in a much needed victory to bring the 49ers to 2-1 on the season. These men won on Sunday due to what they have overcome in their pasts. They are born from the belly of struggle, forged for the difficult moments that require heart more so than sheer talent.
Though the 49ers are quite familiar with the emergency room at this point, this group will not die. 49ers fans should send head coach Kyle Shanahan a fruit basket, or at least a thank you card. A week ago at this time, the 49ers' season hopes seemed to be in jeopardy of being lost. One of the most somber victories in recent memory left the 49ers wondering about the futures of DE
Nick Bosa
and QB Jimmy Garoppolo. While many of the 49ers' injured stars should be returning soon (Garoppolo, Sherman, Samuel, and Kittle should be available in coming weeks) the brilliance of Kyle Shanahan will keep this team afloat. Not only will the 49ers survive this rough patch, Kyle Shanahan may just discover some valuable new ingredients while cooking with these leftovers.
The 2019 49ers were an undeniably special team. Though many of those players will be missed, the 2020 49ers are starting to find their own identity through the play of players like DE Kerry Hyder Jr., RB Jerick McKinnon, DT
Javon Kinlaw
and WR
Brandon Aiyuk
. These are the 49ers of the future, and these 49ers aren't going away anytime soon.
What Went Wrong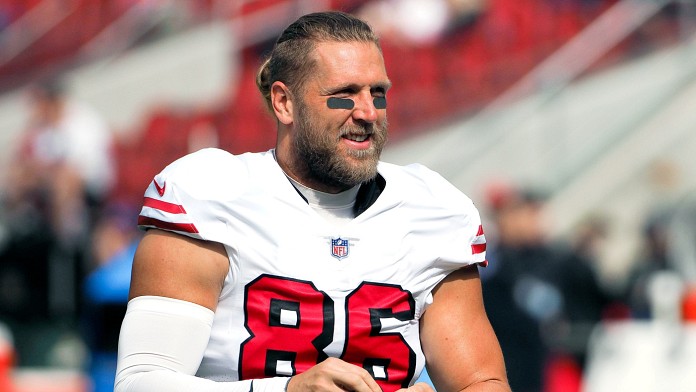 You Had One Job Kyle! -
Long-snapper is possibly the least notable position in the entire NFL. Aside from Kyle Nelson, I cannot name another long-snapper. On Sunday, Nelson may have had one of the worst games I have ever witnessed from a man whose job is to snap the ball, just a little longer than the center does. A plethora of misfires made place-holder
Mitch Wishnowsky
's day a nightmare. At one point in the game, Nelson secluded himself from the rest of his teammates on the sideline. This self-imposed isolation didn't solve Nelson's problems, and by the end of the game Kyle Shanahan had turned to OL Justin Skule to complete the task. The 49ers were lucky to have Nelson's off day happen when it did; if this were a close game Nelson may have cost the 49ers a win with his mishaps. To emphasize how bad it was, remember the 49ers didn't even punt on Sunday. Imagine where that snap may have ended up.
LB Kwon Alexander -
To keep this brief, Alexander did not play well at all on Sunday. Whenever the Giants got any ground game going, you would find Alexander trailing behind the runner. QB Daniel Jones made him look foolish on more than one occasion. The 49ers need LB
Dre Greenlaw
back as soon as possible; he is significantly better than Alexander.
Even More Injuries -
The 49ers simply cannot stay healthy. Already battered by the injury bug, the 49ers lost starting CB Emmanuel Moseley to a concussion, RB Jerick McKinnon with a rib injury and emerging TE Jordan Reed to an ankle, then a knee, injury. None of the injuries seemed to be too severe, but all these players are pivotal pieces to the 49ers' success thus far. Injuries are random, but the 49ers really have to wonder what they did to deserve this type of bad luck.
What Went Right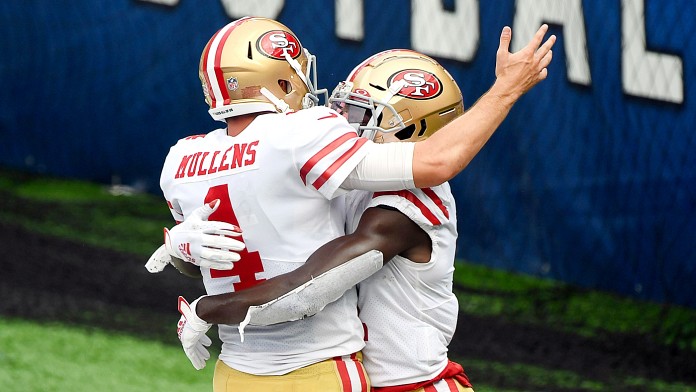 Nice-Guy Nick Mullens -
Enough good words cannot be said about QB Nick Mullens. 49ers fans can't be surprised by the success Mullens had on the field Sunday; he was a pretty damn good player when he last played in 2018. Mullens' poise stood out, often hanging in the pocket just long enough to find his targets down the field. The beloved backup completed passes to 10 different players and racked up 343 passing yards and a 108.9 QB rating. The 49ers might have the best backup in the NFL. He won't be here much longer, as Mullens deserves a starting role in this league, so enjoy him while he's still around.
The Leadership of Kyle Shanahan -
Head coaches often get praised for being gurus and geniuses, which are pretty silly terms to use for coaching a football team. Kyle Shanahan should be praised for being a hell of a leader. Many tout his play-calling prowess, but Shanahan's ability to build his team as resilient and tough as he has is the true water-mark of his success. The first 2 weeks of the season were tough pills to swallow. A home loss to a division rival in Week 1 and the crushing loss of franchise players in Week 2, the 49ers had plenty of reasons to come out flat heading into Week 3. Instead, the 49ers flattened a previously competitive New York Giants squad, building confidence and raising the morale of the fans, players, and the organization.
Defensive Dominance -
For the second week in a row, the 49ers defense stifled a pro football team. The Jets and the Giants aren't the best teams in the league, but both offenses are led by QBs selected in the top 10 of their draft class. Add to the fact the 49ers are missing their star defenders (Bosa, Ford, and Sherman) and this feat becomes even more impressive. The 49ers held the Giants without a touchdown and only allowed 231 total yards. Through 3 games, the 49ers ranked 3rd in total defense (304 ypg), 2nd in passing defense (187.3 ypg), and 3rd in ppg allowed (15.3 ppg). It's early, but the 49ers defense has been a pleasant surprise in 2020.
What's Next?
Philadelphia Eagles @ San Francisco 49ers, Sunday October 4th 5:20 PDT at Levi's Stadium
The 49ers' soft early schedule continues as the Eagles come into town this coming Sunday. Philadelphia won its division in 2019, but this season has not been kind to the Birds. One-time MVP candidate QB Carson Wentz has been a trainwreck so far, amassing a putrid Pro Football Focus (PFF) grade of 47.3. Not only does PFF rate Wentz poorly, he is also the worst starting QB in the NFL (63.9), according to his traditional QB rating. The 49ers carry the league's 2nd-ranked pass defense into this game and seem to match up fairly well with the 0-2-1 Eagles. This game could see the returns of QB Jimmy Garoppolo and TE
George Kittle
as well. There has been chatter surrounding Eagles backup QB Jalen Hurts, who, due to his running ability, would probably pose a bigger threat to the 49ers than Wentz. This game won't be as easy as the last 2 were, but if the 49ers can get their offense moving against a stingy Eagles defense, they should be able to pull this one out.
Written by:

49ers outsider, residing in the Hudson Valley, representing 30+ years of the 49ers experience