Videos are auto-populated by an affiliate. This site has no control over the videos that appear above.
To think that a team's season could be over after just six weeks is a sinking feeling, but that appears to be the reality for the San Francisco 49ers (1-5). The offense can't move the ball, the defense can't stop anyone, and the roster is so thin at the moment that there aren't many changes the coaching staff can make. The Niners are a bad team, and could actually be the worst in the NFL. The one saving grace for San Francisco is that they've been a little better at home, which is where they'll take on the Tampa Bay Buccaneers (2-3) in Week 6. You'd like to call this a winnable game, but I'm not sure any matchup really is for the 49ers at this point.
Recent History
The last time these franchises locked horns was during Week 15 of 2013, and each was headed in very different directions. The Bucs were 4-9 and struggling, while the Niners were coming off three straight victories to run their record to 9-4. San Francisco would start fast in this one, jumping out to a 17-0 lead behind two touchdown passes by QB Colin Kaepernick. The Bucs rallied to make the score 20-14 early in the fourth quarter, but the 49ers extended the lead late on their way to a 33-14 win.
Players to Watch
After taking defensive lineman in the first round of the draft in both 2015 and 2016, there was some hope that the Niners would once again be stout in the trenches. While DE
Arik Armstead
and DE DeForest Buckner have shown flashes, they're yet to develop consistency or a balanced game against the pass and the run. 3-4 ends have to take on blockers and hold the point of attack, but these two seem to still be developing in that department. It doesn't help that even if they do win upfront, they basically have special teamers playing behind them at inside linebacker. All that makes for a bad run defense and the 49ers are currently ranked last in the league in that department.
While the Bucs will certainly attack their opponent on the ground, the player who could do the most damage is actually a receiver. WR Mike Evans is big (6-5, 231lbs) and having a monster season through five games. He has 32 catches for 449 yards and 4 touchdowns. The Niner secondary had a tough time with Kelvin Benjamin in Week 2 (7 catches for 108 yards and 2 touchdowns in that game), and at 6-5 and 240 lbs, he's similar in size to Evans. Look for QB Jameis Winston to try and get Evans involved early and often here.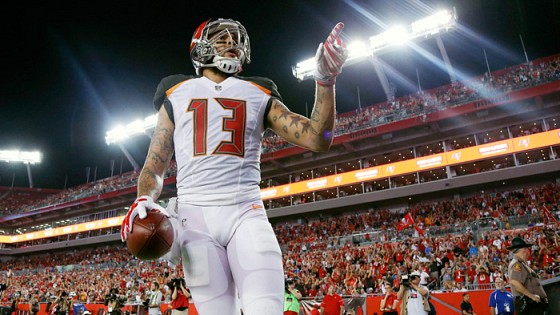 Stats to Know
Did I mention the 49ers are a bad team right now? Currently, the men in red and gold rank last in the NFL in yards per play (4.6), passing yards (1,017), yards per pass attempt (6.0), completion percentage (55.9), points allowed (185), rush yards allowed (1,046). and yards per rushing attempt (5.0). Despite actually having the second most drives in the NFL (66), they are last in average time per drive (2.00 minutes) and last in net yards per drive (22.1). Just terrible across the board.
PFF's Top Week 6 Grades
Buccaneers (Week 5)
49ers
CB Brent Grimes, 85.7
CB Trumaine Brock 83.9
LB Daryl Smith, 80.1
DE Arik Armstead 79.5
RB Jacquizz Rodgers, 79.8
DT Quinton Dial 76.1
G Kevin Pamphilee, 76.0
WR Quinton Patton, 74.2
S Keith Tandy, 75.9
DE DeForest Buckner 73.1
Game Changing Factor
While Kaepernick played pretty well in the first half during Week 6, he was terrible in the second half and ended up 13-of-29 for 187 yards and a score. The wind was whipping and Kaepernick was bound to be rusty after not playing in a meaningful game for almost a year, but he has to be better at delivering the football. Overall, he looked an awful lot like the quarterback we've seen struggle since 2014, and his inaccuracy impedes the entire offense. It will be interesting to see if he rebounds at home, and can make some of the big throws that have been open each week. If he can't, it could be a long day as the 49ers likely won't have RB Carlos Hyde (shoulder) available. Filling in for Hyde would be RB Mike Davis and RB Shaun Draughn, both of whom have struggled this year. Davis has 10 carries for 18 yards, and Draughn 26 attempts for 55 yards. For their careers, the two have combined to average 2.96 yards per carry.
RELATED
49ers-Buccaneers Injury Report: Hyde won't play against Buccaneers, Ward will play
By the Numbers
Last week at Buffalo, DL DeForest Buckner became the first NFL rookie to register at least 2 sacks and 1 forced fumble in the same game since LB Zach Brown accomplished the feat in 2012 as a member of the Tennessee Titans.
The 49ers offense is averaging
123.3
rushing yards per game this season, ranking 5th in the NFL.
San Francisco is committing an average of
4.5
penalties per game this season, the fewest in the NFL.
News from the Week
CB Rashard Robinson is in the league mandated concussion protocol this week and his availability for Sunday is up in the air. Robinson
suffered the injury during the third quarter
of play against the Buffalo Bills.
RB Carlos Hyde will not play against the Buccaneers. However, his shoulder injury is not considered to be a long-term issue and
Hyde says that he should return after the team's bye week
.
Matchup Information
Kickoff:
Sunday, October 23 at 1:05 p.m. PT
Where:
Levi's Stadium in Santa Clara, California
All-Time Matchup:
49ers lead series 17-5
Last Meeting:
12/15/13, 49ers win 33-14, at TB
Current Streak:
Won 2
Betting:
The 49ers are 1.5-point favorites
NFL Fan Picks:
56% pick the Buccaneers to win according to
Yahoo! Sports
49ers Fan Picks:
Within our
Pick 'em Contest
, 53% believe the Buccaneers will win
49ers Schedule:
View full schedule
Buccaneers News:
Buccaneers news at Problitz.com
Follow Game Online:
NFL.com's Game Center
Discuss:
Niner Talk forum
Follow Us:
Facebook
,
Twitter
,
Google+
Television and Radio
The game will be televised on
FOX
(Check
506 Sports
to see if it is local).
Play-By-Play:
Chris Myers
Color Analyst:
Ronde Barber Sideline
Reporter:
Jennifer Hale
KGO 810 AM
and
The Bone 107.7 FM
(
Other markets
) will carry the radio broadcast with Ted Robinson doing the play-by-play and Tim Ryan as the color analyst.
ESPN Deportes
and
KKSF 910 AM
will carry the Spanish broadcast.
San Francisco 49ers Injuries
Out
RB Carlos Hyde (shoulder)
Questionable
DT Glenn Dorsey (knee), CB Rashard Robinson (concussion), WR Torrey Smith (back)
Tampa Bay Buccaneers Injuries
Out
DE Robert Ayers (ankle), RB Doug Martin (hamstring), DT Clinton McDonald (hamstring)
Questionable
CB Jude Adjei-Barimah (knee), C Joe Hawley (knee), DT Gerald McCoy (calf), WR Cecil Shorts (hamstring), TE Luke Stocker (ankle)
Game Averages (Rank)
| Buccaneers | | 49ers |
| --- | --- | --- |
| 18.8 (27th) | Offense Pts | 21.2 (19th) |
| 335.8 (23rd) | Offense Yds | 292.8 (32nd) |
| 247.2 (17th) | Offense Pass | 169.5 (32nd) |
| 88.6 (27th) | Offense Rush | 123.3 (5th) |
| 28.4 (27th) | Defense Pts Allowed | 30.8 (31st) |
| 366.2 (20th) | Defense Yds Allowed | 389.8 (27th) |
| 262.4 (19th) | Defense Pass Allowed | 215.5 (7th) |
| 103.8 (16th) | Defense Rush Allowed | 174.3 (32nd) |
Individual Statistics
Team Leaders
Passing
Comp
Yds
TD
INT
Jameis Winston, TB
58.5
1327
9
8
Blaine Gabbert, SF
58
890
5
6
Rushing
Car
Yds
Avg
TD
Jacquizz Rodgers, TB
43
170
4
0
Carlos Hyde, SF
109
429
3.9
6
Receiving
Rec
Yds
Avg
TD
Mike Evans, TB
32
449
14
4
Jeremy Kerley, SF
28
316
11.3
2
Ticket Stats
TicketIQ has tracked three 49ers home games against the Buccaneers and this game has the highest average price ($130) and get-in price ($37)
The cheapest ticket at Candlestick for the game in 2011 was $10, a game the 49ers won 48-3
Levi's Stadium parking starts at $33 according to ParkWhiz.com