Videos are auto-populated by an affiliate. This site has no control over the videos that appear above.
Today, Lisa DeBartolo, daughter of former San Francisco 49ers owner and recent Hall of Fame inductee Eddie DeBartolo, tweeted out some articles that she found "interesting."
The first was an
article by Lowell Cohn
of the
Press Democrat
that places all of the blame for the 49ers' current predicament on current CEO Jed York, the nephew of Eddie DeBartolo. The article calls for Jed York to leave. "You've got to go, son," wrote Cohn as though he were talking to York. "Get out of the way. Just clear out."
Update:
Lisa DeBartolo has since deleted the Tweets mentioned here. Below are screenshots of the posts.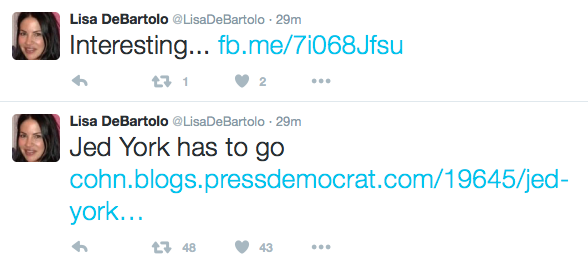 Lisa DeBartolo also posted an article from the
San Francisco Chronicle
written by Ann Killion and entitled,
"Losing has become 49ers' new normal."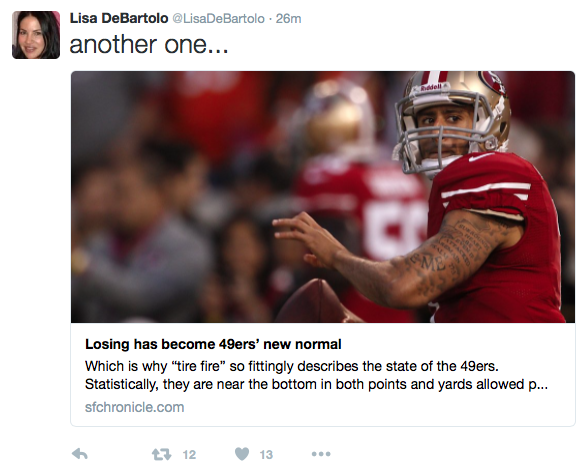 Interesting indeed Lisa. Very interesting. Maybe she should talk to her father.
"I talked to my uncle this morning for a while," York said in January shortly after the firing of Jim Tomsula. "He texted me around 5:15. I called him around 5:20 when I got up and I don't think there's anybody better to help me as a mentor, as somebody that's been there, as somebody that's done it than my uncle. We talked for a long time this morning. And I know that if I need direction, if I need guidance, if I need somebody to help, I've got a person I think is the best owner in the history of sports that's on my team, that's on my side, that I can turn to anytime."
Jed York's name was noticeably absent from
Eddie DeBartolo's Hall of Fame induction speech
in August.
Related News