On Friday, the San Francisco 49ers (1-1) will host the Green Bay Packers (2-0) at Levi's Stadium in Santa Clara, California. The Packers are coming off of a 20-12 win against the Oakland Raiders. The 49ers are coming off of a 31-24 win against the Denver Broncos.
Friday's game should be the first action this season for 49ers quarterback Colin Kaepernick. He returned to practice this week after a muscle issue in his throwing shoulder had kept him from fully practicing since August 10. This will be the first time Kaepernick has faced an opposing defense in a game situation since November 1 of last year.
"I'm going to go out and show everything I can these next two games and make sure I put my best foot forward to show this organization, this team, this coaching staff, what I'm capable of," said Kaepernick on Wednesday.
The 49ers coaching staff has repeatedly stated that preseason will be huge for evaluating their quarterback situation. However, until now, only Blaine Gabbert has been able to participate in the team's first two games – starting both.
The offense has been slow out of the gate
during each game with Gabbert under center. The 49ers hope to improve upon that during Friday's game against the Packers.
RELATED
NFL Network "live" broadcast will join 49ers-Packers game an hour late
The 49ers have also had a fumbling issue during preseason. The team has had seven fumbles – losing five – through their first two exhibition match-ups. Running backs have been responsible for four of those fumbles and have lost each of them. Mike Davis, who has otherwise been impressive and shown improvement over his 2015 performance, fumbled the ball twice in Denver.
Newly signed quarterback Christian Ponder, in his first action since the 2015 preseason, went an impressive 7 of 8 passing for 86 yards and a touchdown. He also ran for another touchdown. That wasn't a bad performance for someone that had his first practice with the team just three days prior. His two scores helped secure the 49ers' road victory.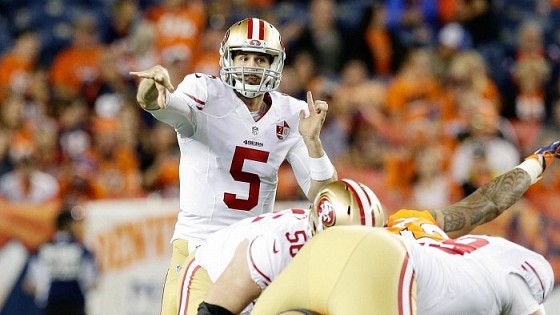 With Kaepernick or Gabbert likely to get extended playing time with the starters, it is unknown how many snaps Ponder or rookie Jeff Driskel may get.
RELATED
Recap: Christian Ponder's 2 touchdowns lift 49ers past Broncos 31-24
The 49ers defense may once again be without their potential starting defensive ends. Rookie first-round selection DeForest Buckner and second-year first-round selection
Arik Armstead
are expected to sit out the game. In fact, fans may not see them again until the September 12 home opener against the Los Angeles Rams.
The third preseason game is known as the "dress rehearsal" for teams. It is the game where starters typically get the most amount of playing time as they prepare for the regular season. Starters are usually finalized by the final preseason game, which mostly features more work for backup players and those trying to make a final push for a roster spot. The interesting factor for the 49ers is the fact that they still have a quarterback competition going on and the coaching staff has said that they will take as much time as needed to evaluate Gabbert and Kaepernick. Since Friday will likely be the first time Kaepernick sees the field this season, that evaluation may carry into the final preseason game.
"I think each team you have to deal with certain things and no matter how it's normally done we're going to do things our way regardless," said 49ers offensive coordinator Curtis Modkins on Tuesday. "And, we'll see in this third game how the game goes and who all gets what snaps and how many. We'll kind of determine that on how the game flow goes."
Packers quarterback Aaron Rodgers is expected to play for the first time in preseason. It will likely be the only game he plays in during exhibition as he is not expected to play in Green Bay's preseason finale against the Kansas City Chiefs. The Packers had five preseason games schedules. Of course, one of those games was the now infamous Hall of Fame Game, which was cancelled at the last minute by the league.
Packers wide receiver Jordy Nelson is unlikely to play Friday. He missed all of last season with a torn ACL and just started practicing with the team this week. Although, his practices were very limited. His goal is to be ready for the team's Week 1 opener against the Jacksonville Jaguars and is unlikely to play in any of the remaining preseason games.
5 49ers to Watch
Colin Kaepernick
Obviously, most eyes will be on Kaepernick as he competes for the starting job. His time to do so is limited since he has missed the first two preseason games. Kaepernick may need to "wow" his coaching staff to jump ahead of Gabbert in the competition. Keep an eye on Gabbert as well. He needs a big game to distinguish himself from Kaepernick.
Mike Davis
Davis has averaged nearly 10 yards per run through two preseason games with most of that coming during Week 1 against the Houston Texans. Against the Texans, Davis averaged 12 yards after contact on each of his five runs and forced four missed tackles, per
Pro Football Focus
. Then there were his two fumbles against Denver – so questions remain.
Anthony Davis
Trent Brown's emergence at right tackle has had a ripple effect on the rest of the offensive line. Davis has been so impressed with Brown at his former position, that he volunteered to move to right guard – a starting position that rookie Joshua Garnett was competing for. That moved Garnett to compete at left guard – a starting position where free agent acquisition Zane Beadles has spent the majority of the offseason practicing at. And where does that place Andrew Tiller, the 49ers second-best graded offensive lineman and best graded guard last season by
Pro Football Focus
?
Marcus Rush
Rush had three sacks against Denver and has had seven quarterback pressures in preseason, per
Pro Football Focus
. That is tied for the most among 3-4 outside linebackers. Hopefully Rush can get a little time with the first-team group to see if he can get to a quarterback like Rodgers.
Jimmie Ward
So far in preseason, it has been tough to judge Ward. Teams have pretty much been avoiding throwing his way. It would be interesting to see how Ward, who happens to be
Pro Football Focus'
highest rated 49ers defensive back, deals with being attacked by a quality quarterback and receiver.
Matchup Information
Kickoff:
Friday, August 26 at 7:00 PM PT
All-Time Preseason Matchup:
49ers lead series 1-0
Last Preseason Meeting:
8/16/08, 49ers win, 34-6, at SF
Current Preseason Streak:
Won 1
49ers Schedule:
View full schedule
Packers News:
Packers news at Problitz.com
Follow Game Online:
NFL.com's Game Center
Discuss:
Niner Talk forum
Follow Us:
Facebook
,
Twitter
,
Google+
Television and Radio
The game will be televised on NFL Network, KPIX 5 in the Bay Area, NBC 26 in Green Bay, and various other networks throughout the Great Lakes region.
| | |
| --- | --- |
| Area | Channel |
| San Francisco | KPIX 5 |
| Sacramento | KOVR 13 |
| Monterey | KION 46 |
| San Luis Obispo | KSBY 6.2 |
| Fresno | KFRE 59 |
| Bakersfield | KERO 23 |
| Las Vegas, NV | KLAS 8 |
| Reno, NV | KOLO 8 |
| Chico | KRVU 22 |
| Eureka | KECA 29 |
| Medford, OR | KMVU 26 |
| Eugene, OR | KVAL 13 |
| Bend, OR | KFXO 39 |
| Honolulu, HI | KITV 4 |
Bay Area Radio:
KGO 810 AM and The Bone 107.7 FM (
Other markets
)
Spanish Radio:
KKSF 910 AM
Preseason Game Averages (Rank)
| Packers | | 49ers |
| --- | --- | --- |
| 18.5 (18th) | Offense Pts | 22.0 (9th) |
| 288.5 (22nd) | Offense Yds | 404.5 (2nd) |
| 140.5 (29th) | Offense Pass | 194.5 (17th) |
| 148.0 (5th) | Offense Rush | 210.0 (1st) |
| 11.5 (4th) | Defense Pts Allowed | 24.0 (29th) |
| 179.5 (1st) | Defense Yds Allowed | 335.5 (23rd) |
| 118.0 (2nd) | Defense Pass Allowed | 226.5 (22nd) |
| 61.5 (3rd) | Defense Rush Allowed | 109.0 (22nd) |
Related News