San Francisco 49ers defensive coordinator Jim O'Neil spoke at length about
DE Ronald Blair
on Thursday. Blair was the first of the 49ers' three selections in the fifth round of this year's draft.
"Ronald Blair graded exceptionally well last season, ranking ahead of Andrew Billings, Sheldon Rankins and A'Shawn Robinson among others as a defensive interior player," said
Pro Football Focus
upon his selection in April
. "He had 37 total pressures and a good grade against the run."
The media has been high on Blair, noting his power in practices this offseason. He
received the 13th overall grade
from
Pro Football Focus
in the 2016 class of 3-4 defensive ends and interior linemen and was ranked 27th against the run. He was the sixth-ranked pass rusher based on his 2015 performance.
O'Neil was asked how he would evaluate Blair so far. "I think he's had a really good training camp," he said. "Doesn't matter what group he plays with. He finds a way to make plays. He's very different than anything else we have in that defensive line room. He's a good change-up for us. But, I've been very impressed with him."
How is he different from anyone else they have? "His ability to get off the ball, slip blocks, use his hands, pass rush," said O'Neil. "He's different. He's not that 320-pound man that's going to knock you back at the line of scrimmage like some of the other guys are built. He's more of a single-gap penetrator who can make some plays in the backfield. So, he'll do well for us."
While he played along the edges during the majority of the time at Appalachian State, he did work in the interior at times during passing downs. That's something that has benefitted him during his time with the 49ers, who have looked to ensure that the defensive lineman on the team can play all three positions along the front. Blair has mostly worked at the defensive end and outside linebacker/edge defender position during training camp practices.
"We're playing him everywhere right now," said O'Neil. "We're trying to find that out. He's playing some on the edge. He's playing some inside. He took a couple snaps yesterday at nose. But, he can be a problem athletically for guards and centers, just with his skillset. So, that's something we're going to work through in the preseason and try to find out where he can best help us along the front."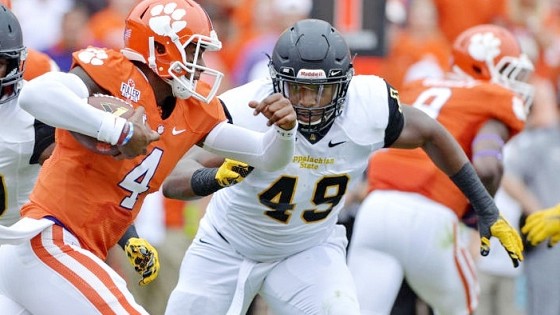 "He's got really long arms," O'Neil continued when asked about his size, which some scouting questioned prior to the draft. "He's a lot stronger than you think. I mean, he's a 280-285 pound man. So, it's not like he's small, but he's just got a different skillset. He's got a knack to just, what we call, to find the soft shoulder in pass game. He does a great job attacking the soft shoulder, getting skinny in some pretty tight spaces and he can make plays. Some of that stuff you can't coach and you don't want to make the mistake of coaching it out of him. Just because he's not built like
Quinton Dial
, you don't want to say, 'You have to do it this way.'"
"Blair was a productive pass rusher over the last two seasons and a much-improved run defender in 2015," said
Pro Football Focus
. "However, the competition level is a question. He played well against Clemson last season but didn't face many NFL-caliber players otherwise."
O'Neil touched on that level of competition on Thursday and if there were any questions on how that would impact his transition to the NFL. "No, because if when you watch the Clemson game from last year, you watch the tape and you love the kid," he answered. "I know Trent [Baalke] and his staff fell in love with him. They really, really liked him, and he's a guy that we were going to target in those middle rounds and he was there at the right time and we got him."
Blair was listed as the third left defensive end on the team's unofficial depth chart released Tuesday night, behind
Arik Armstead
and
Tony Jerod-Eddie
. The rookie will see his first NFL action when the 49ers host the Houston Texans at Levi's Stadium on Sunday night.