Rightfully so, fans have grown frustraded with retired San Francisco 49ers right tackle
Anthony Davis
and news of his possible return to the football field. He has been
promising to return
to the NFL (but not necessarily the 49ers) for a long time now, but has shown great frustration with the 49ers organization – specifically general manager Trent Baalke.
Raritan Physical Therapy posted two videos yesterday of a slimmer and more fit Davis doing drills. (h/t to
CSN Bay Area
for
spotting these
)
Davis then went on to post a video of himself running on a treadmill on his own protected Instagram account (screenshot below).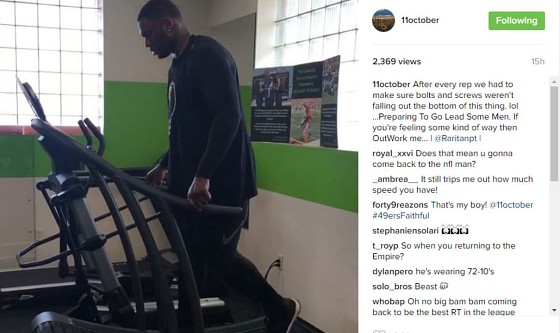 Davis, who is 26,
retired following the 2014 season
after dealing with a number of injuries, including a concussion. He stated that he wanted to get healthy before returning to the NFL. His injuries limited him to only seven games in 2014. He was the 11th overall selection by the 49ers in 2010 NFL Draft out of Rutgers and had played his entire career with San Francisco, started every game prior to 2014.
On April 1, Davis tweeted that he would be filing for reinstatement later this year, which has not yet happened. In that tweet, he also took a jab at the 49ers' general manager saying, "Dealing with Trent is giving me a headache." That tweet has since been deleted.
"The 49ers should Draft an Offensive Tackle in the top 10," said a frustrated Davis via Twitter on April 27. That tweet was later deleted as well. The 49ers took offensive guard
Joshua Garnett
in the first round and then selected two tackles,
John Theus
and
Fahn Cooper
, in the fifth round.
"I do not want to work with a front office or anyone else who seemingly doesn't want to win as bad as I do," Davis continued via Twitter. "Would you happily rent your body out to people that bulls**t you and constantly try to manipulate you? I hope you'd stand up for yourself."
Davis continued to state that he intends to return to the NFL, but also gave the impression that he does not have a desire to play for the 49ers. Last season, his absence left the 49ers with free agent acquisition
Erik Pears
starting at right tackle, contributing to making the offensive line one of the worst in the NFL. Pears continues to start at the position during offseason practices.