Videos are auto-populated by an affiliate. This site has no control over the videos that appear above.
On Tuesday, it was reported by Manish Mehta of the New York Daily News that
San Francisco 49ers quarterback Colin Kaepernick was interested in joining the Jets
. The article stated that, according to a source, he wants out of San Francisco and in with New York. Mehta even stated that the "Jets are aware and intrigued by Kaepernick's desire to play for them." Of course, any interest could spark tampering violations by the league.
There were even reports that his reported girlfriend, Nessa Diab, a Hot 97 host that resides in New York,
wanted Kaepernick there
and that the desired move was so the two could be closer.
On Wednesday, the original report was debunked by Dom Cosentino of New Jersey On-Line who, according to another anonymous source familiar with the situation, stated that the report was untrue. The source called the report a "Random, strange article."
Since then, according to various sources, the desire might be rather one sided. While it is possible that Kaepernick may have a desire to leave the 49ers, the Jets are reportedly uninterested. Besides, the Jets have cap issues and Kaepernick's base salary of $11.9 million becomes fully gauranteed on April 1.
That didn't stop the New York Daily News from making the report their cover story on Wednesday. Here is what that cover looked like. Of course, in their defense, the issue was likely released prior to the other reports.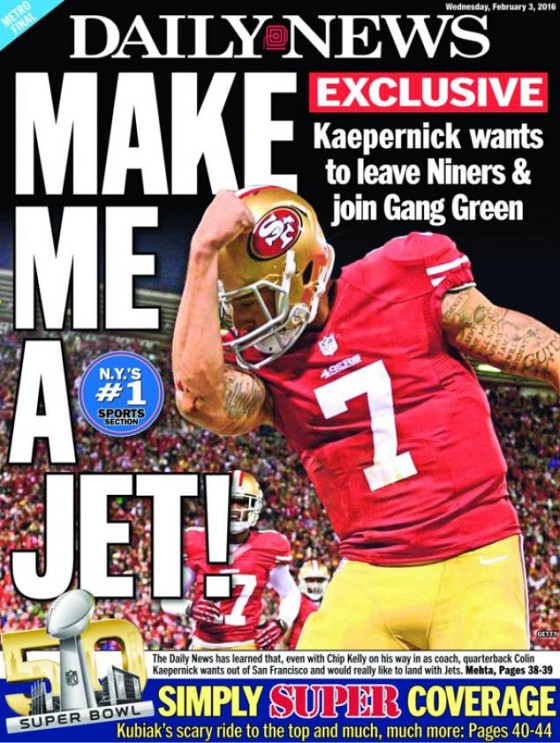 The Jets are interested in re-signing 2015 starting quarterback Ryan Fitzpatrick, who is a pending free agent. Both Fitzpatrick and the Jets have stated that they want to work a deal out that will keep the quarterback in New York. At this point, according to reports, it seems highly likely that a deal happens.
New York's top receiver, Brandon Marshall, voiced his opinion on a Kaepernick to New York rumors, saying that he was fine with the Jets' current quarterback situation. "I don't want Kaepernick," Marshall stated Tuesday on ESPN's First Take. "I think he's good, but my guy is [Ryan Fitzpatrick], it's nothing against Kaepernick – and Geno [Smith] is still my guy too. What I am saying is that I have my quarterbacks and I am good."
CBS' Jason La Canfora chimed in on the Kaepernick situation, saying that the 49ers quarterback has wanted out for some time and that he believes a trade is still possible. However, he did not state that the Jets were a likely trade partner.
Bottom line with Kaepernick - jets have not and are not interested. Colin has wanted out for quite some time and this impending divorce...

— Jason La Canfora (@JasonLaCanfora) February 4, 2016
Was reported months ago. Hiring of Chip Kelly changed nothing. He's done nothing to build a relationship and a trade remains very likely...

— Jason La Canfora (@JasonLaCanfora) February 4, 2016
Kap continues to rehab daily in Vail and will do so into the spring. No plans to be in San Fran for the Super Bowl or anything else...

— Jason La Canfora (@JasonLaCanfora) February 4, 2016
Makes sense for 49ers to try to put on public face about keeping him, for trade leverage, etc, but there are major trust issues here

— Jason La Canfora (@JasonLaCanfora) February 4, 2016
Kaepernick started the 2015 season as the starting quarterback for San Francisco, but poor play eventually led to his benching in favor of Blaine Gabbert. He was then placed on injured reserve when a shoulder injury came into light. Kaepernick is recovering from multiple surgeries. While none are expected to be long-term issues, he has had surgeries on his left shoulder, thumb and knee since being placed on injured reserve.