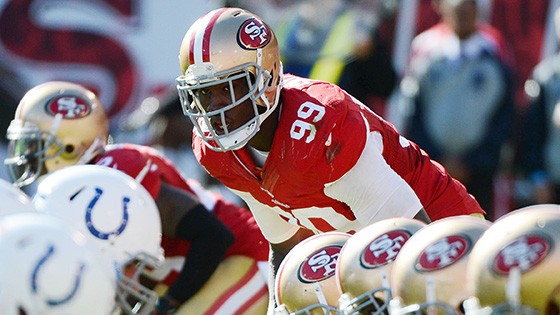 According to
Matt Maiocco
of CSN Bay Area, San Francisco 49ers linebacker Aldon Smith has been suspended for the first nine games of the NFL season.
The suspension will make Smith eligible to return for the 49ers' week 11 game against the New York Giants at MetLife Stadium in East Rutherford, New Jersey. If you count last season's absence, Smith will miss 14 games in two seasons. Smith missed five games last season to check into a substance-abuse treatment center.
As expected, the decision came before the final roster cut deadline tomorrow at 1 PM Pacific.
According to
Matt Barrows
of the Sacramento Bee, the 49ers were expecting something more in the range of a six game suspension.
Over the summer, Smith pleaded no contest to three counts of illegal weapons possession and two counts of drunken driving. In July, Smith was sentenced to 12 days of work release and three years probation.
In April, Smith was arrested for making a false bomb threat at Los Angeles International Airport. The Los Angeles City Attorney's Office ultimately decided not to charge Smith.
Aldon Smith suspended for first nine games.

— Matt Maiocco (@MaioccoCSN) August 29, 2014
#49ers knew Aldon Smith would be suspended but were thinking along the lines of six games. Nine has to be a bit of a blow to them.

— Matt Barrows (@mattbarrows) August 29, 2014