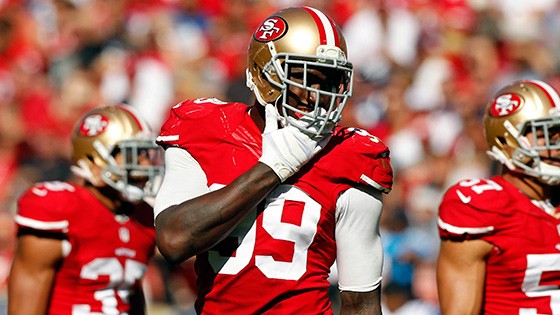 The San Francisco 49ers are awaiting a decision by NFL commissioner Roger Goodell on linebacker Aldon Smith's suspension. The decision should come soon because NFL team rosters must be trimmed down to 53 players by 1 PM on Saturday.
Three weeks ago, Smith met with Goodell, but no decision was made at that time. On Thursday, Goodell sent out a letter outlining the NFL's stance on domestic violence and sexual assault. The letter also included additional information on the league's stance on weapons offenses and drunken driving. A minimum suspension of two games is expected. However, Smith's five game absence last season to check into a substance-abuse treatment center is expected to factor into the decision.
Earlier in August, it was reported that the
49ers were bracing for a six to eight game suspension
for Smith.
Over the summer, Smith pleaded no contest to three counts of illegal weapons possession and two counts of drunken driving. In July, Smith was sentenced to 12 days of work release and three years probation.
Smith has shown a pattern of making bad decisions. In April, Smith was arrested for making a false bomb threat at Los Angeles International Airport. The Los Angeles City Attorney's Office ultimately decided not to charge Smith.