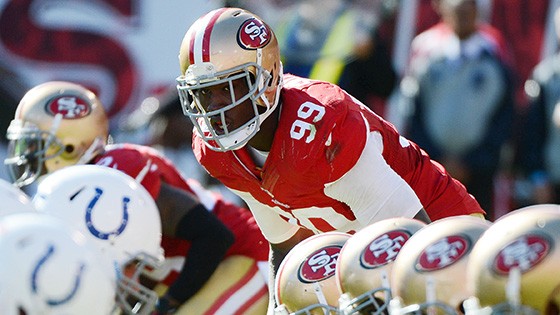 Prior to the start of the San Francisco 49ers preseason game against the Baltimore Ravens on Thursday, 49ers general manager Trent Baalke confirmed that linebacker Aldon Smith had already met with NFL commissioner Roger Goodell regarding his off-field issues.
According to Matt Maiocco of CSN Bay Area, the 49ers, while the verdict is not yet known, the team is bracing for a 6 to 8 game suspension for Smith.
Smith was in uniform during Thursday's 23-3 loss to the Baltimore Ravens, but did not play.
Smith was sentenced last month to 12 days of work release and three years probation/ He had pleaded no contest to illegal weapons possession and drunken driving.
Source: 49ers do not know verdict of potential NFL discipline for Aldon Smith, but they're bracing for 6 to 8 games.

— Matt Maiocco (@MaioccoCSN) August 8, 2014