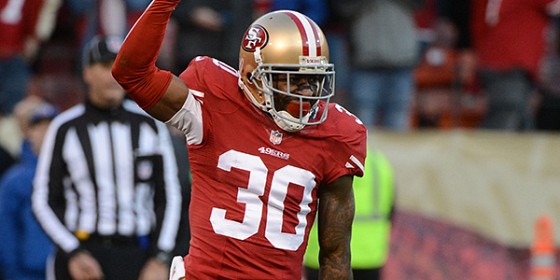 San Francisco 49ers cornerback Eric Wright took to his
official blog
to talk about this past year with the team. This season was his first with the 49ers after signing a one-year deal on August 8, 2013. His future with the team depends on contract situations with cornerbacks Carlos Rogers and Tarell Brown. He is scheduled to become a free agent and it is unlikely that the 49ers will bring him back unless they can sign him for cheap.
Rogers is scheduled to be the highest paid player on the 49ers with $6.6 million due in salary and bonuses, and an $8.09 million salary cap number. The team could free up $3.6 million in cap room by releasing him. Brown will be a free agent and will be free to sign with any team on March 11.
Wright shared many of his thoughts on the team's past season. He discusses the NFC Championship matchup with the Seattle Seahawks and the two team's rivalry. "It's kind of reminiscent of the recent Pittsburgh Steelers/Baltimore Ravens rivalry. Both those teams always had great defenses, and played close games. And for a while, those two teams pretty much knew that they would have to play each other three times to get to the Super Bowl," says Wright.
He also discusses Super Bowl XLVIII between the Seahawks and the Broncos, a game that Seattle easily won 43-8. Wright says, "To watch Seattle go on and win the Super Bowl in the way they did, to me, says a lot about our team. With our game plan, we put ourselves in a position to beat them in the NFC Championship. Unfortunately, it just didn't go our way."
Wright, who was born in San Francisco, goes on to discuss how special it was having the support of his home town, his injury prior to the playoff game in Green Bay, his illness following that injury, and the championship mentality and chemistry of the team.
It is a great read and we recommend it. You can read the
complete blog post by clicking here
.