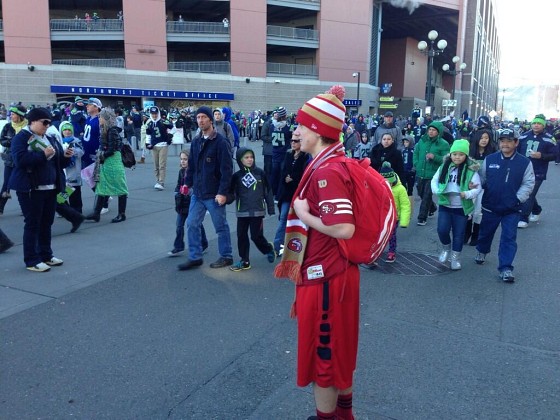 He has been labeled as "Niner Waldo." He is the kid who braved the Seattle Seahawks' Super Bowl XLVIII championship parade dressed head-to-toe in San Francisco 49ers gear. Now, fans of both franchises are looking to help get this young 15-year-old to Santa Clara for the upcoming season to watch the 49ers take on the Seahawks at Levi's Stadium.
Catherine Tate, a 49ers fan, started a
Go Fund Me campaign
to get him to Santa Clara from Seattle. She has already graciously offered to donate one of her tickets, which sit near the field on the 50-yard line, to the young Seattle based 49ers fan. The campaign was set up to pay for airfare, lodging, and other necessities for his trip.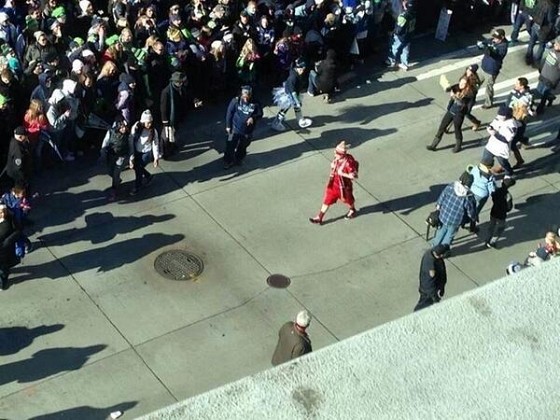 The fan, identified in
this Niners Nation story
, currently resides in a shelter in Kirkland, Washington, a suburb of Seattle, so assistance to get him to a home 49ers game was needed. The fundraiser has already earned almost $13,000 (as of this writing), surpassing the original $5,500 goal set up by Catherine Tate. Fans of both franchises have donated to the cause. The extra money will be put into an account for the fan, who will be able to access it for college when he turns 18.
"Once this minor has been placed with a foster parent we will contact the foster parent and arrange to set up a bank account in this minors name to be accessed when he turns 18," says Tate.
KING 5 News in Seattle even did a story about it.
Craig Dahl, a safety for the 49ers even tweeted about it to try to gain some support for the cause.
Heather Graf of KING 5 News says, "He goes to school in Tukwila, and teachers there have said he is a good kid who has had a tough life, but comes to school every day ready to work and to learn."
Since it looks like he will likely have enough to make the trip to a game, maybe he would not mind stopping by the
official 49erswebzone.com tailgate
before the game. There are probably a number of fans that would like to meet him.