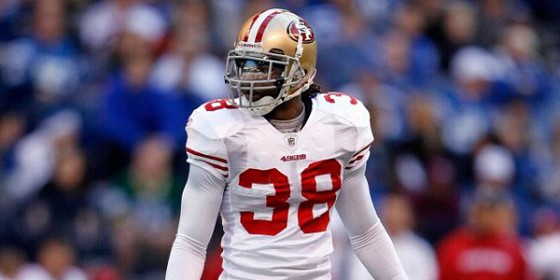 According to ESPN's Adam Schefter, former San Francisco 49ers free agent safety Dashon Goldson has signed a five year deal with the Tampa Bay Buccaneers.
Goldson was ready to visit with the Buccaneers at the start of free agency on Tuesday. The Buccaneers sent a private plane to California to pick Goldson up and take him to Tampa.
According to Pro Football Talk, the five year deal is worth $41.25 million, with $22 million guaranteed. That's an average of $8.25 million a year.
Just minutes before the deal was announce, CSN Bay Area's Mindi Bach reported that
perhaps the 49ers never expected to bring Goldson back
. The 49ers never offered Goldson a contract or the framework for a deal.
Drafted by the 49ers in the 4th round of the 2007 NFL Draft, Goldson has played six seasons with the team. During that time, he has recorded 346 tackles, 3 sacks, 14 interceptions, 5 forced fumbles and a touchdown.
Goldson, a two-time Pro Bowler, was the top safety available in free agency. In recent years, the 49ers have been known not to overpay for their free agents. Goldson was rumored to be seeking a deal around $8 million a year, which was too much for the 49ers. The team could have used the franchise tag on him this year, which would have kept him in San Francisco at the one-year price of $7.45 million. However, the 49ers decided not to do so.