Videos are auto-populated by an affiliate. This site has no control over the videos that appear above.
The run-up to the 2022 NFL Draft has not been nearly as exciting for 49ers fans as it was last year after the team traded up to #3 overall and selected QB Trey Lance out of South Dakota State. With that trade, the 49ers sacrificed their first-round picks in 2022 and 2023, which means that—barring an unlikely pre-draft or draft-night trade of Jimmy Garoppolo that nets a first or early second-round pick—John Lynch & Co. will not be drafting a player until the end of the second round, pick #61 overall.
Despite the front office using free agency to sure up the two biggest weaknesses from the 2021 campaign—cornerback and special teams—there are still some holes that will need to be addressed in the draft, mainly along the interior offensive line, an EDGE player opposite
Nick Bosa
, and a possible replacement for safety Jaquiski Tartt, who is still available in free agency but does not seem to be a priority for the front office to bring back.
It is with those holes in mind that I attacked this mock draft. I used the Pro Football Network mock draft simulator for this exercise.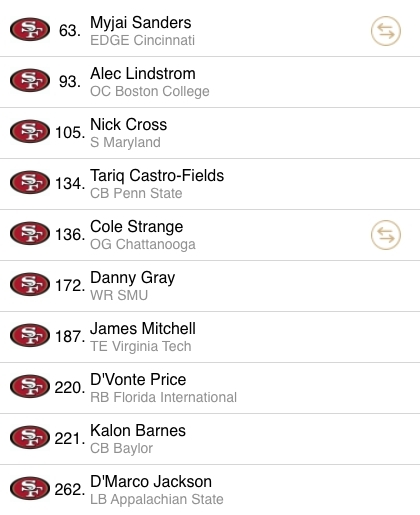 Round 1 *No Pick*
*TRADE* Cincinnati sends Picks 63 and 136 to San Francisco for Pick 61
Cincinnati moved up to take T Tyler Smith out of Tulsa
Round 2, #63
Myjai Sanders, EDGE, Cincinnati
6'5", 228 lbs.
Sanders was a three-year starter for a Bearcats team that found itself in the College Football Playoff this past season. He is an incredible athlete (4.67 40-yard dash, 1.57 10-yard split), but he has a long, slender build and will need to put on more weight at the NFL level in order to remain effective as a pass rusher and a run defender. The 49ers already have bigger defensive ends on the roster in Jordan Willis and
Kerry Hyder
, Jr., so Sanders' role would likely be as a situational pass rusher as part of the NASCAR package that defensive line coach Kris Kocurek likes to run out on obvious passing downs.
Sanders started 13 games in 2021 and racked up 40 tackles, 6.5 of them for loss, 3.5 sacks, and
six
pass breakups. Interestingly enough, according to NFL.com draft expert Lance Zierlien, his NFL comp for Sanders is Arden Key, who just experienced his best season as a pro with the 2021 49ers. Arguably Sanders' best game of the 2021 season came against Alabama in the Cotton Bowl where he racked up
ten
pressures against an impressive Alabama offensive line, a feat (double-digit pressures) accomplished only one other time against Alabama since 2014. While Sanders' sack numbers may not be impressive, pressures are a good indicator of pass-rush productivity.
Round 3, #93
Alec Lindstrom, C, Boston College
6'3", 296 lbs.
I have zero faith that Lindstrom would still be on the board this late in the draft, but for this exercise he was and I jumped at the opportunity to select him. The 49ers are in desperate need of an heir apparent for soon-to-be 37-year-old Alex Mack at the center position, and Lindstrom fits the bill for what Kyle Shanahan looks for at the position: smarts, grittiness, and toughness. Lindstrom isn't the most athletically gifted at the position, but he is a three-year starter for Boston College and is an excellent communicator who was tasked with making the protection calls at the line of scrimmage, a staple for any player manning the center position in Shanahan's offense. A redshirt year behind Alex Mack could put Lindstrom in a position to be a long-time starter for the 49ers moving forward.
Round 3, #105
Nick Cross, S, Maryland
6'0", 212 lbs.
Nick Cross is a freaky athlete at the safety position. He played the role of enforcer for the Terrapins' defense, flying sideline to sideline and punishing ball carriers and wide receivers at the point of contact. He is not afraid to stick his nose in the run game and has the speed and size to stick with tight ends in coverage. Cross ran a 4.34-second 40-yard dash at the Combine, which would give him a leg up in the competition to take over Jaquiski's Tartt's starting S role over
Talanoa Hufanga
(and possibly Tarvarius Moore depending on his recovery from a torn Achilles tendon) due to his ability to cover over the top, which is lacking from Hufanga's game. Cross also has decent ball skills, hauling in three interceptions for Maryland in 2021.
Round 4, #134
Tariq Castro-Fields, CB, Penn State
6'1", 197 lbs.
Castro-Fields is a player that you select because you bet on his physical traits to shine through with enough coaching at the NFL level. His production at Penn State was not terribly impressive, but he has the measurables (height/weight/speed) and experience (four-year starter) that will get defensive back coaches excited. Castro-Fields ran a 4.38-second 40-yard dash at the Combine, and he has the length (76" wingspan) and experience to play and excel in press-man coverage. This pick is similar to the
Ambry Thomas
pick last year: bet on the physical tools and allow the player to develop while playing a role on special teams early in his career.
Round 4, #136
Cole Strange, G, Tennessee-Chattanooga
6'5", 307 lbs.
Strange is tailor-made for a zone running scheme. He is smart, tough, and possesses the lateral quickness to get out in space and an understanding of angles to be an effective blocker while out there. This pick was a bit like taking two bites at the apple for me because Strange also has the smarts and ability to move to center at the next level. I drafted Lindstrom in the 3rd round, but Strange could step in and start at right guard in 2022 while also learning the center position. 49ers fans know how valuable center is in this offense, and how disastrous it can be when the starter goes down. Having multiple players that can fill in at the position is definitely not a bad thing. Also, Lance Zierlein's pro comp for Strange is JC Tretter, a player I continue to pound the table for in free agency.
Round 5, #172
Danny Gray, WR, SMU
6'0", 186 lbs.
The 49ers' offense has been missing a playmaker in the slot since Trent Taylor went down with a back injury and never fully recovered. Gray would be a perfect fit in that role, possessing game-breaking speed with a 4.33-second 40-yard dash, as well as the lateral agility and quickness to get in and out of cuts quickly. Gray led his SMU Mustangs in receiving in 2021, racking up 803 yards on 49 receptions for a whopping 16.4 yards per reception and 9 TDs in 10 games. The speedy wide receiver also has kick and punt return experience, which can only help his case to make the 53-man roster.
Round 6, #187
James Mitchell, TE, Virginia Tech
6'3", 255 lbs.
Mitchell was a do-everything versatile player for the Hokies, having lined up everywhere in the formation including inline, out wide, in the slot, and as an H-back. The Va Tech TE formed a formidable tandem in 2020 with fellow TE Dalton Keene but suffered a season-ending knee injury in the second game of the 2021 campaign. Mitchell is a full-effort blocker in the run game but doesn't necessarily keep his defender out of the play. He may end up being more valuable as a pass-catching H-back at the NFL level, but that is a prominent role in the 49ers' offense, and the player that currently mans that position,
Kyle Juszczyk
, is likely at the tail-end of his career. A 6th round flier on an athletic player recovering from injury with a history of YAC performance is ne
Round 6, #220
D'Vonte Price, RB, Florida International
6'1", 210 lbs.
In 2021 the 49ers drafted a speedy running back out of the Conference USA in
Elijah Mitchell
and it seemed to work out pretty nicely for them, so I went back to that well again with Price, a running back with bell-cow size and freaky speed. Price ran a blazing 4.38-second 40-yard dash at the Combine and flashed some route-running ability out of the backfield for FIU in his 3-year career. The production at the collegiate level does not match the physical profile, which is a concern, but at this point in the draft, you bet on the tools and your coaching staff to unearth some gems. Price was also a standout on special teams coverage, which is a quick way to earn a spot on the roster.
Round 6, #221
Kalon Barnes, CB, Baylor
5'11.5", 183 lbs.
If you haven't noticed a pattern in this draft yet, here it is—
speed
. Barnes was the fastest player at the 2022 NFL Combine, running his 40-yard dash in an eye-popping 4.23 seconds, which was the fastest by a defensive back in combine history. That alone will likely get him drafted earlier than the end of Round 6, but he was still available for me, so I took him. At this point, Barnes is a better athlete than a cover man, but it's hard not to bet on the physical traits and hope the growth comes with reps, experience, and NFL-level coaching. At the very least, Barnes could be a demon on special teams.
Round 7, #262 *Mr. Irrelevant*
D'Marco Jackson, LB, Appalachian State
6'1", 233 lbs.
The 49ers currently hold the last selection in the 2022 NFL Draft. I used that selection to take Jackson, a slightly-undersized but speedy linebacker from the former FCS juggernaut. Linebacker is not a position of need for the 49ers currently, but both Azeez Al-Shaair and
Dre Greenlaw
will be free agents after the 2022 season and may command more on the open market than the team is willing to pay. Jackson fits the mold of the players that the 49ers have at the Will linebacker position: a smaller frame, but excellent speed and coverage skills. Jackson struggles to get off blocks in run support, but his sideline-to-sideline speed (4.55 40-yard dash) makes him a special teams candidate and could give him a future at Will.
Written by:

A full-time educator, lifelong Niner fan, and 3rd Wheel on the No Huddle Podcast